Home Team
Sisters helped end Kubasaki's woeful streak
by
Dave Ornauer
March 21, 2012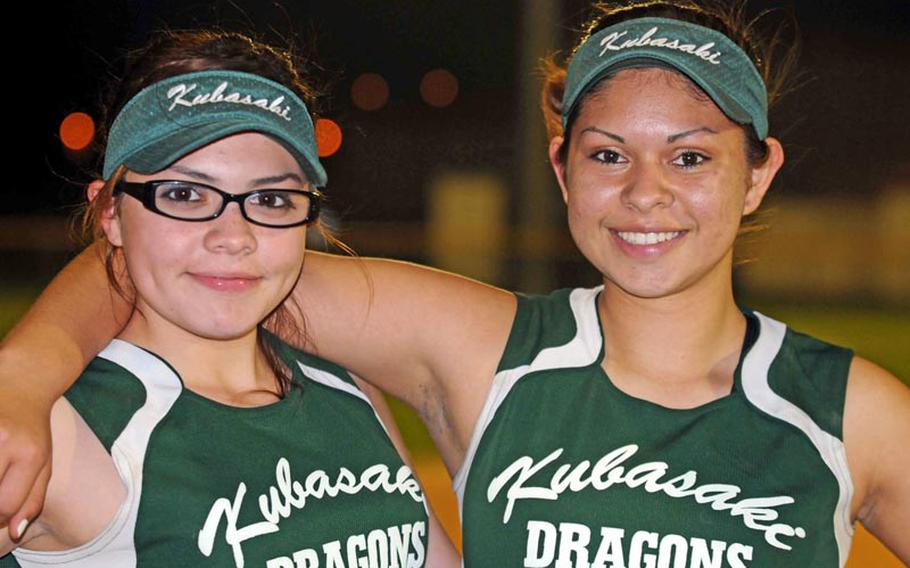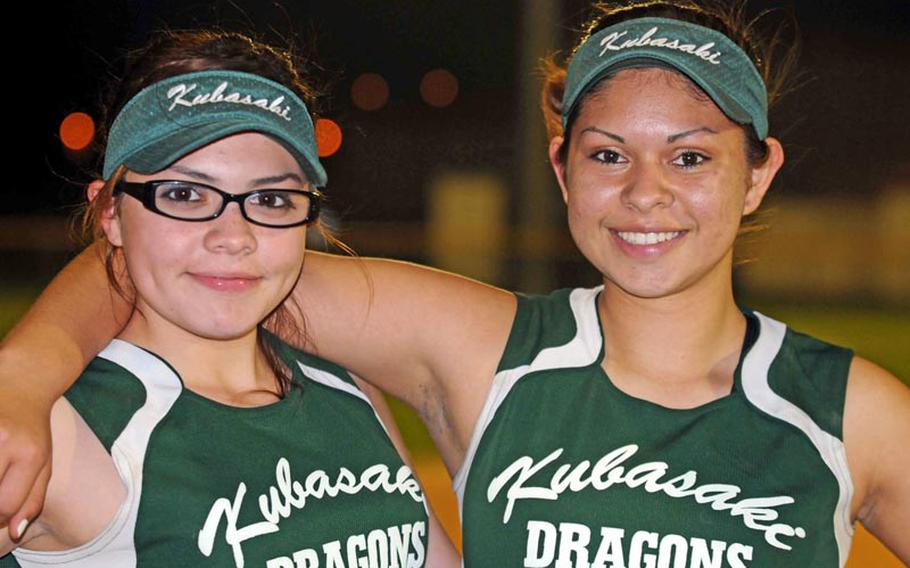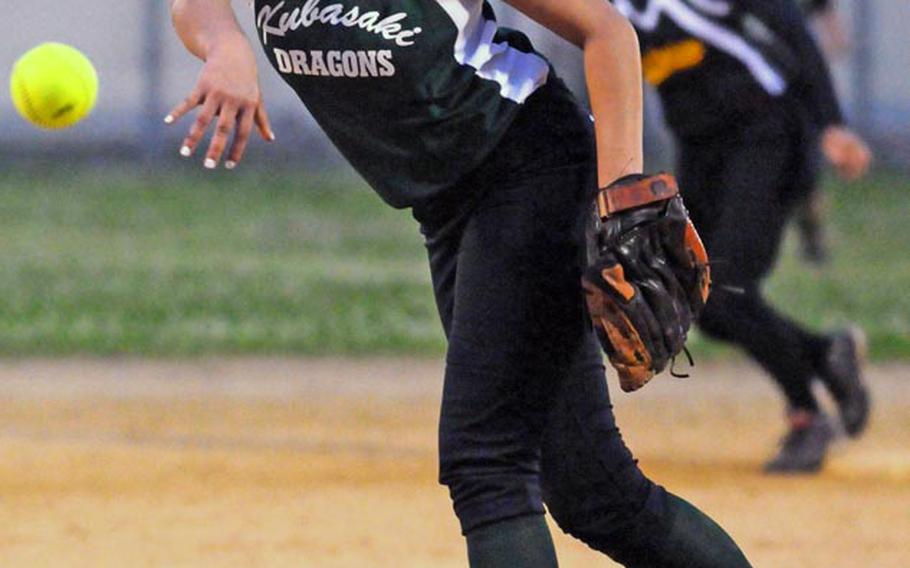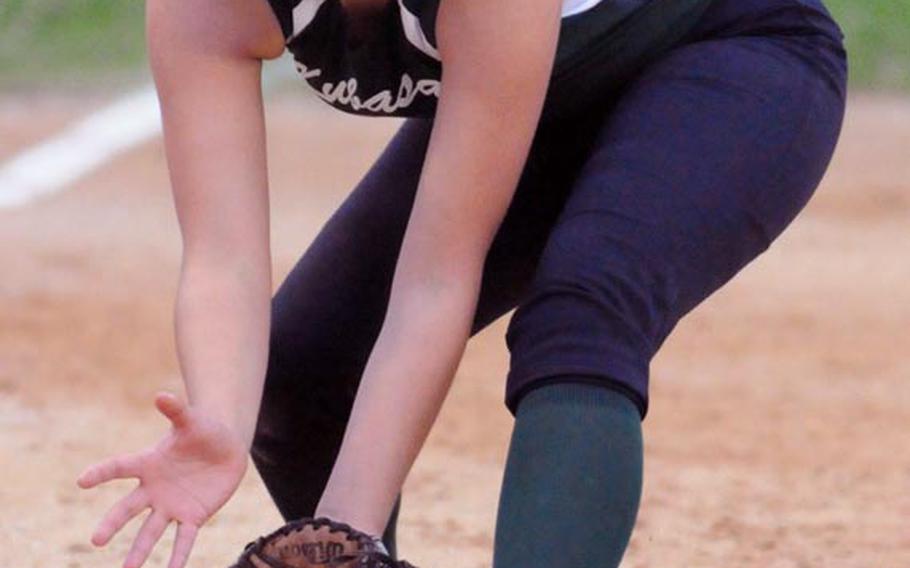 Kiara Negron approached Jackie Santoyo, a hint of a tear in her eye. The veteran shortstop, the transfer third baseman/pitcher and Kubasaki's girls softball team had just ended a 23-game, four-season losing streak to arch-rival Kadena, and Negron wanted Santoyo to understand the game's significance.
"Dude, I don't think you know what we just did," Negron told Santoyo. "Since my freshman year, we haven't beaten Kadena. This is awesome."
Santoyo, a junior, got the win with two innings of relief. Her younger sister Lucy, a sophomore, started a rally-killing double-play with the bases loaded and none out in the bottom of the seventh. Kubasaki held on to beat Kadena 9-7, the first win for the Dragons over the Panthers since 2008.
But more than anything, the victory completely changed the Dragons' mindset. No longer, they say, will they take the field expecting another Panthers' victory.
"It was life changing. Everything has changed for this team," said junior outfielder Adrienne Lee.
"Any time you face a losing streak like that, total domination by one team over another, it's a huge thing for the kids to mentally overcome that," coach Stephanie Davis said. "It was huge, to not buckle, to not get rattled and do what we needed to do."
Since DODDDS Pacific high school softball's inception in 2003, Kadena has won every island championship over Kubasaki and every tournament it entered until last May's Far East tournament.
In her third year as Dragons coach, Davis has seen her charges finish third, losing by one run in the semifinals to Kadena in the first Far East tournament in 2010. In the 2010 DODDS-Japan tournament, the Dragons came home with a 3-1 record.
"We just couldn't beat Kadena," Davis said. "I would hope this is a sign of things to come."
Negron agreed. "We beat them once, we can beat them again, we can beat them every time we play them," she said. "We're stronger as a team. We have new players. We have a new state of mind."
Credit the Santoyo sisters, coach and teammates say, in part for that new mindset.
Lucy has been playing fastpitch since she was 9, and Jackie, a hard-throwing right-hander, started for the two seasons she and Lucy attended Radford High in Honolulu before transferring to Okinawa six months ago.
The two, Jackie said, were a bit nervous about going to a foreign country for the first time, leaving behind family and friends and a team "that we loved so much," she said.
Months before the Dragons' first practice, students would approach the Santoyos in the hallways, with the standard "Hey, you're the new girls from Hawaii! I hear you play softball! You gonna try out for the team?"
"We were already close," Jackie said of her soon-to-be teammates. "I love them. They're very supportive, a great team to be with."
"No resentment," Davis said. "The girls were really welcoming. They're already like a family. I have incredible girls who are good kids who work together and know they're part of something. They know they can achieve more that way than they can with divisiveness. They just fit."
On and off the field, the Santoyos appear to be two of the pieces Davis said she feels the team needs in its bid to become a title contender.
"Jackie's leadership and experience has definitely helped," Davis said. Lucy, a utility player, is still "feeling her way," but "she is very positive and works hard. She has always played infield, but I wanted her in left field (on Thursday) and she came through."
As important as the victory was, Thursday's game was just one victory, and the Dragons are all too aware of what Kadena is capable of doing.
"They're going to want revenge," Lee said of Thursday's second regular-season game at Camp Foster.
"It's not time to be cocky," Lucy Santoyo said. "We have to keep focused, give it our all and go hard."
"We had a good, solid game, but Kadena knows how to win," Davis said. "It's going to be a tough fight every time we step on the field."
For her part, Kadena coach Kelli Wilson said it's pretty hard to base a team's season on just one game, in which the Panthers committed an uncharacteristic nine errors. The Panthers, she said, are working hard on the little things and their own mindset.
"It won't be the same team out there this week," she said.