DI girls final
Sisters from Bangkok too much for Kadena
---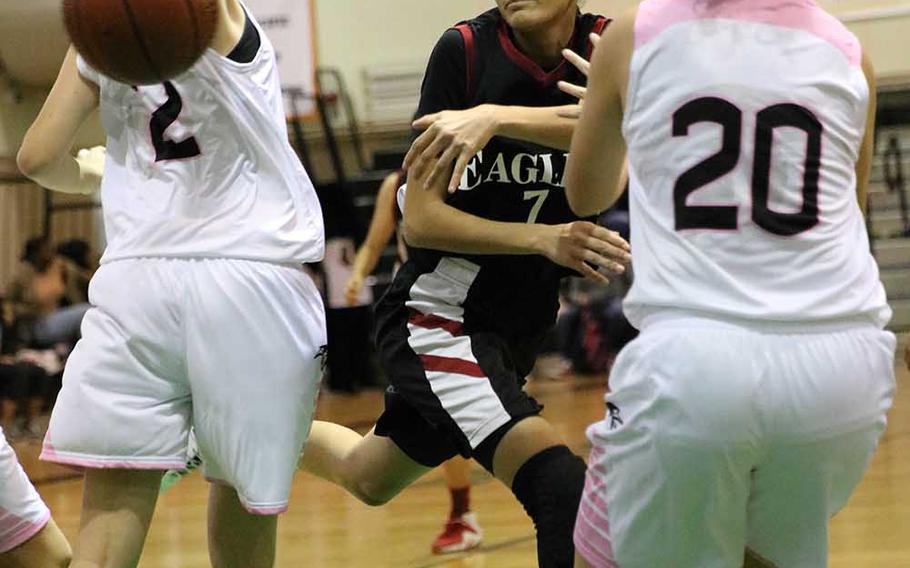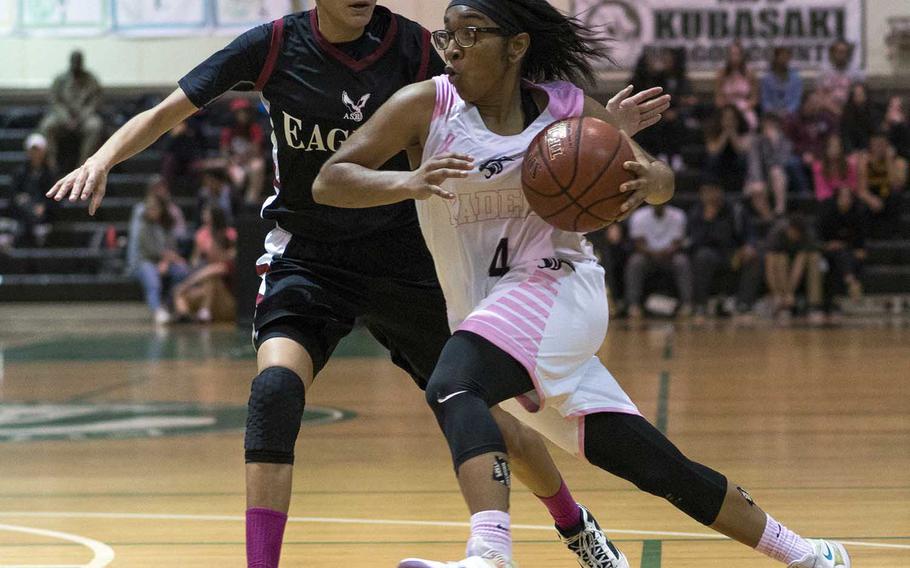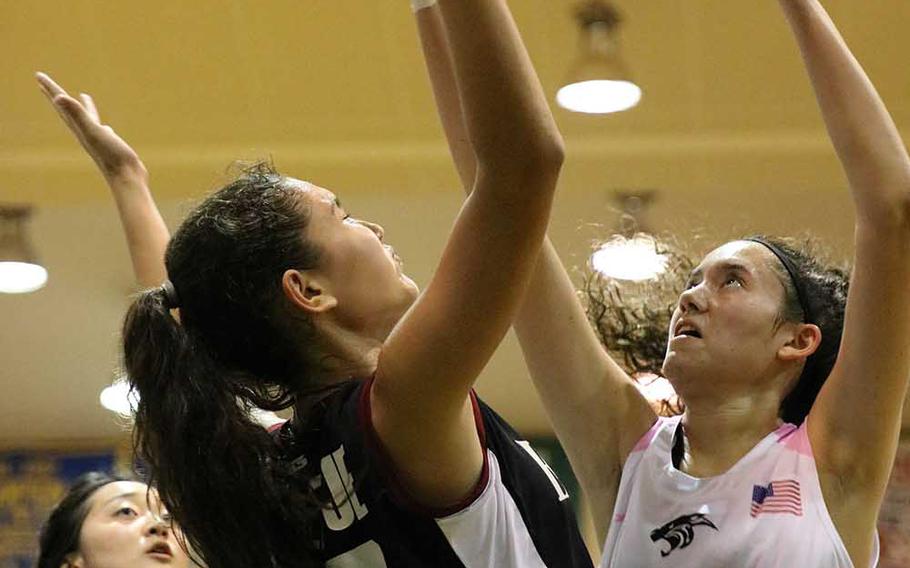 CAMP FOSTER, Okinawa – If the right-handed one don't get you, then the left-handed one will.
Sisters Shanique and Keisharna Lucas carried the day Thursday for American School of Bangkok. They teamed for 37 points as the Eagles dethroned defending champion Kadena 52-31 to cap their first trip to a Far East Girls Division I Tournament.
"It's huge. We're humbled to come here and win," said Shanique Lucas (right handed) afterward about the significance of the championship, coming in the school's second year of existence.
"We're happy we got to do this with each other and with our team," Keinarsha Lucas (left-handed) added.
And what a second season it has been: ASB won the title in its first visit to the Hong Kong International School Holiday Tournament, where Shanique set the northwest Pacific's single-game scoring record for American and international-school teams with 49 points.
It wasn't a perfect week for the Eagles; they needed overtime to stave off Kadena in pool play Monday 48-45, then on Tuesday suffered their lone loss of the week, 40-34 to American School In Japan.
But once the playoffs began, the Eagles answered any doubters. They routed ASIJ 71-47 in Wednesday's semifinal and set their sights on the rematch with Kadena.
"We knew Kadena was more experienced," Shanique said. "They play a different style of ball."
As the final began, ASB fell behind 3-0 on a three-pointer by Kadena's Rhamsey Wyche. But the Eagles answered with a Shanique Lucas three and raced to a 10-point lead, bumping it up to 12 in the second quarter.
"We were able to lock down their two best players," Shanique said of Wyche and senior Linda Vaughan in the backcourt. Wyche was held to 14 points and Vaughan had just six in her final game as a Panther.
"We communicated with each other better than we did in the first game" against Kadena, Keisharna said.
But the defending champions, in their fourth straight final and seeking their eighth D-I title, kept it close, slicing the margin to 32-28 on Wyche's shot in the lane with 3:40 left in the third period. But she picked up her fourth foul with 2:55 left and had to leave the game.
ASB's defense took over from there, holding the Panthers to one fourth-quarter point while the Lucas sisters continued to pile up points along with senior center Neeltje Hendriske.
"They were hungrier," said coach Willie Ware, whose Panthers lost for the third time in those four finals appearances. "Shots falling short. Things that Rhamsey makes, she missed. We had no post play; chalk that up to tired legs. Every loose ball, every rebound, they got."
Shanique Lucas finished with 23 points and six assists, Keisharna Lucas added 14 points and seven boards and Hendriske had nine rebounds.
Twitter: @ornauer_stripes
---
---
---
---