Home Team
Sister act has E.J. King a volleyball contender
---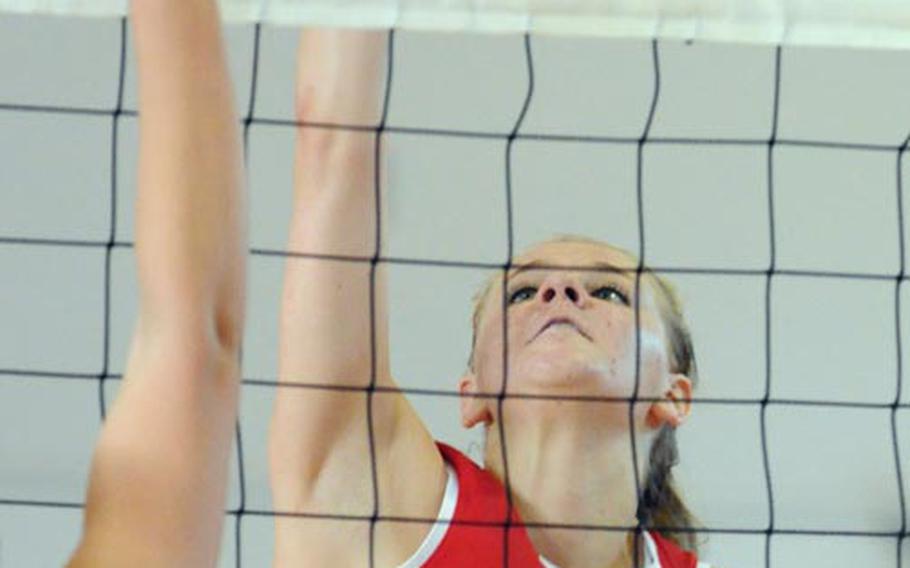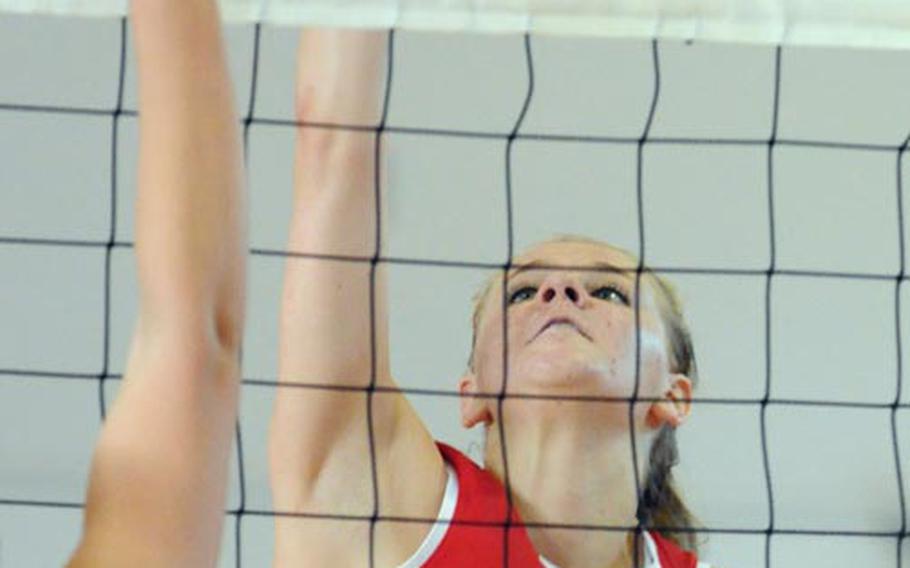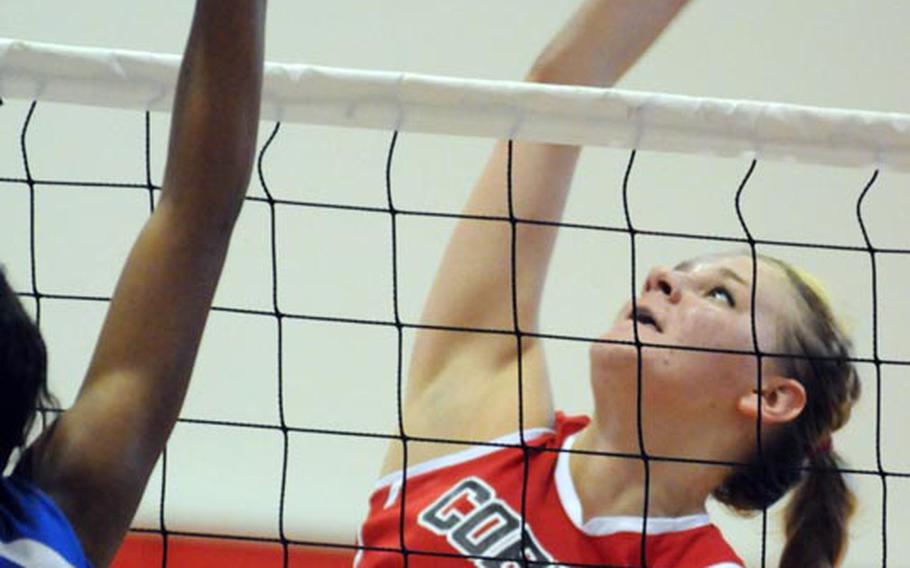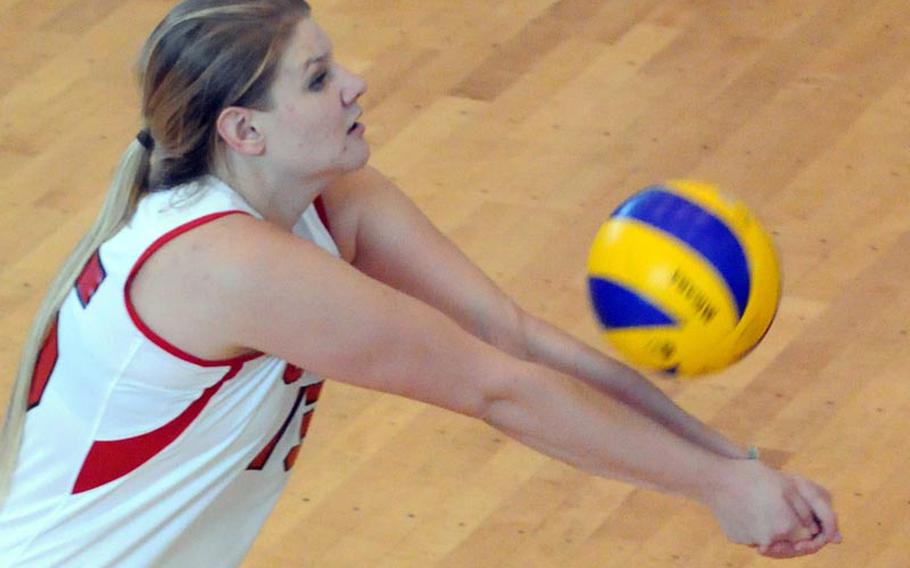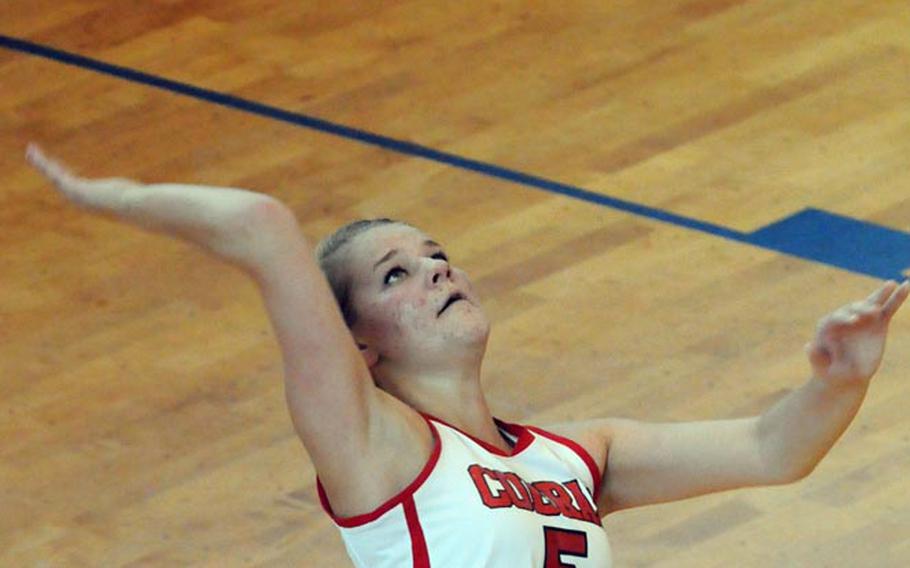 YOKOSUKA NAVAL BASE, Japan — It's been nine seasons since E.J. King's girls volleyball team possessed so much ability and height - qualities that came to Sasebo Naval Base on July 11, courtesy of the base's new commanding officer, Capt. Charles W. Rock.
With him, he brought his daughters, senior Ashley and junior Katie, each 5-foot-10 and AAU- and junior national-educated and trained volleyball players who've become cogs in the Cobras' volleyball team.
Ashley averages 12.5 spike kills, 5.5 service aces and 7 assists and Katie 10, 5.8 and 11 for the Cobras, who after years of playing piñata for DODDS-Japan teams, have lost just four five-set matches this season.
It's their best showing since Anna Bickenbach patrolled the middle in 2002, the last year E.J. King reached the Far East Division II Tournament final (they lost to Morrison Academy that year).
The 2011 Cobras have been dubbed as "the sister team." During last weekend's DODDS-Japan volleyball tournament, in which the Cobras placed second to host Nile C. Kinnick, one opposing coach said, "It's like playing six-on-two." Another said: "I'll just block the two sisters; we all know where their points come from."
Not true, say the sisters, their coach and teammates. They know who drives the Cadillac, but they insist it's a team game with them.
"It's not the Katie and Ashley show; it's the Cobra show," Ashley Rock said. "Volleyball is a team sport."
"Having us on the court makes them want to be better. It makes them better," Katie said.
"They're always positive; they motivate us to want to be like them," senior Sarah Fitzwater said. "We have a lot more room to grow, but we get better every game" with the Rock sisters leading the way.
"They're a great addition," Cobras first-year coach Pete Soto said. "They step it up when they need to, but they share the workload. They bring a lot of spirit that we've not had. They inspire the team to work together. They're the nucleus, but they help these girls."
Volleyball has been a passion for the Rock sisters since their mother, Katherine, "strongly encouraged" Ashley to try out for a youth team in Corpus Christi, Texas, when she was in the seventh grade.
Playing youth ball, growing taller and eventually joining traveling club teams in Texas and later Virginia inspired both sisters to enjoy the game more. "When you develop and grow skills, it gets to be more fun," Katie said.
They began attending camps at universities in North Carolina and Virginia, then settled into spots on the Metro America traveling team in Washington and Yorktown High in Arlington, Va. "Several" colleges, five total among NCAA Divisions I, II and III, have expressed interest, Katherine Rock said; she did not identify them.
It was while Ashley was playing AAU ball in Florida and Katie junior national ball in Atlanta that they found out their father had accepted the assignment to Sasebo.
"I was really upset," Katie said of having to leave all the trappings of stateside ball behind. "When you first hear and know nothing about the area, it's scary."
Ashley was more ambivalent. "No matter where I am, I try to make the best of every situation," she said.
Via Facebook, the sisters contacted Francis and Oscar Martin, sons of Sasebo's former base CO, Francis X. Martin. The two sons now play soccer at Yorktown.
Their conversations helped the Rocks relax about the move, and once they hit E.J. King tryouts in August, they said they went about the business of molding the Cobras into a team.
"Here, it's more fun, there's less pressure," Katie said. "It gives you a connection with the players, to see them improve. We stand out, but we couldn't be able to do it without the whole team."
At least one opposing coach at the DODDS-Japan tournament, Kinnick's Al Garrido, recognized the Rocks' efforts at team building.
"You can see the two are the leaders, but what I admire is they ensure everybody feels like a part of their success," said Garrido, a two-time Far East Tournament champion coach with Southern on Guam. "All they need is a few little things and they'll definitely be a contender."
Far less drama, the returning players say, pervades on the team this year compared to last year, when team chemistry wasn't as good.
"We're much more of a team now," Fitzwater said.
As for the Far East Division II Tournament next month at Daegu, South Korea, the sisters say that title is well within the Cobras' sights.
"We want it," Ashley said.
E.J. King handed Kinnick its only set loss of the DODDS-Japan tournament, 26-24 in the first set of Saturday's title match. "If we play like we played that first set, we'll win Far East," Ashley said.
---
---
---
---