Singapore routs Korea in World Bowl XI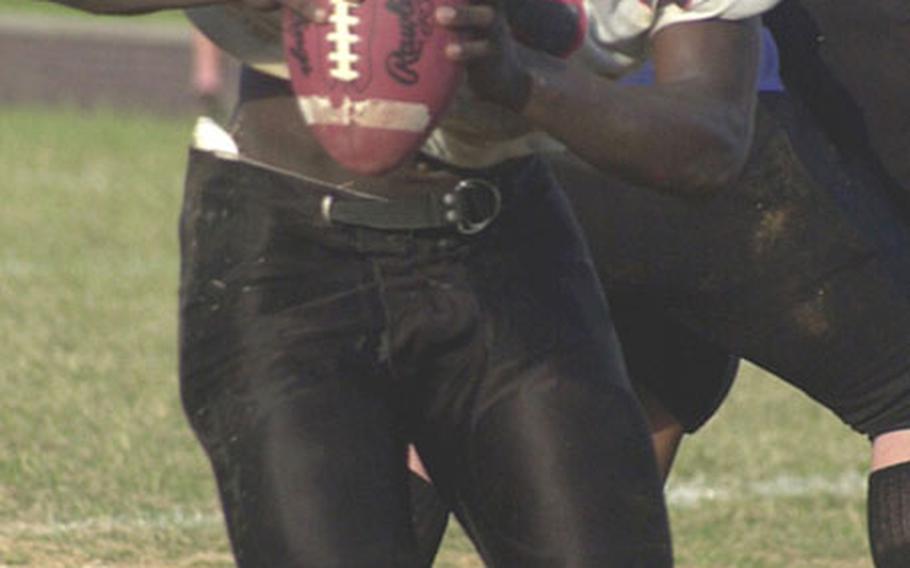 SINGAPORE — After being outscored 250-80 by Korea in their 10 previous battles, the Singapore World League Falcons routed the Korea All-Stars 55-6 in the World Bowl on Saturday at Singapore American School.
Never in the World Bowl's 11-year history had Korea lost by such a wide margin to Singapore.
"They came out really strong," said Korea coach Tony Alvarado of Osan American, who took 35 players into the all-star matchup. "My hat's off to them. They're a very strong, very disciplined, well-coached team."
Behind Air Force dependent Roland Jones, who ran for 150 yards and three touchdowns, and quarterback Edward Stevens, who passed for more than 300 yards and five touchdowns, Singapore set the tone by scoring on its first five possessions.
Jake Emerson caught three of Stevens' scoring passes, while Adam Anderson caught three passes of 50 yards or more to set up three touchdowns. Singapore's defense shut down Korea until Osan's Jackson Dayberry ran an 8-yard sweep for a touchdown with under a minute left.
Alvarado had just one week between the end of the Korean-American Interscholastic Activities Conference season and the World Bowl to put his team together. They had three practices before Saturday's game.
The heat — the high Saturday was 87 degrees, 35 degrees warmer than the high in Seoul — also took its toll on Korea, Alvarado said.
"A lot had to do with having one week to get ready," he said. "There was the travel, the elements. More time [to prepare] would have helped."
Singapore coach Jamie Matisin, the son of an Army colonel who's been in the World League for 28 years and on the losing end of seven World Bowls, was ecstatic.
"This was great, not only for our program but for high school football in the Pacific," said Matisin, who has guided the Falcons to both their World Bowl triumphs, including a 7-6 win in 1998 at Yongsan Garrison in Seoul.
Matisin hoped the victory would entice high school programs elsewhere, particularly Japan, to play postseason games against Singapore in the future. "I hope also that this will attract more players to our program," he said.
Matisin credited his coaching staff and the play of his line, on both sides of the ball.
"Our four defensive linemen and the five up front on offense came to play today, controlled the line on both sides from the opening series to the end of the game," he said.
Okinawa
Kadena Buccaneers 21, Kadena Islanders 7
KADENA AIR BASE, Okinawa — Super senior A.J. Morgan tossed touchdown passes of 21 yards to Josh Johnson and 90 to Gary Wright to lift the Buccaneers (7-1) into the Rising Sun Bowl All-Japan championship for the second time in three years.
Morgan accounted for 243 all-purpose yards as the Bucs (7-1) won the season series with the Islanders (6-2), outscoring them 50-13.
The Bucs outgained the Islanders 332-193, forced two turnovers and recorded five sacks. Daniel Toa blocked a punt into the end zone for a score. For the Islanders, Keith Loving had 158 all-purpose yards and Alex Berrios hit Lester Macabasco from 29 yards for the only score.
The Bucs host five-time Japan Football League champion Yokota in Rising Sun Bowl V at 6 p.m. Saturday in Kadena's McDonald Stadium. At the same venue two years ago, Yokota trounced the Bucs 42-14.
Japan
Zama American 41, Matthew C. Perry 0
IWAKUNI MARINE CORPS AIR STATION, Japan — Corey Stacy caught a 41-yard touchdown pass from David McMahon, threw a 15-yard TD strike to Adam Robinson and intercepted a pass as the Trojans (7-3, 5-3 JFL) clinched second place in the Japan Football League.
Luis Cuadrado added a 10-yard touchdown run and intercepted a pass, Donovan Nance ran 6 yards for a score and Russ Casimire had a 7-yard TD run and an interception. McMahon also sneaked over from 3 yards out for a TD.
The Trojans, who had three touchdowns called back on penalties, edged out Nile C. Kinnick, also 5-3, for second place because of a better positive point differential, plus-115 to plus-92 for Kinnick.
Nile C. Kinnick 27, American School In Japan 7
TOKYO — Lenny Lynce accounted for a region-high 292 all-purpose yards — 127 yards on 14 carries and six returns for 165 yards, including two interception-return touchdowns — and recorded 12 tackles for the Red Devils.
Brenden Lynce ran seven times for 86 yards and a touchdown, caught a 12-yard TD pass from David McDermott and recorded three sacks.
Richie Korth rushed for 57 yards on nine carries.
McDermott went 2-for-4 for 27 yards.
Kinnick finished 7-3 overall, 3-3 in the Kanto Plain Association of Secondary Schools. The Mustangs suffered their first winless season since 1988.
Guam
Guam High 12, Southern 6
AGAT, Guam — In a pivotal battle for playoff position, the Panthers improved to 3-2.
Guam High also moved 1½ games ahead of the Dolphins (2-4), clinching the final berth in the Interscholastic Football League's four-team playoffs starting Nov. 22.