DODDS-Europe Division III football final
Sigonella slips past Alconbury, 19-12
by
Rusty Bryan
November 6, 2010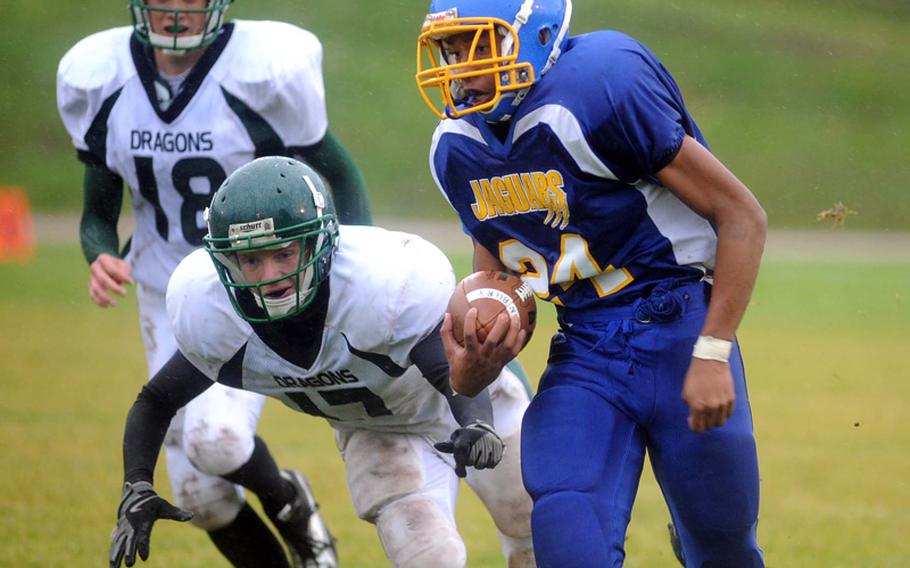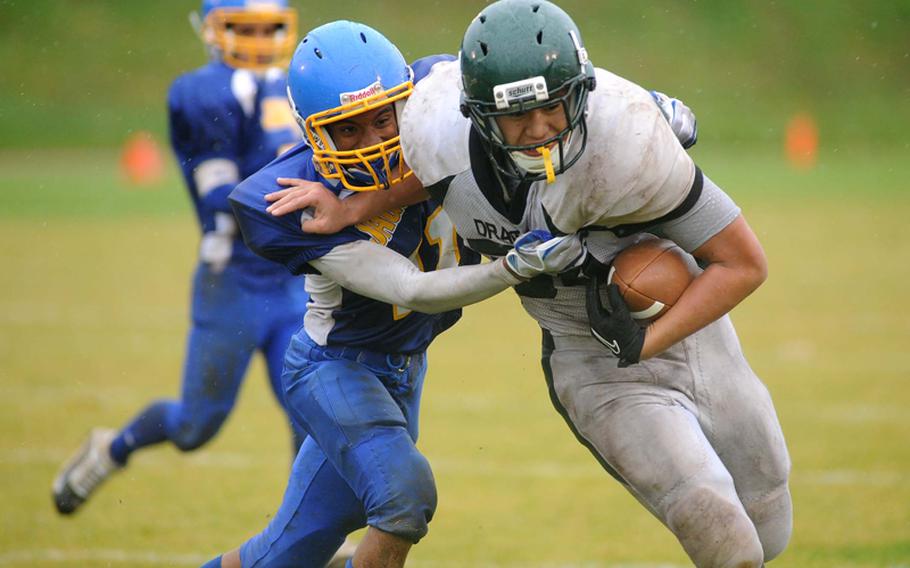 BAUMHOLDER, Germany – Whatever problems the Sigonella Jaguars had in holding onto the ball in a steady Baumholder rain in Saturday's DODDS-Europe Division III championship game, their defense made up for in a 19-12 victory.
"We tried swapping balls, and going to different balls," Sigonella assistant coach Robert Haueisen said after his team survived an eight-fumble afternoon — three of them lost. "Nothing worked."
Nothing worked on the equipment level, at least.
Leading 19-0 with 6 minutes, 57 seconds to go in the third quarter, the Jags dropped the ball on all three of their remaining possessions, losing one and forced into punts on the other two.
Sigonella's solution turned out to be a remarkably stout defense in the nine-man game.
"The defense knew we had to pull it out," said sophomore tackle Austin Flanagan, who numbered a sack among his seven tackles. "We're from sunny Sicily. We're not used to a wet ball. But we dealt with the challenge."
The challenge came from Alconbury's power game, the only option left to the Dragons on the slick grass at Minick Field.
Alconbury tried five passes, completing none of them in the wet conditions. Two fell incomplete in the end zone from 4 yards out in the second period — one dropped, and the other tipped away by Larry Stevenson.
The Dragons' power game, built around hard-running 6-0, 195-pound junior running back Kerey Kuheana, went much better.
Kuheana, who touched the ball 36 times and totaled 199 yards rushing, had 22 of those carries and 131 of those yards after halftime. Twenty-one carries and 130 yards came after Alconbury fell behind 19-0 in the third period.
Sigonella built its lead on the strength of a 1-yard plunge by quarterback Stevenson in the first quarter, and a 3-yard TD run by Joseph Coleman and a 5-yard run by Jeff Lastrella in the third quarter.
But the Dragons, who defeated Sigonella 26-20 in double overtime Sept 25 in England only to have the victory vacated for use of an ineligible player, weren't ready to vacate their D-III crown.
With Kuheana carrying the ball 10 times, one of which covered 48 yards, Alconbury went on a 14-play, 80-yard drive on the ensuing kickoff, capped by Kuheana's 9-yard TD run with 2:22 to go in the third quarter.
Sigonella had apparently stopped the drive on its second play with a fumble recovery, but an inadvertent whistle had stopped the play before the fumble occurred.
Alconbury cut the gap to 19-12 with 9:02 left in the game when quarterback J.J. Black scored from 2 yards out. So dangerous did Kuheana look by this stage that Sigonella elected to run the ball on fourth-and-one on their own 29 with 7:01 left rather than return the ball to Kuheana and Co. with that much time on the clock.
Kahlil Bowen just got the needed yard, allowing the Jaguars to consume another 2:17 before they were forced to punt with 4:44 to go.
Alconbury took over on its own 47 and drove to the Sigonella 24 before time and tackles for loss by Marco Summerfield and Coleman ended the drive.
"We mostly keyed on No. 34," Sigonella sophomore linebacker Brandon Albers, who made two touchdown-saving tackles, said of Kuheana. "We played a lot better than last time."
---
---
---
---