Home Team
Sigonella's team leader loves to compete
by
Rusty Bryan
November 2, 2011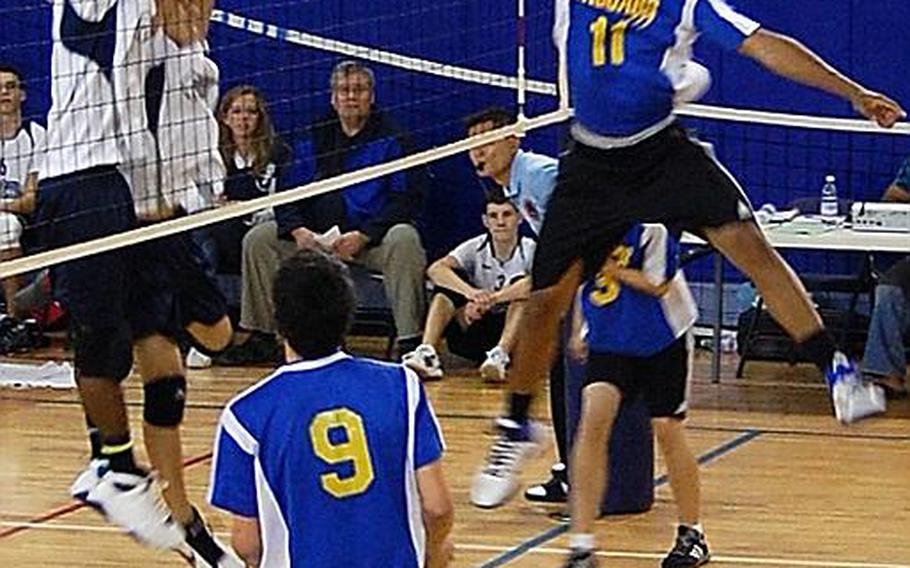 In the parochial world of DODDS-Europe boys' high school volleyball, senior outside hitter Chris McKissick of Sigonella can't be blamed for wanting a larger stage for his sport than this week's Mediterranean Championships, which begin today at Aviano Air Base.
"I would really like to see that," he said by telephone on Sunday when asked whether he'd like boys' volleyball to be offered in all DODDS-Europe schools and not just those in the Med.
Not, however, for the wider attention his personal skills might attract on a continent-wide platform. For McKissick, it's all about competition. Playing just in the Med, he said, "We don't get to play against any Division I athletes."
Competition is what it's all about for McKissick. His coach, Ross Brand, flaty calls McKissick the best player in the league. The six-footer also plays the pivot for the Jaguars' basketball team and is an outfielder-first baseman for the baseball team. Both squads were European D-III runners-up last year.
Despite playing on a team that spent much of the year rebuilding, McKissick is averaging 11 kills and two blocks per game this season.
"We are becoming a balanced group," Brand emailed on Saturday about the progress his team has showed, "but mainly we have the star, and he is not able to overcome all our missteps as a whole."
McKissick said the learning curve posed problems.
"It's a hard transition," McKissick said. "The last two years we had experienced players. The school shrinks every year. This year we have a lot of guys who've never played volleyball. We spent the first part of the season showing them what to do."
Two gridders joined the team in midseason after the Jaguars, the 2010 European Division III champs, were forced to cancel their football season because of too few players.
"They were surprised," McKissick said, "at how hard volleyball is."
None of that, however, has lessened McKissick's devotion to the sport he likes best.
"The best part about volleyball is the team aspect," he said. "We all play together."
And the 2011 Jaguars might just be getting the hang of the team-thing. Although they stand just 3-7 in games decided on court this season, they closed out their regular campaign at home Saturday with a twin-killing of reigning Med champ Aviano. McKissick put away a total of 30 kills and came up with five blocks in the 3-0, 3-1 victories.
At a minimum, that's momentum.
"There are some good teams out there," Brand said about the tournament, "that we could give a run for their money."
Brand said McKissick has the potential to give college teams as big a boost as he does to the Jaguars.
"His game, his court awareness and his hitting ability are far above all the other players in the Mediterranean league," Brand wrote. "I would expect him to go on to college volleyball and do well in any division in the U.S."
Not bad for a player who took up the game just three short years ago.
McKissick, who said he's been in contact with Lees-McRae College, an NCAA Division II school in Banner Elk, N.C., hasn't made a decision yet about the next level. At the moment, he's more concerned about this one.
And if his final few games run true to form, he's apt to add to his store of career highlights the next three days at Aviano.
Asked to recall the high point of his career, he thought a bit, then responded, "Every game we get to play. I enjoy the game a lot."