DIII boys soccer
Sigonella powers way to championship
by
Dan Blottenberger
May 21, 2011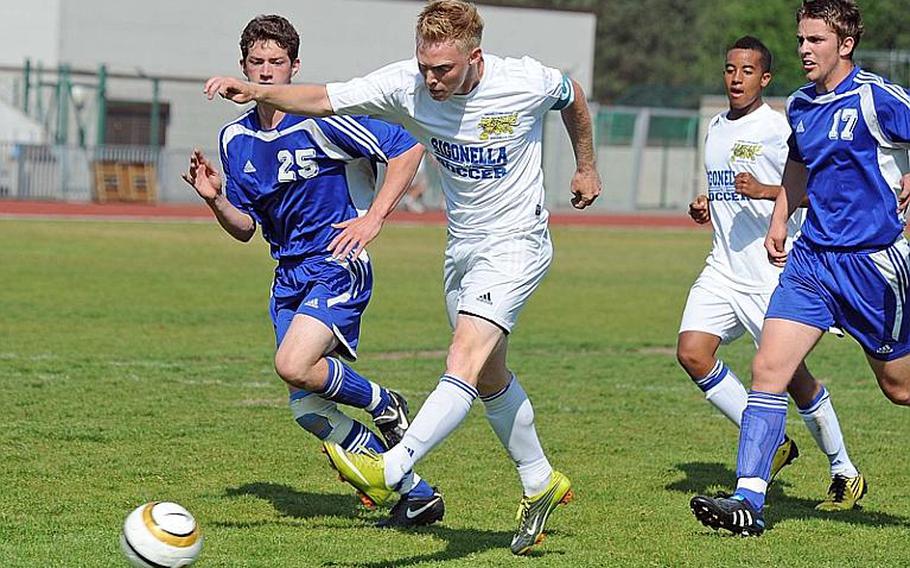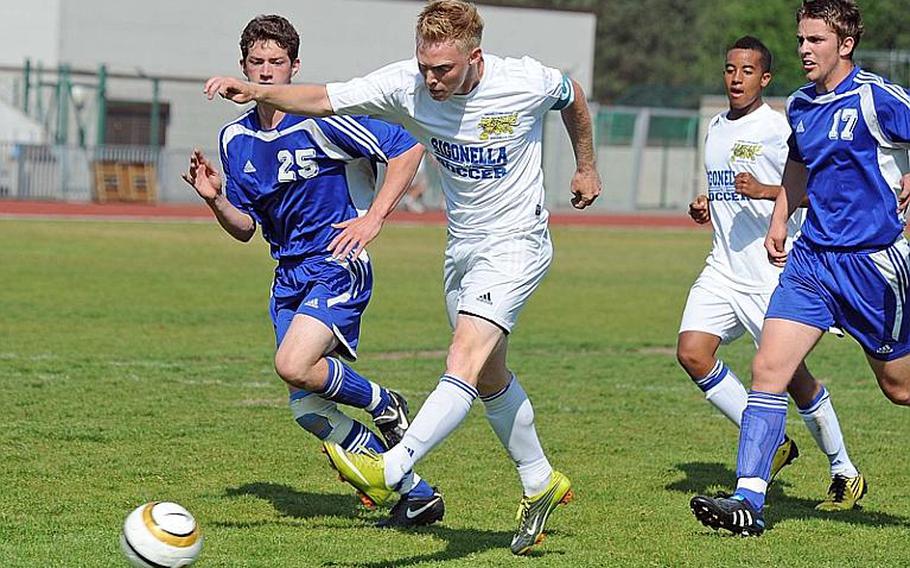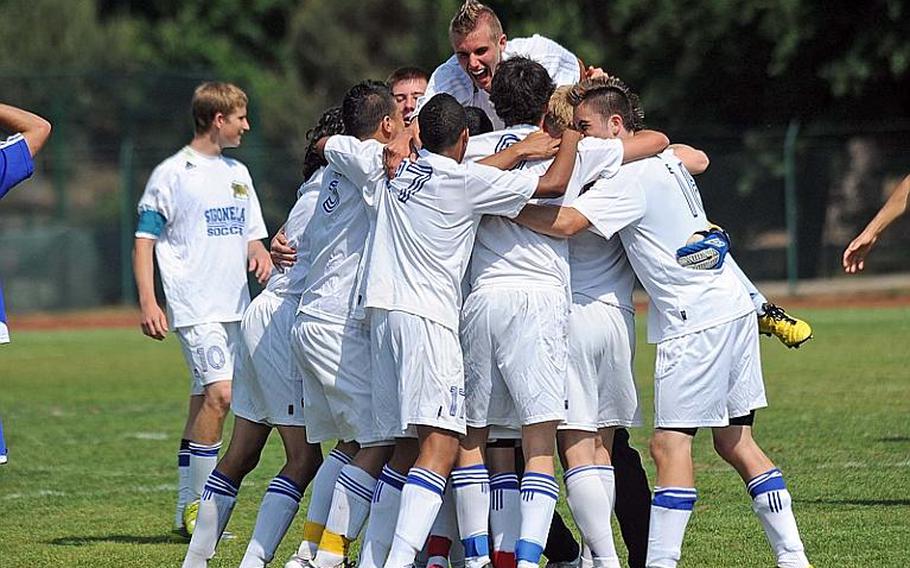 RAMSTEIN AIR BASE, Germany — It was supposed to be a rebuilding year for the Sigonella boys soccer team.
They rebuilt by winning the DODDS-Europe Division III championship Saturday, defeating Brussels 2-0 in the title game.
Firepower would be a good way to describe the Jaguars offense that was led by 2010 second team All-Europe player Ben Jacks, who scored both goals in the championship game, giving him 10 in six tournament games.
"At the beginning of the season we had no idea what we had," Sigonella head coach Phil Andre said of the team that fell in the semifinal last year.
"This year, I was ready for a rebuilding year and I ended up with the best D-III team here, and I'd say we could take it to any D-II school with the way we played at Europeans."
Jacks, a sophomore and the D-III tournament MVP, got his first goal midway through the first half on a through ball sent in by freshman defender Jose Serna that he belted past Brussels goalkeeper Danny Helbling.
Just before halftime, Brussels nearly tied the game with a direct kick from junior Lazar Knezic that rebounded off the cross bar into play only to be cleared by a Jaguar defender.
Sigonella freshman Alessandro Thomas controlled the center of the field throughout the game with his superb footwork, feeding Jacks and junior Jack Wegman for several attacks on the Brussels goal.
"We have been working on through balls and sending them over the top and this game we benefited because they were playing with a straight four [defense] so I could make runs very easily," Thomas said.
About six minutes into the second half, Wegman sent an excellent through ball to Jacks who outraced the defense and ripped a shot into the net to seal the victory.
Despite the loss, Helbling capped a stellar tournament for Brussels, keeping them in several tough games including the Brigands' dramatic 3-2 semifinal win in overtime over top-seeded Alconbury.
"You are dealing with a couple of the top players in Europe," Greg Marinich, Brussels head coach, said of Sigonella. "It is hard to contain them for a whole 80-minutes."
Marinich said his team played another close match against Sigonella earlier in the tournament, losing 2-1 on Thursday. That was the only goal yielded by the Jaguars in the tournament; they outscored the competition 24-1 in their undefeated run through the tournament.
"I'm proud of everyone," Jacks said following the game. "We started off with scratch at the beginning of the season. To come all the way and win the D-III tournament is a huge accomplishment."
blottenbergerd@estripes.osd.mil