Shuffled, reduced rosters open Marine Forces Pacific Regional
---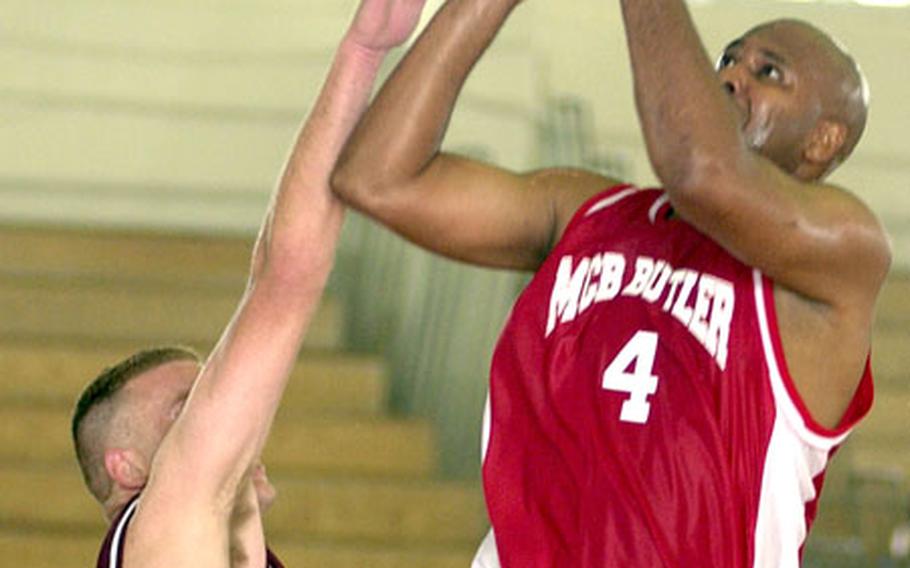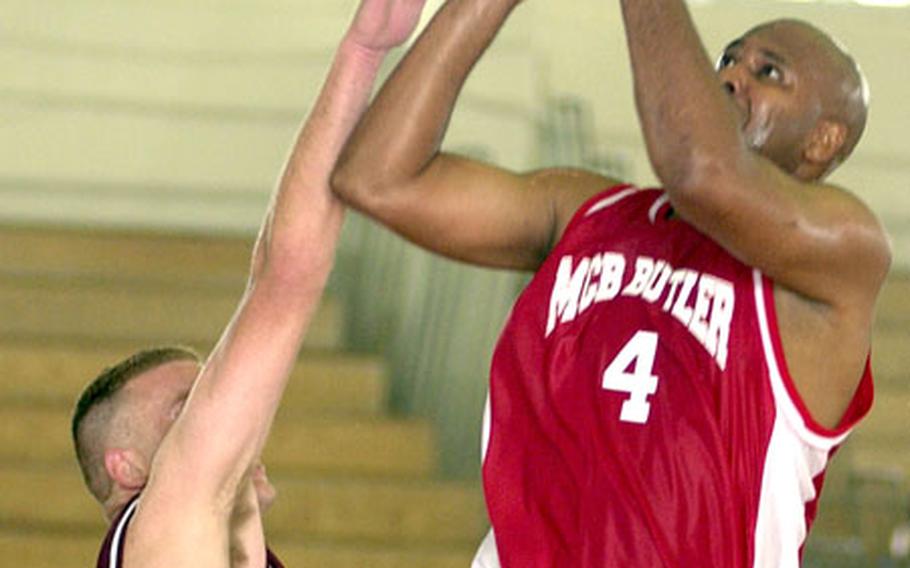 CAMP FOSTER, Okinawa — Coaching outmanned teams seems to be the bane of Andrew Wohlgemuth's existence.
His Spotlight open team dressed just six players at December's Osan Pacificwide Open Holiday Tournament in Korea, then had just seven in the March Madness Open Tournament at Andersen Air Force Base.
At this week's Marine Forces Pacific Regional Tournament, it's the same story. His 3rd Force Service Support Group team from Okinawa has just six players.
"It's actually kind of fun right now — I get to play," said Wohlgemuth, who traded his usual spot on the sidelines for jersey No. 8 in Monday's 81-55 pounding by defending champion Marine Corps Base Camp Butler, also of Okinawa.
That 3rd Force even entered the tournament was a feat, Wohlgemuth said. In addition to deploying troops, one of the group's units faces an inspection this week; two others are changing commanding officers.
"It was hard just to get players," he said.
Third Force tried to add two players to the roster all the way up to the starting time of its first game. The two managed to get command-endorsed orders to go to the tournament but by then, the first game had begun.
"We explained to the coaches" at their pre-tournament meeting "that once their first game began, all teams' rosters are frozen," said Mike Walker of Marine Corps Community Services Semper Fit Athletics, which oversees the tournament program.
So why bother suiting up just six bodies?
"A couple of our guys want to get looked at, so we said let them play," said Wohlgemuth of players such as guard Leopaldo Bernardo, who was invited to 2004's All-Marine tryout camp and hopes to return. "We'll do the best we can."
The five-day, six-team combined round-robin/single-elimination tournament also helps select six players to the All-Marine tryout camp. Pendleton hosts the camp, scheduled for June 26-July 16, and also the All-Armed Forces tournament July 17-25.
Each of the tournament's other five teams is fielding eight players or more but on average, just two to three players per team returned from a year ago.
Only a handful of past All-Marine players, such as Jimmy Wheeler and Kyle Scott of 3rd Marine Division/Expeditionary Force, and last year's tournament MVP, Yonnes Sanders of Base, dot the tournament rosters.
"There's a lot of new faces out there," said Taurice McMillan, a former two-time All-Marine post player with 1st Marine Aircraft Wing.
His coach, Greg Mitchell, who has coached five different teams in this tournament over the past decade, says the current wartime climate has changed every team's face.
"We did pretty well from 1991 to 2003," he said. "Since then, the operations tempo picked up. The war comes first. And everybody's in the same boat."
Because of the roster shuffle, picking one team that stands out above the rest is difficult, Mitchell said.
"You can call it wide open," he said. "You could say that Base is the team to beat but only because they're the defending champion. They have solid ballplayers. But everybody has solid ballplayers. It's a question of who plays together better."
---
---
---
---