Short-distance runner goes long in Grafenwöhr 10-miler
---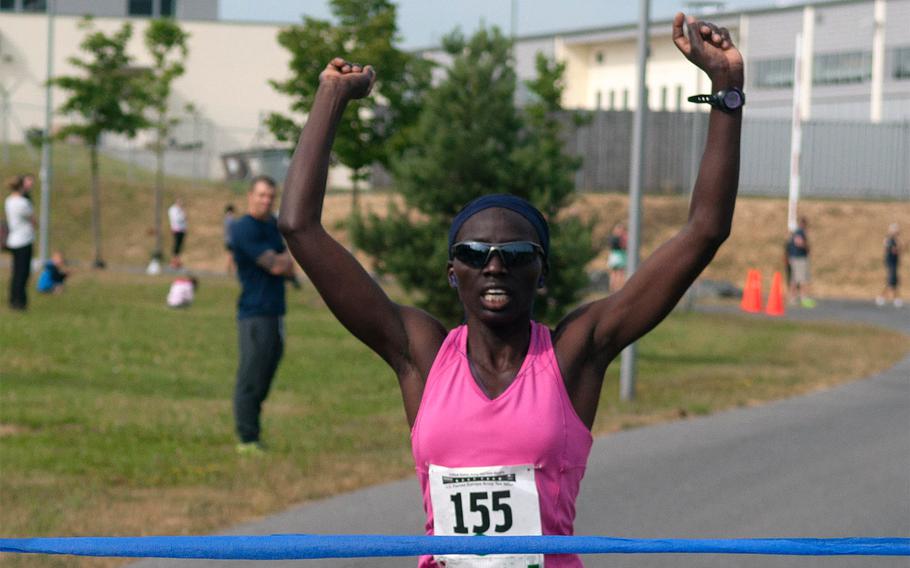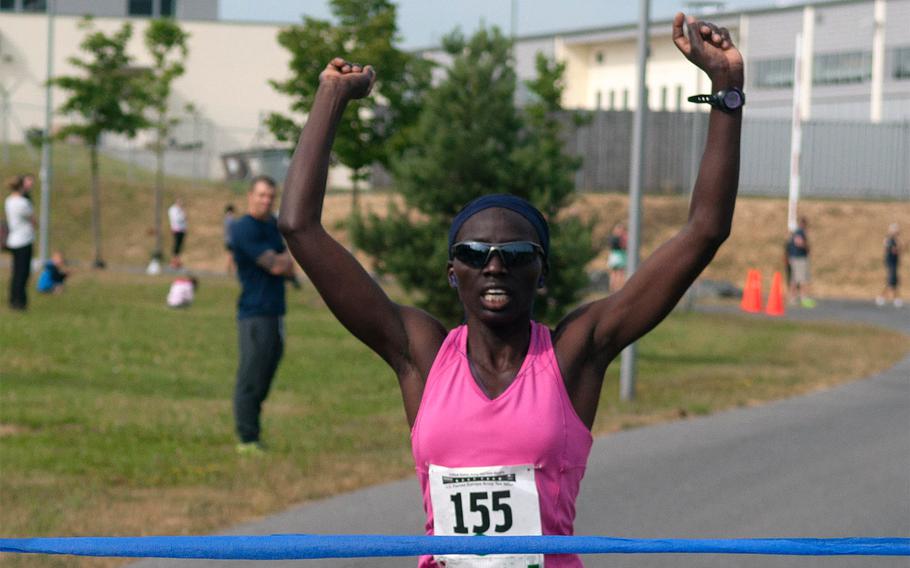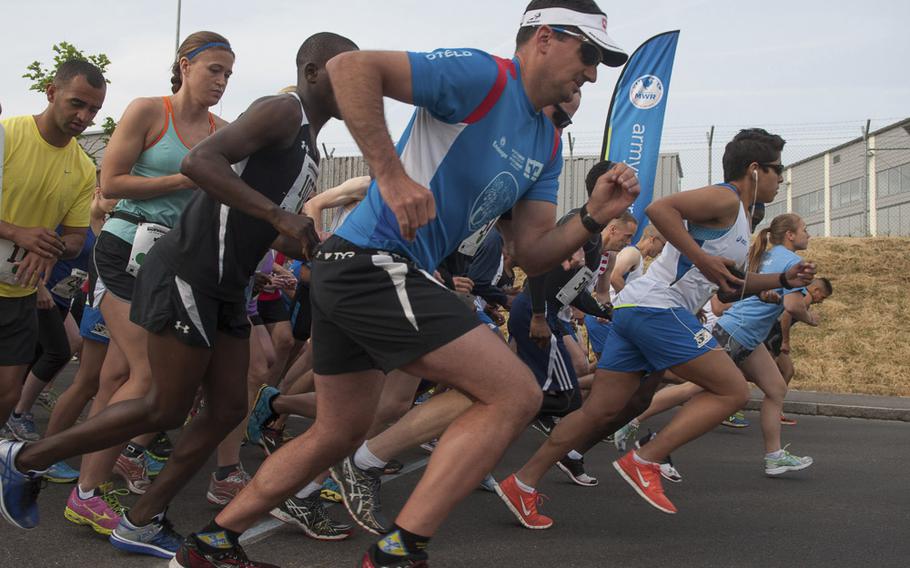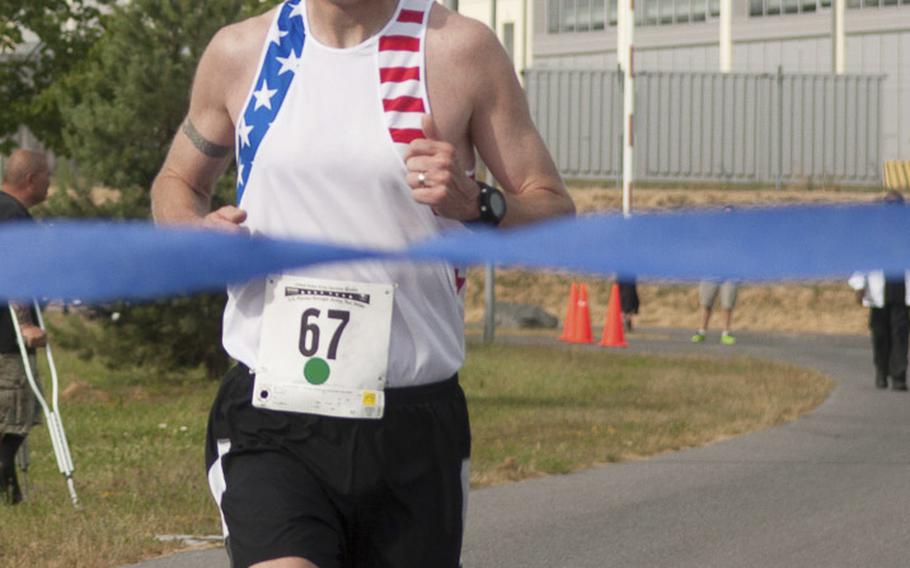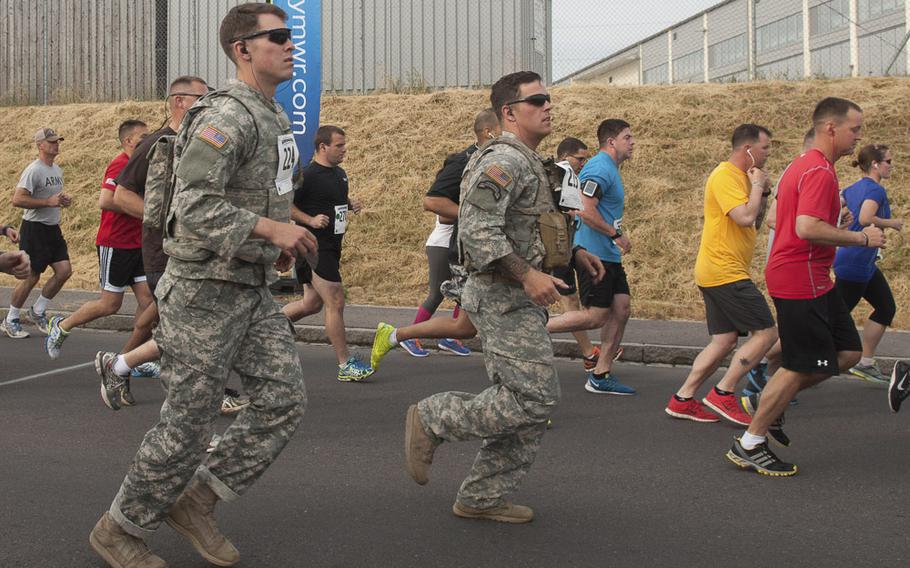 GRAFENWÖHR, Germany — Spc. Caroline Jepleting decided to run Saturday's grueling 2014 U.S. Forces Europe 10-Miler qualifier race just to see if she could run that far.
Jepleting exceeded the challenge she set for herself. She ended the 10-miler more than seven minutes ahead of her nearest rival – finishing with a course record of 61 minutes, 37.1 seconds, and winning an all-expenses paid trip to Washington, D.C., in October.
Like the other eleven top finishers of Saturday's race, Jepleting has now qualified to represent Europe in the national 10-miler held in the nation's capital. Not a bad day for a short-distance runner who had never run in a long-distance competition before.
"I was here and thought I should go out and try, see how I can do in longer distances," she said. "Now, I see I can do a long distance well. I never thought I would win."
Also qualifying for the D.C. was last year's top female finisher, Jessica Letarte, along with Capt. Samantha Rieger, 1st Lt. Sarah Paulsworth, Staff Sgt. Tanya Davis and Maj. Susan Pierson.
For the men, the winner was Capt. John King, a regular on the long-distance circuit and the victor in last year's European qualifier. King finished this year's race with a time of 55:50.9, just a scant 43 seconds ahead of fellow Capt. Zachary Reiter, who finished in 56:34.10.
"There are some competitors out there," King said. "They were pushing it the whole way. I didn't feel comfortable about it until one mile ago. I think at mile four I was still in fourth, so I had a lot of catching up to do."
Spc. Andrew Kirwa, Pfc. Abel Gutierrez, Felix Kiboiywo and Pfc. Edwin Sitienei rounded out the top six qualifiers on the men's side.
Though this was largely an individual-effort event, the competition was also open to teams. This year, the top men's teams were the Vicenza Lions #2 squad in first place, followed by the Grafenwöhr Bloodhounds in second and the plainly named Ansbach team in third. In the women's team competition, the 709th MP Battalion Warriors came in first, Ansbach came in second and the Vicenza Lions came in third.
The competition this year was fierce, with more than 200 registered runners vying for the top 12 spots.
Mixed in the crowd of runners in their hundred-dollar running shoes and moisture-wicking shirts were two soldiers from Fort Hood, on loan to Grafenwöhr thanks to "Saber Strike," a training exercise that wrapped up this week.
In typical Ranger fashion, 1st Lt. Harrison Maxwell and Staff Sgt. Brandon Simmons added an extra layer to the competition, tackling the entire 10 miles in full Army combat uniforms, with accompanying fully loaded flak vests.
"Last night we kind of figured we'd do it in plates and then someone said 'Let's do it in ACUs,' so we did," explained 1st Lt. Harrison Maxwell. "We kind of do that to each other."
Like most of the other participants, Maxwell saw the 10-miler as one part training event, one part sheer entertainment.
"We're just trying to make it a good Saturday."
---
---
---
---