Sharp switches classes, continues to dominate USFE bike series
---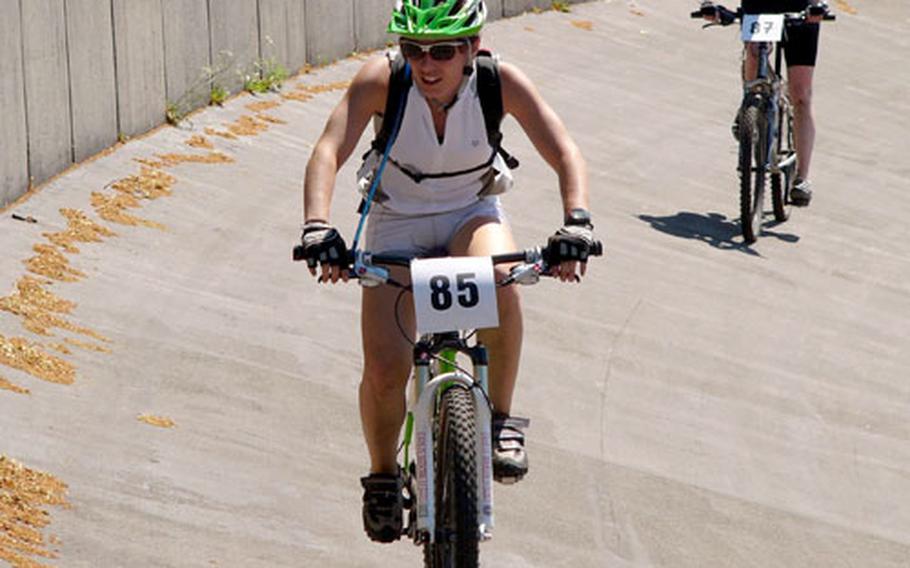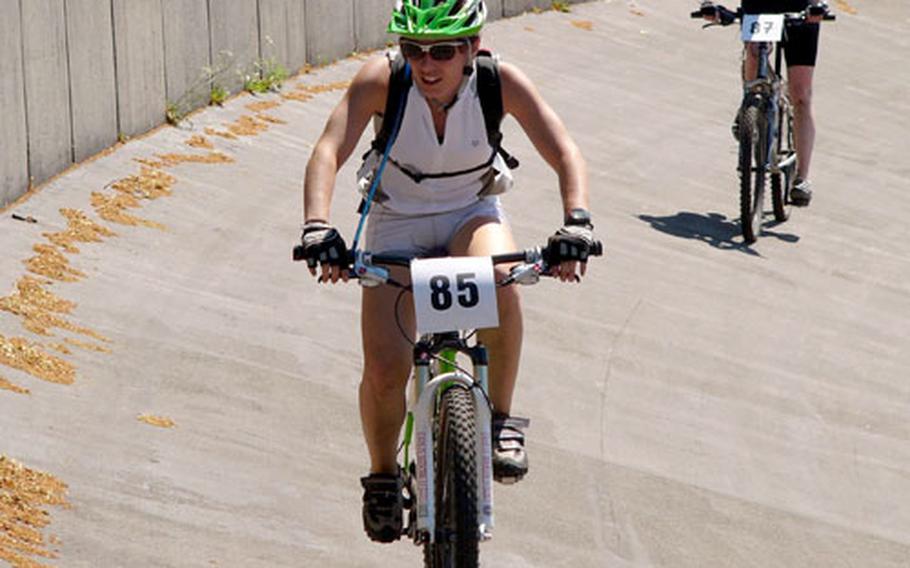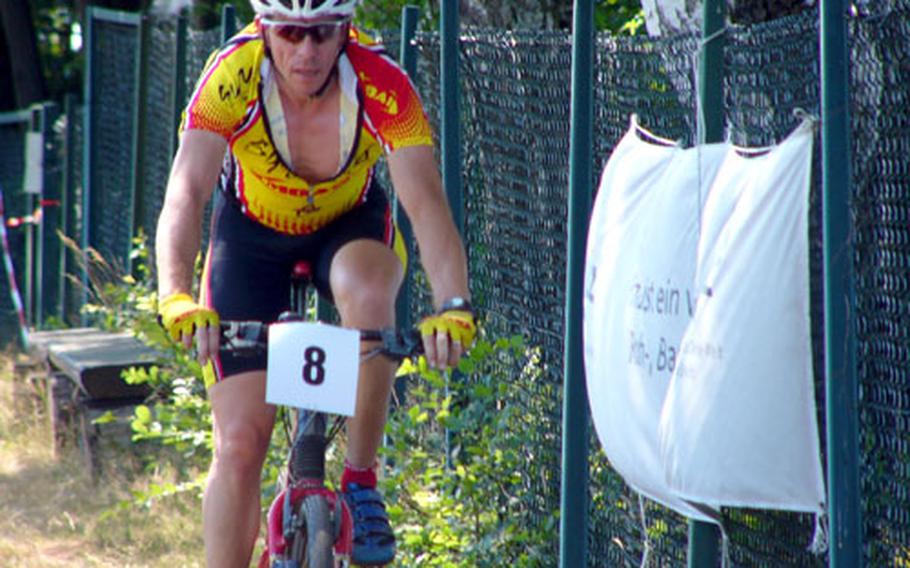 SCHOPP, Germany — For the first time in six races this season, Hanau's James Sharp didn't win the masters race for riders 40 years and older in the U.S. Forces Europe Mountain Bike Championship Series.
He won the open race, intended for riders aged 18-29, instead.
"I hope I didn't embarrass anybody by being the old man in the open race," Sharp, 44, said after covering a very hilly 28.8 kilometers in 1 hour, 25 minutes, 49 seconds Sunday to win the event by more than 20 minutes. "I just wanted to do the extra distance."
Getting a chance to go the extra mile however, didn't come without jumping a hurdle or two.
"I had to go to the promoter to get permission to ride in the open," he said. "They said it was too far for me."
Whatever the officials said, the extra distance made no difference to Sharp, who led wire-to-wire and was never threatened in the open race despite the difficulty of this layout in the hills above Kaiserslautern.
"It was a real hard course," Sharp said. "There was lots of climbing."
For a change, Sharp watched as the masters field he ordinarily dominates departed from the Sports Club Schopp velodrome on their 16-kilometer ride. The course included three-quarters of a trip around the banked velodrome for every 3.2-kilometer lap.
Jeff Clayton of Stuttgart won Sunday's masters race in 49:33, vaulting him into second place overall in the masters category. However, he still trails Sharp, who earned no series points on Sunday, by some 60 points.
Also winning a 16-kilometer race Sunday was Jessica Tomazic of Schweinfurt. She covered the distance in 1:02:00, in her first race of the season in this series. Christine Gritzke of Vilseck, who won last week's race in Ansbach but took this weekend off to hike the Alps, and Theresa Kelley of Vilseck, also absent here Sunday, lead the women's open series with 21 points each.
Men's seniors winner Sunday was Seth Lininger of Spangdahlem, who clocked 1:30:56, exactly nine seconds faster than former Armed Forces cyclist Trent Hornus of Ramstein. Leslie Handy of Ramstein, who didn't race Sunday, handily leads the seniors with 85 points.
U.S. Forces Europe Mountain Bike Championship
SCHOPP, Germany — Results from Sunday's Ramstein Mountain Bike Championship, sixth of 10 stops on the 2006 U.S. Forces Europe Mountain Bike Championship series. Women and men's masters rode five laps on 3.2-kilometer course; men's open and seniors rode nine laps.
Women: 1. Jessica Tomazic (Schweinfurt) 1 hour, 2 minutes; 2, Jennifer Prime (Ramstein) 1:10:40; 3, Angie Tague (Miesau) 1:13:44; 4, Heidi McKenna (Stuttgart) 1:17:21; 5, Amy Giles (Stuttgart) 1:23:14; 6, Kathy Shatto (Garmisch) 1:37:06.
Men's open: 1. James Sharp (Hanau) 1 hour, 25 minutes, 49 seconds; 2, Rosendo Henriquez (Illesheim) 1:46:23; 3, Greg Rasannen (Vilseck) 1:47:33; 4, Bryan Wolfe (Mannheim) 1:58:46; 5, Jeremy Spalding (Miesau) 2:00:45; 6, Christopher Steele (Kaiserslautern) 2:02:28; 7, John Fancer (Illesheim) 2:03:55; 8, Norman Richards (Mannheim) 2:08:42.
Men's seniors (30-39 years): 1. Seth Lininger (Spangdahlem) 1:30:56; 2, Trent Hornus (Ramstein) 1:39.56; 3, Anthony Givogue (Mannheim) 1:43:20; 4, Scott Peterson (Ramstein) 1:43:47; 5, Kareem Braithwaite (Würzburg) 1:45:45; 6, Wolfgang Seng (Ramstein) 1:47:28; 7, Julio Botero (Illesheim) 1:49:42; 8, Todd Perry (Landstuhl) 1:52:06.
Men's masters (40 years and older): 1. Jeffrey Clayton (Stuttgart) 49 minutes, 33 seconds; 2, Scott Caldwell (Heidelberg) 58:40; 3, Matthew Girard (Stuttgart) 1:01.26; 4, Bryan Schulte (Unavailable) 1:02:37; 5, Gil Shatto (Garmisch) 1:08:02; 6, Jeffrey Fraher (Ramstein) 1:08:58; 7, Erich Roeder (Stuttgart) 1:10:40; 8, Jack Hannon (Stuttgart) 1:15:23.
---
---
---
---