Sharp sweeps U.S. Forces Europe cycling titles
by
Rusty Bryan
September 10, 2006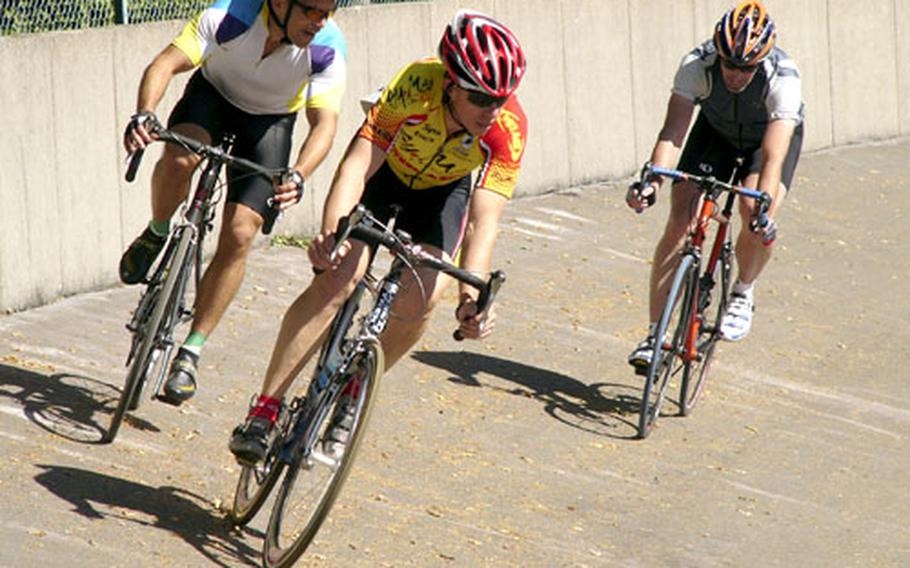 SCHOPP, Germany — Former Armed Forces Cycling team member James Sharp of Hanau completed his sweep of U.S. Forces Europe cycling titles Saturday by winning a time trial and a points race and wrapping up the 2006 U.S. Forces Europe Road Cycling Series.
"I prefer road cycling," Sharp, who is also the 2006 USFE Mountain Bike Championship Series titlist, said after his domination of the Schopp velodrome Saturday. "It's easier on the body — not so many bumps."
Sharp, 44, who took up cycling seriously 10 years ago, wrapped up his series title — 97 points to 61 for runner-up Jeff Clayton of Stuttgart — on his first race at the highly banked velodrome.
"This was my first time on one of these," he said. "It was fun."
Sharp, who rides in the masters category, once again posted the fastest time by any rider of any age when he won the 3.996-kilometer time trial in 5 minutes, 27.94 seconds before the points race.
Next fastest was seniors winner Thomas Essick of Wiesbaden, an Armed Forces Cycling Team teammate of Sharp's in 2002. Essick, who raced in only two of the four stops in this series, clocked 5:38.25.
Sharp, who rode in all four road events and missed only one of the 10 mountain bike races, dominated his age group's points race. He had 29 of the points awarded on the basis of finish position every fifth lap; runner-up Phil Tinsley of Heidelberg had 16.
Sharp said Tinsley and Clayton determined the strategy on his final race of the season by breaking away from the pack early in the 30-lap race.
"I wanted us to stay together," he said. "I was hoping we'd take it easy and race on the points laps. But they decided to go out, and I had to go with them."
Essick, with 33 points, dominated the younger riders' points race which was the polar opposite of the masters. The main pack, which included open, seniors and women's riders, stayed together throughout, sprinting only when points were at stake.
Women's series champion Urusula Cunneen of Spangdahlem held her own with the men, staying with the pack throughout.
"That was my goal," Cuneen, who clocked 6:36.98 in the time trial, told Sharp after the race. "I wanted to stay with the pack."
Merle Richard of Ramstein placed second to Essick in the seniors points race with 13, but that was enough for him to win the seniors' overall title.
Richard was the only rider faster than Sharp in any race this season,
"I beat Jim in Aviano," Richard said, "thanks to help from my Ramstein teammate Les Handy."
Saturday's open winner was Nikolas Kinder of Ramstein. He clocked 5:54.99 in the time trail and gathered 18 points in the points race to move up to third in the overall standings.
Two riders absent Saturday placed ahead of Kinder in the overall standings. Christopher Fritzsche of Aviano won with 20 series points; Shawn Deal of Vilseck was second with 19. Kinder finished with 18 series point.
U.S. Forces Europe Road Cycling Series
SCHOPP, Germany — Results from Saturday's 3.996-meter time trial and 13.32-kilometer points race on the SV Schopp velodrome. The races are the final events of the 2006 U.S. Forces Europe Road Cycling Series:
Women
Time trial: 1, Ursula Cunneen (Spangdahlem) 6 minutes, 36.98 seconds; 2, Maria Eoff (Kaiserslautern) 8:03.48.
Points race: 1, Cunneen; 2, Eoff.
Series leaders: 1, Cuneen; 2, Eoff; 3, Lori Nix (Schwetzingen); 4, Keri Cullen (Mildenhall); 5, Erica Haas (Ramstein); 6, JoDeen Brown (Garmisch).
Men's open
Time trial: 1, Nikolas Kinder (Ramstein) 5:54.99; 2, Timothy Brown (Ramstein) 7:16.47; 3, Ronnie Wint (SHAPE) 7:36.97.
Points race: 1, Kinder; 2, Brown; 3, Wint.
Series leaders: 1, Christopher Friztsche (Aviano); 2, Shawn Deal (Vilseck); 3, Kinder; 4, Michael Slotten (Spangdahlem); 5, Benjamin Martinelli (Heidelberg); 6, Timothy Brown (Ramstein).
Men's seniors (30-39 years)
Time trial: 1, Thomas Essick (Wiesbaden) 5:38.25; 2, Anthony Givogue (Mannheim) 6:20.38; 3, Merle Richard (Ramstein) 6:25.59; 4, Scott Peterson (Ramstein) 6:30.98; 5, Christopher Schmitt (Stuttgart) 6:33.52; 6, Seth Lininger (Spangdahlem) 6:37.79; 7, Howard Pepper (Hanau) 6:48.58; 8, Jeffrey Puckett (Stuttgart) 6:58.24.
Points race: 1, Essick; 2, Richard; 3, Givogue; 4, Schmitt; 5, Peterson; 6, Puckett; 7, Lininger.
Series leaders: 1,Richard; 2, Givogue; 3, David Schreffler (Ramstein); 4, Essick; 5, Trent Hornus (Ramstein); 6, Peter Callamri (Sembach).
Men's masters (40 years and older)
Time trial: 1, James Sharp (Hanau) 5:27.94; 2, Martin Heinz (Spangdahlem) 5:54.33; 3, Phil Tinsley (Heidelberg) 6:09.88; 4, Larry Kinder (Ramstein) 6:14.85; 5, Jeff Clayton (Stuttgart) 6:15.54; 6, Bryan Boyea (Landstuhl) 6:23.14; 7, Reynaldo Gonzalez (Kaiserslautern) 6:46.13; 8, David Quinn (Sembach) 6:59.01; 9, Bryan Schulte (Oberammergau) 7:04.02; 10, Jeff Fraher (Ramstein) 7:05.86; 11, David Wright (Heidelberg) 7:09.90; 12, Jack Nevin (Spangdahlem) 7:10.45; 13, Bill Whitman (Darmstadt) 7:11.24; 14, Daniel Paine (Kaiserslautern) 7:26.06; 15, Robert Eoff (Kaiserslautern) 7:34.80.
Points race: 1, Sharp; 2, Heinz; 3, Clayton; 4, Tinsley; 5, L. Kinder; 6, Boyea; 7, Gonzalez; 8, Fraher; 9, Schulte; 10, Nevin; 11,Quinn; 12, Wright; 13, Paine; 14, R. Eoff; 15, Whitman.
Series leaders: 1, Sharp; 2, Clayton; 3, Heinz; 4, Tinsley; 5, L. Kinder; 6, Gonzalez.