Several athletes poised to set new track and field records
by
Rusty Bryan
May 26, 2010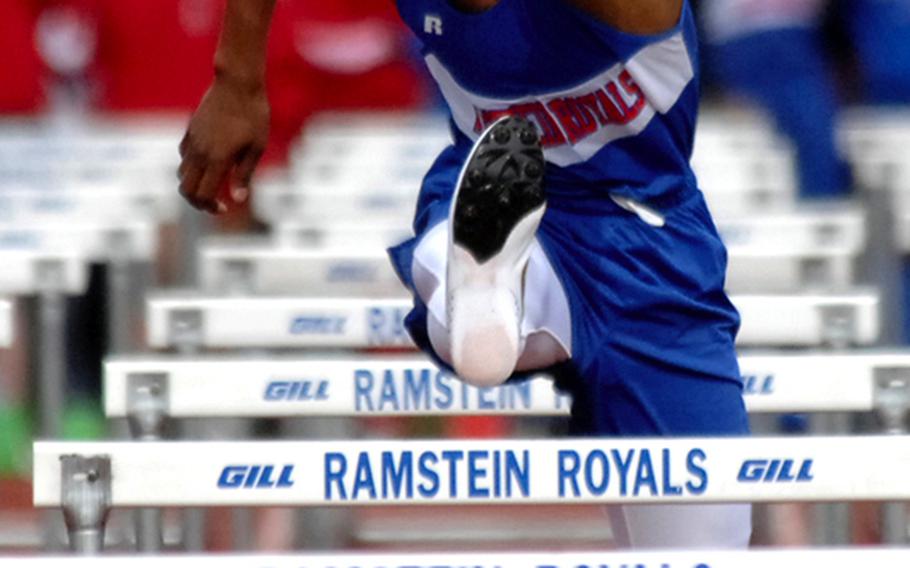 The record book will be under assault from several quarters Friday and Saturday when the DODDS-Europe track and field championships take over the city stadium of Rüsselheim, Germany, near Wiesbaden.
But nowhere is the attack more intense than in the hurdles, where seniors Tiffany Heard of Ansbach and Dimitri Mobley of Ramstein have rolled up some heavy artillery.
Especially Heard, the European record-holder in the 100 meter hurdles, who's looking to add at least two marks to her résumé. She laid the groundwork last Saturday, according to Ansbach coach Mike Jimerson.
"Tiffany broke four school records today," Jimerson said in a Saturday e-mail, "the 100 (12.52 seconds), 200 (25.41), 100 hurdles (14.57) and 300 hurdles (45.19). Both of her hurdle races are faster than the current DODDS-Europe records (15.08 by Heard last May and 45.50 by Stephanie Powell of Hahn in 1989)."
Faster, but not officially so. According to school-system rules, marks considered for records must be established at the European finals, where they can be timed and measured with automatic and impartial accuracy.
Mobley, who transferred to Ramstein for his senior year, hasn't beaten any records and will have to run the race of his life Saturday to do so. But Mobley clocked a personal- and DODDS-Europe season-best 39.85 in the 300 hurdles Saturday at Heidelberg, the first sub-40 time of the season. No one has run that fast in the finals since Ramstein's Jacob Palmer took gold in 2002 at 39.50.
Both high-jump records also stand in jeopardy. Kristen Willeford of Bitburg, the defending European girls champion, has cleared 5 feet, 5 inches to tie, unofficially, the DODDS-Europe record set by Drisana McDaniel of Hahn in 1993.
And no one has elevated his game in the event this year as much as Ramstein senior Michael Wallace, who won in 2007 at 6-2 and cleared season-bests of 6-7 and 6-8 in consecutive meets in May.
One team record stands on the brink this year. Kaiserslautern's quartet of half-milers — Colleen Davis, Rio Shaune Harris, Amber Core and Marche Bobbs — ran the 4x800 in 10:01.69 three weeks ago to threaten the 9:58.84 record their K-town predecessors set in 2007.
Other events to watch are the girls sprints and jumps, where another newcomer, Jasmin Walker of Lakenheath, clocked a school-system season-best 12.17 Saturday in the 100. Walker, who long-jumped 19 feet last year in an AAU meet in Georgia, already has 17 feet, 7-inch long and 36-3.5 triple jumps to her credit over here.
In the boys field, where Ramstein is the defending champion, the sprints offer their usual excitement. In the 100, the Johnson-Rich brothers of Patch, Justin and Julius (the 2008 100- and 200-meter champion), are joined by five other runners who also have broken 11 seconds this season — Darius Whitehead of Vilseck, James Campbell of Sigonella, Chris Black of AFNORTH, Napolian Myhand of Heidelberg and Antwaun Brown of Kaiserslautern.
Jamal Tuck, who's run an 11-flat 100 this season, and Wallace join those runners in the contenders' parade in the 200, while Julius Johnson-Rich and Sean Outing of Aviano are the only sub-51-second runners so far in the 400.
Expect this season's five 21-foot long-jumpers — Outing, Tuck, Wallace, Artrell Davis of Baumholder and Devin Jackson of Heidelberg — to battle in the sand for that title. Outing is the triple-jump favorite, but Tuck, Julius Johnson-Rich and Anthony Adams of Ansbach all have cleared 43 feet.
Finals in some of the field events get the action started at 11 a.m. each day. There is no admission charge.