Set up for college volleyball
---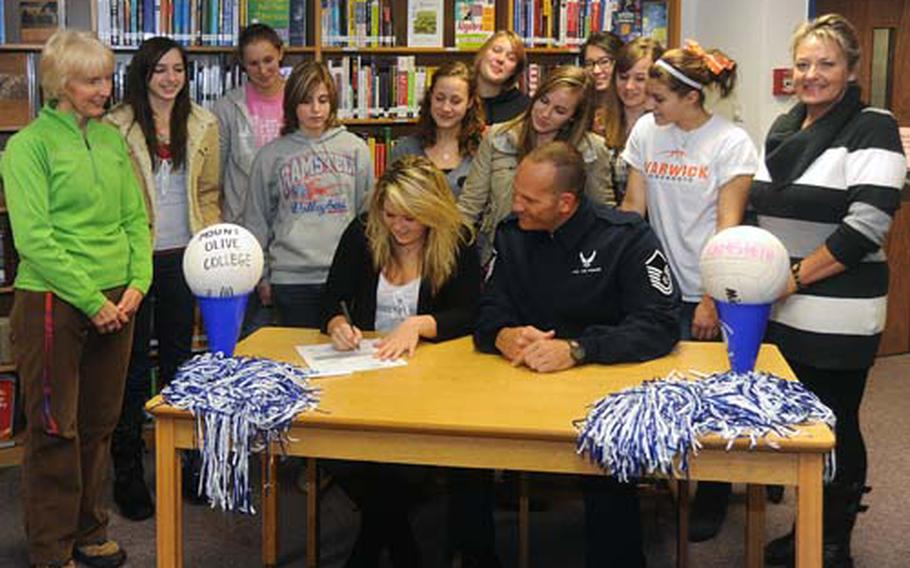 RAMSTEIN AIR BASE, Germany — Three-time All-European and four-time Ramstein varsity setter Charnel Austin signed a letter of intent Monday to take her game to Mount Olive College in North Carolina, an NCAA Division II school.
"I'm very excited," Austin said after a signing ceremony Monday in the school library. "I got so much good feedback from them. They seem to take such good care of their players."
Much of the feedback came from Mount Olive assistant coach Hans Hillestad, the longtime DODDS-Europe volleyball guru at Aviano High School before taking his present job last summer. Hillestad became acquainted with Austin at his annual summer camp.
"The college coaches made it very clear that they expect Charnel to be the team's starting setter next year," said Austin's mother, Gabriele, herself a former setter for the German national team. "They're building a totally new team, and they say this is the top recruiting class in their history."
Austin, 17, said that sort of expectation exerts pressure on her, but that it's nothing she can't handle.
"I'm preparing with a personal trainer," Austin said, "working on my quickness and jump."
The package includes tuition and other expenses at the private liberal arts college. And the step up in competition will be nothing Austin hasn't seen, according to her mother.
"The level is pretty much lower than German club level she faced with her German league teams," Gabriele Austin said. "Those teams usually have five or six Division I prospects."
Austin also is familiar with success. Her Lady Royals won European championships in three of the four years Austin played, culminating with the just-completed 18-0 run to the Division I championship.
She signed with Mount Olive despite never having visited the campus. Still, she said, she's eager to begin her time in the Appalachian Mountains.
"I'm looking forward to snow," she said. "I love to snowboard."
---
---
---
---