Set in his ways
by
Kent Harris
October 15, 2009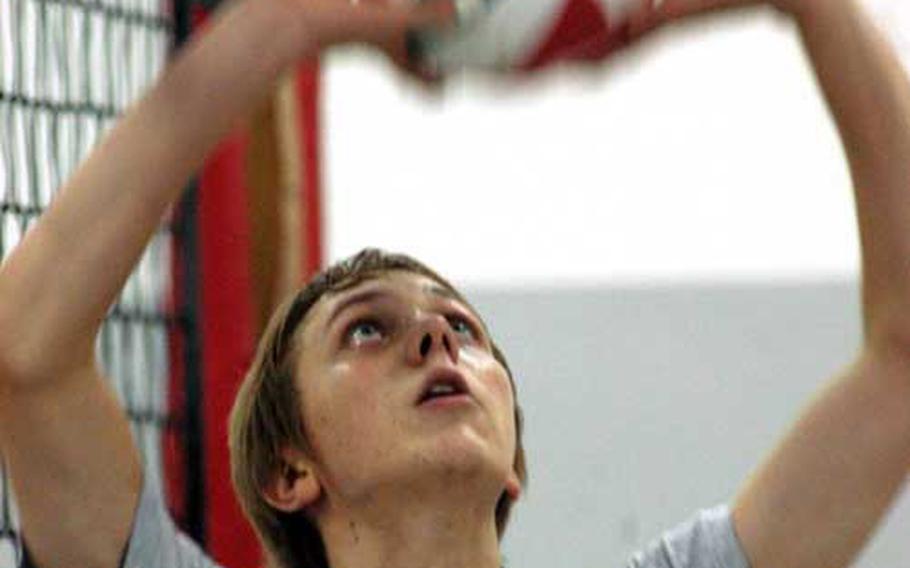 AVIANO AIR BASE, Italy - For Sam Hillestad, volleyball is a way of life.
His father, Hans, was coaching the sport since before Sam was born.
With help from his wife, Pam, Hans Hillestad built a dynasty at Aviano, with his teams compiling a 100-game winning streak at one point. Pam is also the girls' volleyball coach at the school.
Boys coach Louis Lucidi, who has coached the sport for 25 years, said that background is obvious when watching Sam play.
But he also said it takes more than just a volleyball pedigree to succeed in the sport.
"You could have your mother, father, an uncle, a niece and who knows who else be a coach," he said. "And if you're not an athlete, if you don't have something to build on, it wouldn't matter."
He said Hillestad is solid in just about every aspect of the game. His gets more than 97 percent of his serves in. He handles much of the team's setting duties and he's the team's best passer.
A 6-foot, 2-inch junior, Hillestad has been named all-conference for the past two years.
"I play every position," he said. "Basically, whatever the team needs. I'm mostly a setter, though."
He and co-captain Sean Outing share setting responsibilities for the team. Their volleyball backgrounds are completely different, though.
Outing, a senior, had never really played volleyball before trying out for the team last year. He wound up being all-conference in his first year as the Saints placed second in the league. He said he's picked up a lot about the game just by watching his friend play.
"Everything he says to do, you've got to listen to him," Outing said. "Even though he's a younger guy, he's got the experience."
In addition to his passing and setting duties, Hillestad can also hold his own at the net, though he knows that probably won't happen at the next level.
"Still growing, I hope," he said of his potential to play college ball.
That decision, still a few years away, might also come down to academics. He's carrying a 4.0 grade-point average and says he'll also be looking for a place where he'll be academically challenged, casually mentioning schools such as Stanford and MIT.
In the meantime, there's a lot of volleyball left to play at Aviano. And at other locations in Italy, since Hillestad belongs to an Italian club that's entered in several competitions.
"He's one of those kids who would gladly play on a Saturday (during the offseason) if you opened the gym," Pam Hillestad said.