Home Team
Seoul coaching icon Hilgar leaves as a champion
by
Dave Ornauer
November 23, 2010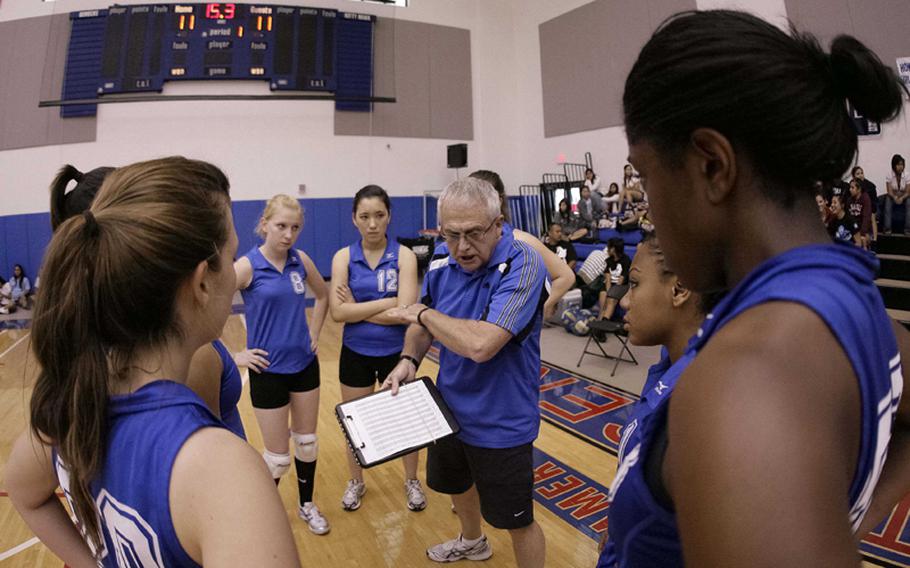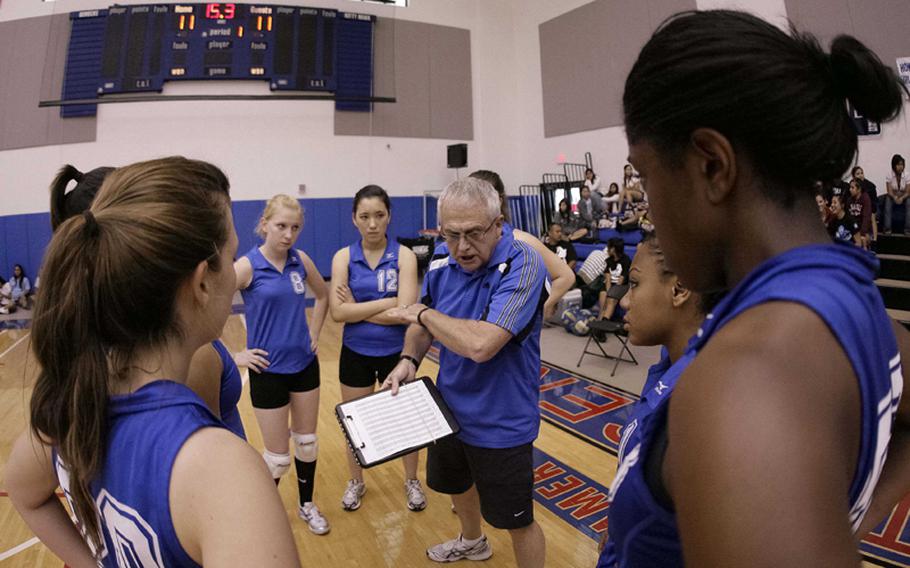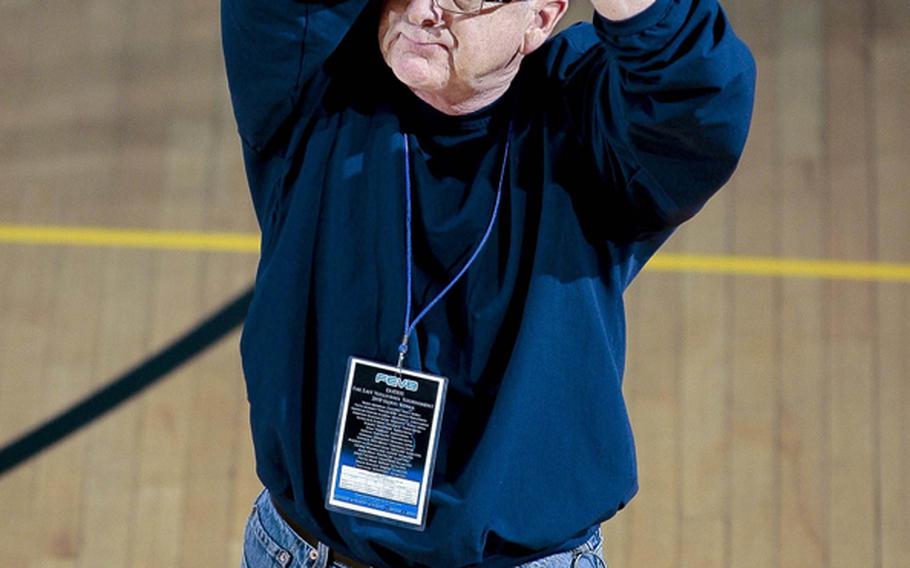 YONGSAN GARRISON, South Korea – They'd played 27 matches, losing just two all season, to reach that juncture, playing for the Far East High School Girls Division I Volleyball Tournament title on their home court on Nov. 13.
The home Seoul American fans squealed, screamed and yelled themselves hoarse as the Falcons took the court, excited and apprehensive at the same time. Win and they send 31-year coach Denny Hilgar out with his first and only title. Lose, and …
"We really wanted it this year; we were really hungry for it and we got it in the end," said tournament MVP and Falcons senior Liz Gleaves, 10 days after they'd beaten Faith Academy 25-20, 25-15, 25-27, 12-25, 15-4 for the title.
A loss would have been "disappointing for us. … There would have been regrets and that was a goal for us, to have no regrets, and we didn't. He's (Hilgar) a great coach. He tells us to put our gut, heart and mentality into it and he does the same."
But to hear Hilgar talk, it's never been about him, numbers or titles, but building a winning program and players who win at life as well as at the game.
"When it's all over, you've seen the growth … as long as you can convince them you're in it to improve, the results will take care of themselves," said Hilgar, who stepped down as Falcons coach after that memorable Nov. 13 match.
"If all I was in it for was the championships, I'd have probably quit a long time ago. When they step on the court, my job as coach is done. It's the spirit of the game they take with them when they play."
Yet somebody has to convey that spirit of the game to the players. To Gleaves, and to one of Hilgar's early 1990s stars, Lori Rogers, that's where Hilgar comes in.
"He is the spirit. That's what makes us want to play better," said Rogers, who has coached Seoul American's boys volleyball team for the last 12 years and is in line to take over for Hilgar next season.
"He's the icon of Seoul American. You can't replace him," Rogers said. "His shoes are way too big to fill. I won't try to replace him. I'll try to carry on what he's built because this is his program."
To gaze at Hilgar's early coaching years, one wouldn't dare guess he'd have ended up in the same place for 31 years.
The 59-year-old was born in Grove City and wrestled at William Tennett High in Warminster, near Philadelphia. After graduating from Slippery Rock, Hilgar taught physical education and coached wrestling for his old Centennial school district.
Wanderlust took over and he took a position at Teheran American School in 1976; he fled like many Americans when the Shah was deposed in 1978.
Hilgar then caught on at International School Santo Domingo where he taught Hall of Fame pitcher Juan Marichal's daughters. But Hurricanes David and Frederic devastated the Dominican Republic and Hilgar stayed only one year.
He next interviewed for what became his longtime Seoul American position back home in Philly. He and current DODDS Japan assistant district superintendent and longtime Pusan American coach Dennis Rozzi processed in at Fort Dix the same day.
He'd never played or coached volleyball in the States, taking it up only after arriving in Teheran "but I didn't know bupkis" about the sport, he said.
Only after arriving in Korea and seeing "Asia's love for the game" did Hilgar take up the sport in earnest.
He said he also learned from his fellow Far East tournament coaches; "We'd sit around the barracks swapping stories, x's and o's, that camaraderie early on, sit and pick each other's brains," he said.
"Nobody's ever worked harder to coach a sport than Denny has in volleyball," Rozzi said.
Six times before this year, Hilgar reached the Division I Final Four; six times denied a title, including his lone previous title-match appearance in 1999.
Always, he said, he would keep building on what had come before. And always, veteran players such as Rogers, Judy Aptaker, Carol Hong and others who remain in Korea to this day and still more who have friended him on Facebook remain a part of his life.
"And it's still a vital part of their lives. That's what makes it special," Hilgar said. "I could have gotten a transfer. Seoul American is that special place."
Now, the reign is over. Hilgar isn't sure whether his next move is full-fledged retirement in his adopted home of Bradenton, Fla., or to accept a transfer somewhere.
But for those who've come and gone, he'll remain that special coach. "He's always told us, don't play for anybody, play because you love the game," Rogers said.
"And we did that, but the other side of it was we wanted to win for him. What those girls did … was something that the rest of us wished we could do. So we're glad he finally got his championship."
---
---
---
---