Seoul American triumphs in volleyball showdown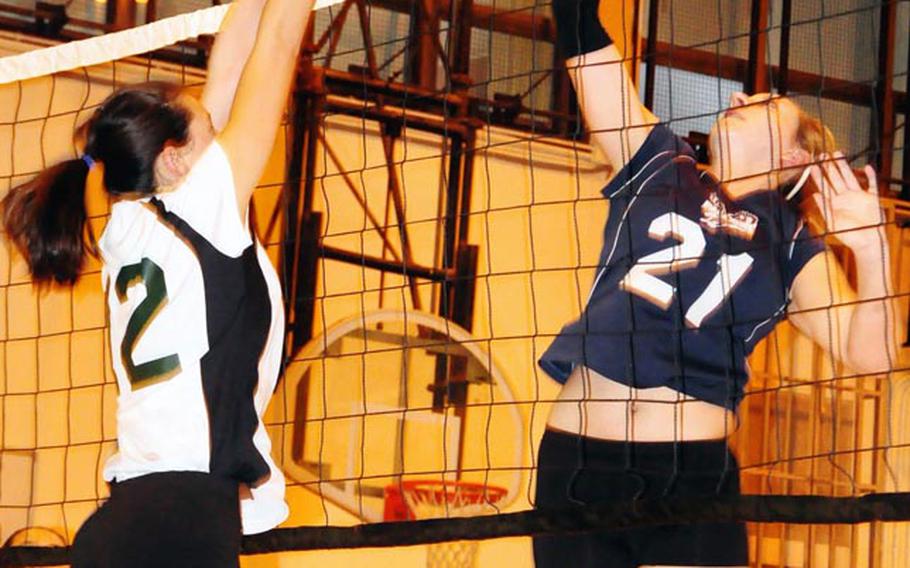 CAMP GEORGE, South Korea – Tammy Garman had 11 spike kills in 34 attempts and Hannah Swafford recorded nine defensive digs as Seoul American swept Daegu American in three sets 25-11, 25-15, 25-23 on Friday at Daegu American School's Warrior Gym.
It was the first time the reigning Far East Division I and Division II Tournament champions met in a Korean-American Interscholastic Activities Conference regular-season girls volleyball match, and also the first matchup of DODDS teams as reigning D-I and D-II Tournament champions.
"I'm pleasantly shocked," said Lori Rogers, who improved to 2-0 in her first season as Falcons varsity girls coach; she'd coached the Falcons boys team for 11 seasons before this one.
She said she was pleased at how the Falcons came back after trailing in the third set, and also at her players' serving thus far this season.
"We're a team that doesn't give up and fights to the last point," she said. That differs from years past, when "we'd get down a few points and it's hard to come back up."
Rogers inserted some substitute players in the lineup for the third set. "They were a little nervous, but they never gave up."
Swafford went 16-for-17 at the service line, making her 36-for-37 this season. "The whole team is serving well," Rogers said. "I tell them I'd rather make the other team work for a point than to give them one."
It was Daegu American's first match of the season. The two-time reigning D-II champions got seven spike kills and five defensive digs from Maleah Potts Cash, three block kills by Lari Robertson and Leanne Quizon's five set assists.
Coach Joanna Wyche said her team's play in the third set should have mirrored the first two. "I don't know where the first two sets came from," she said.
"The third set was very indicative of how we can play. But it's the first match of the season. We can't make excuses. It is what it is. Seoul American came to play."