Far East softball
Seoul American tops Kadena for title
by
Dave Ornauer
May 26, 2011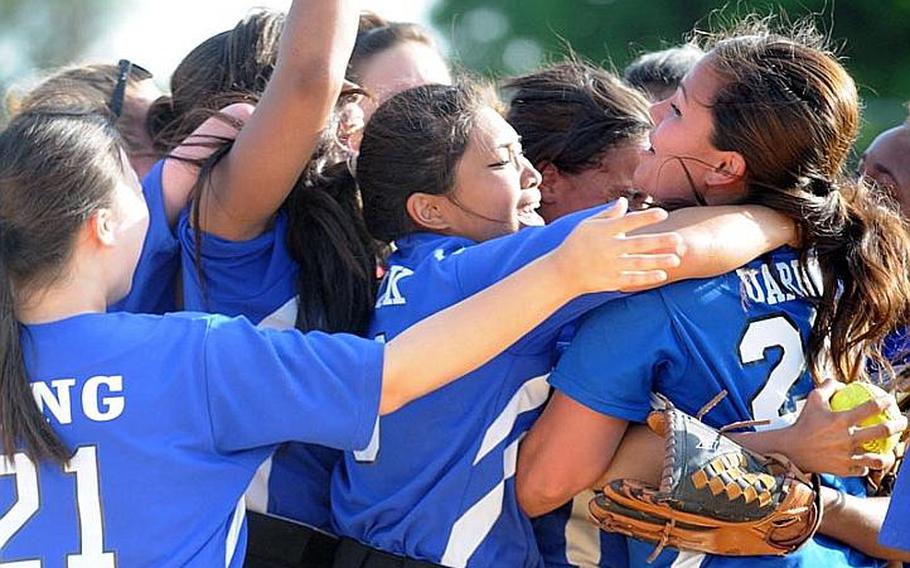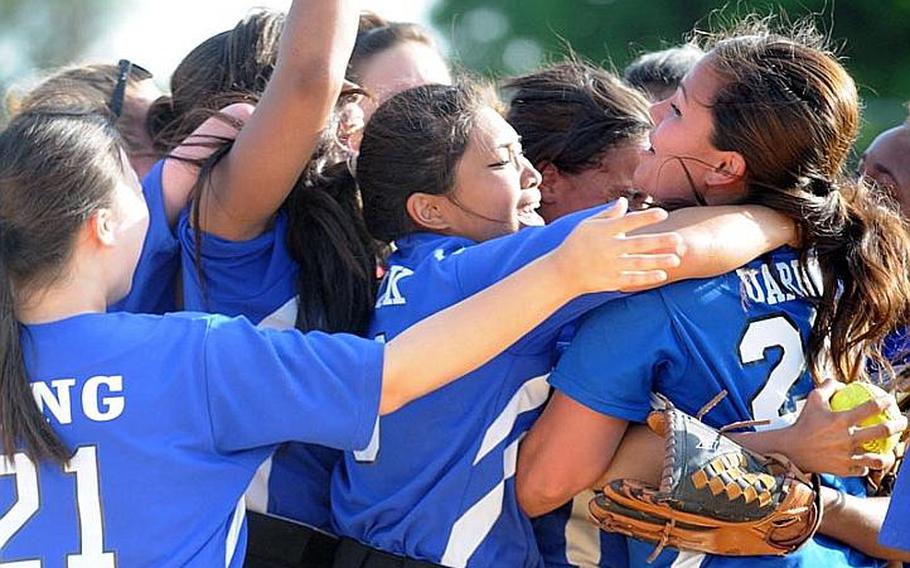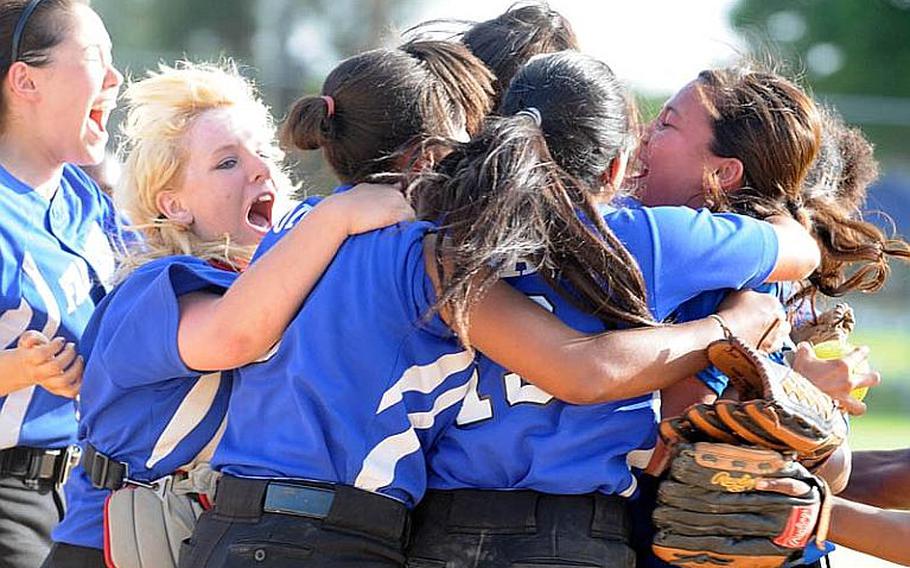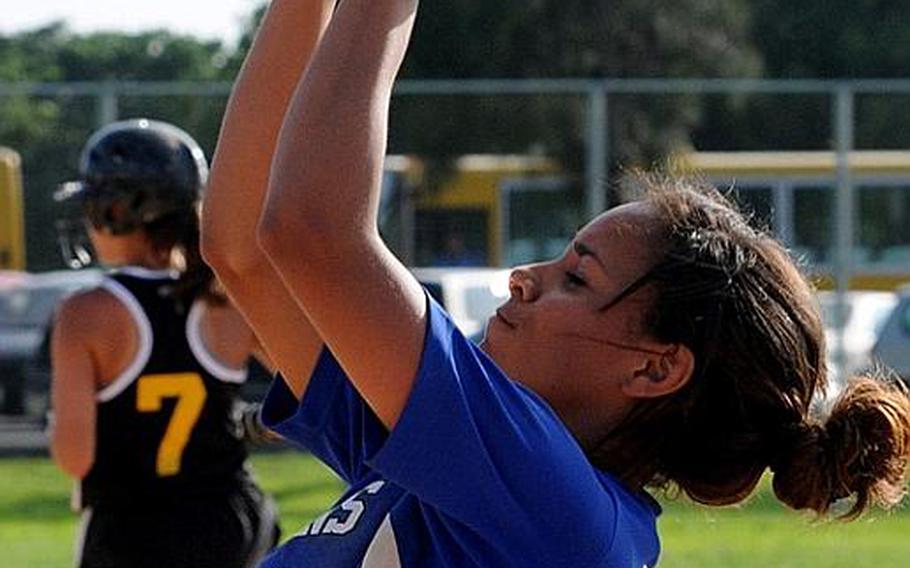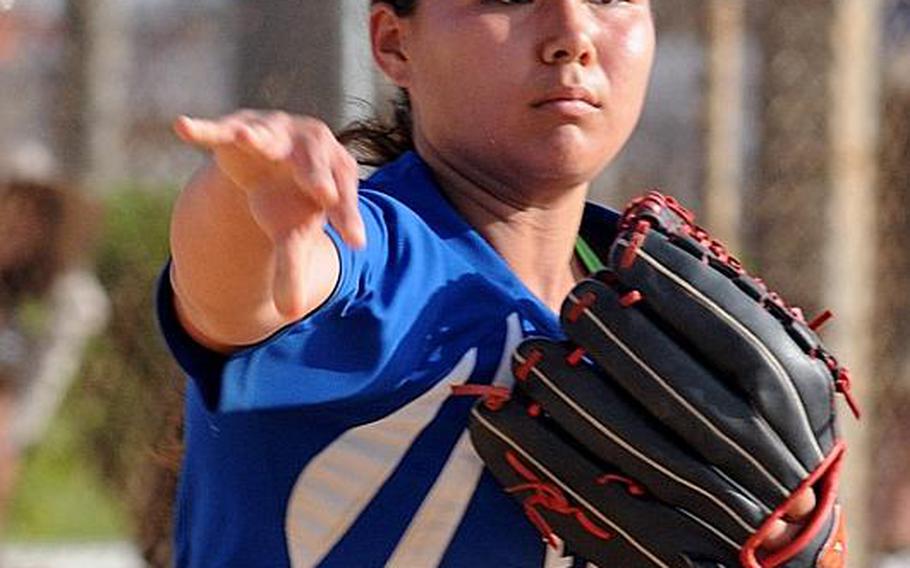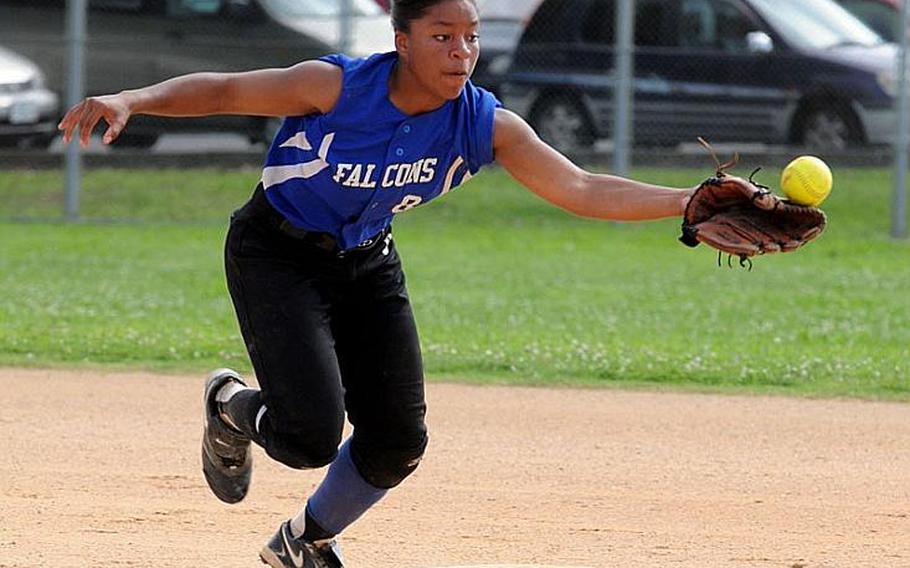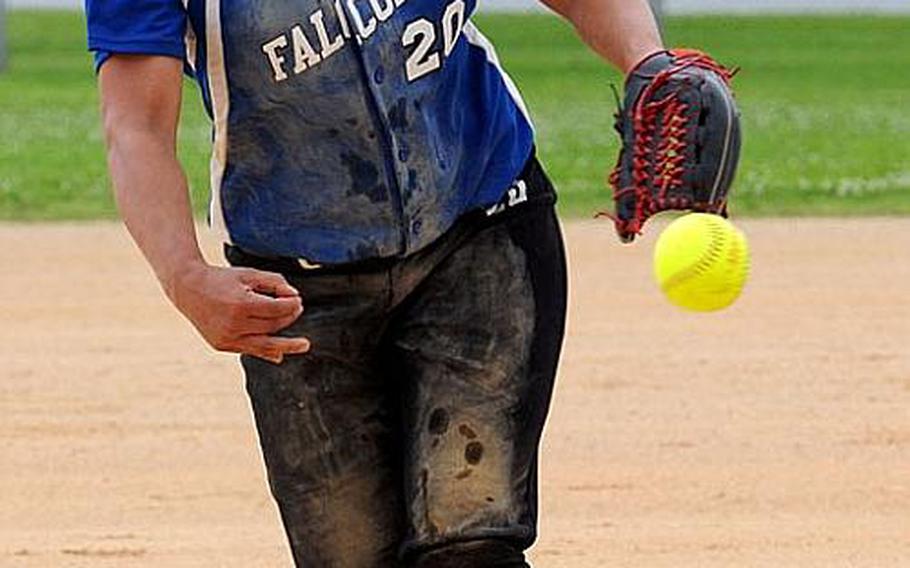 KADENA AIR BASE, Okinawa – Never in their wildest dreams, coach Julian Harden and pitcher Katie Darby said, did they ever see a Far East title coming.
Jenna Jackson's two-run double broke a 10-10 tie in a four-run eighth inning Thursday and Darby and the Seoul American defense made it stand up as the Falcons upset defending champion and Far East High School Girls Softball Tournament host Kadena, 14-10, in the title game at Four Diamonds Complex.
"I really didn't think we could do it, to be honest," Harden said of a young team with just two seniors. He said he'd preached to his charges all season the idea of one team, with no dissension; one concept, eliminating mistakes; and one goal, doing well at Far East.
"It wasn't actually to win Far East, but to do well here. We wanted to do better than last year's placement," Harden said.
"We were so young" at the start of the season, said Darby, named the tournament's Most Valuable Player. "I didn't think we could do anything. We've come so long and knowing that just pushed us through."
Seoul American has long been a DODDS Korea power but only managed a fifth-place finish last year and entered Thursday's semifinal underdogs to prohibitive favorite Kadena. The Panthers are nine-time Okinawa champions and had won every tournament they'd entered until Thursday.
It was an upset on the grandest scale, made even sweeter, Harden said, by the fact that it came in his final tournament. He and longtime assistant coach LaRoy Slaughter each plan to retire at school year's end.
"This is the way to go out," he said. "This is huge for us."
Harden also joins colleague Steve Boyd as the only two Pacific coaches to win Far East titles in three sports in three seasons; Harden has two Division I football and three D-I wrestling titles to his credit. Boyd won the D-I soccer tournament title just last week. He also owns two cross country and three D-I basketball titles.
Sophomore Deidre Jones earned her fourth Far East title in three sports. "I'm happy right now and I love all my teams," she said.
Thursday's final appeared to be a Falcon runaway. Helped along by six Panther errors in the first two innings, Seoul American raced to a nine-run lead. Kadena also ran itself out of two innings with base-running mistakes. Darby's two-run single made it 10-1 Seoul American in the fifth inning.
"You can't win a game with errors and nobody on base," said Kadena coach Jesse Costa, who transfers to Italy next year. "The bats weren't clicking until late, and by then, it was too late."
The Panthers got to Darby and reliever Leilani Shak in the fifth and sixth innings, scoring a combined eight runs, then tying it in the seventh with two outs when Desirae Seals circled the bases on a double and two errors.
Jackson's two-run double settled things and Kadena went quietly in the bottom of the eighth.
Jackson, Shak, Darby, Raven Harrison and Brandi Kendall each drove in two runs for the Falcons. Seals, last year's MVP, led both teams by going 5-for-5 with four RBIs and three stolen bases. Heather Brown and Tanisha Hodges each had two RBIS for Kadena.
---
---
---