Seoul American teams win for losing at Pacificwide tourney
by
Dave Ornauer
December 21, 2005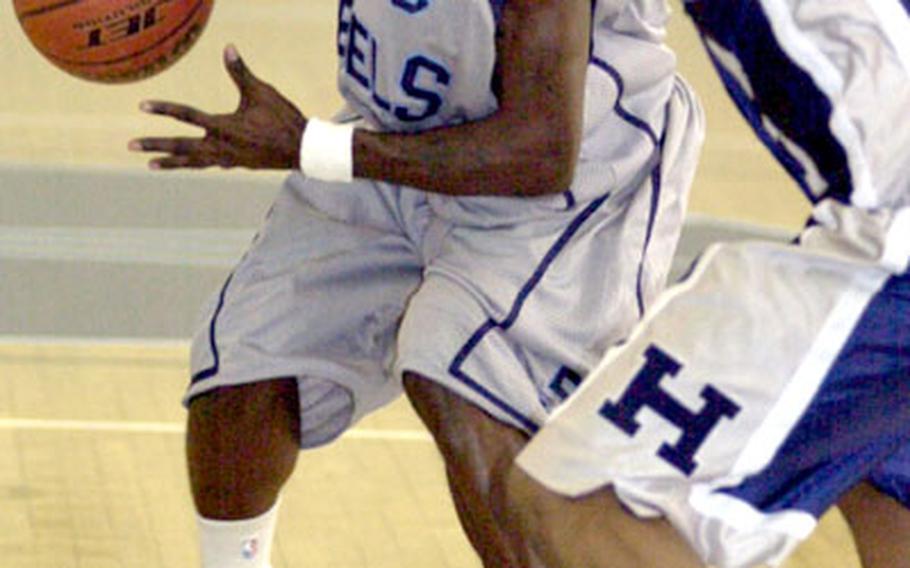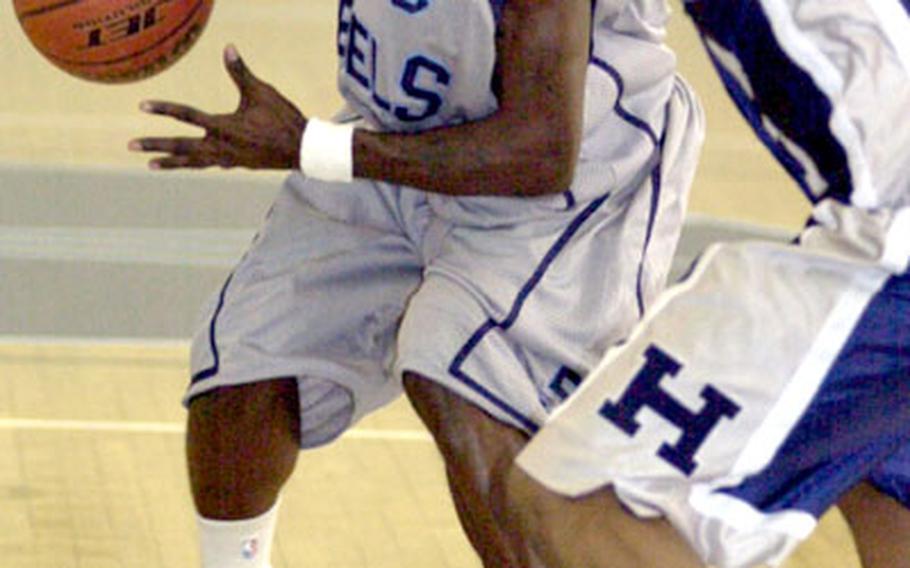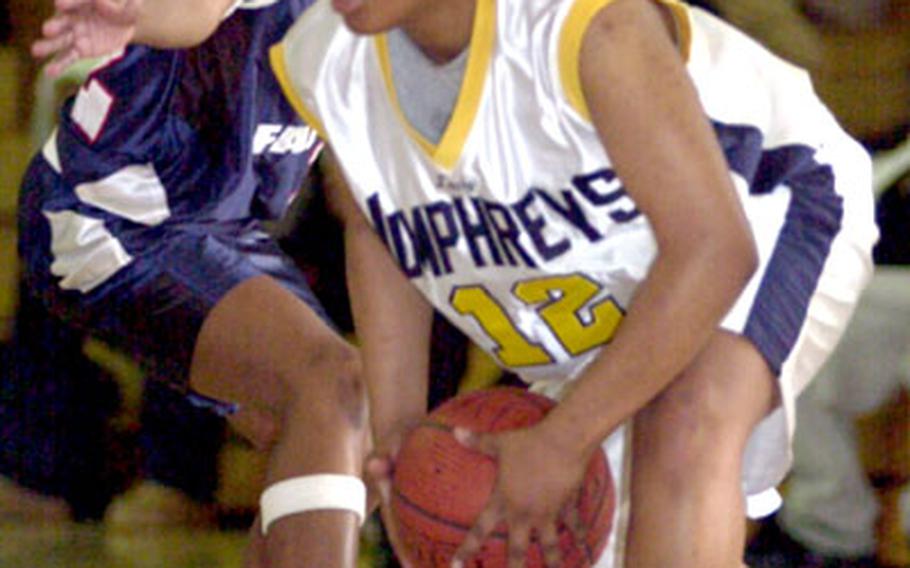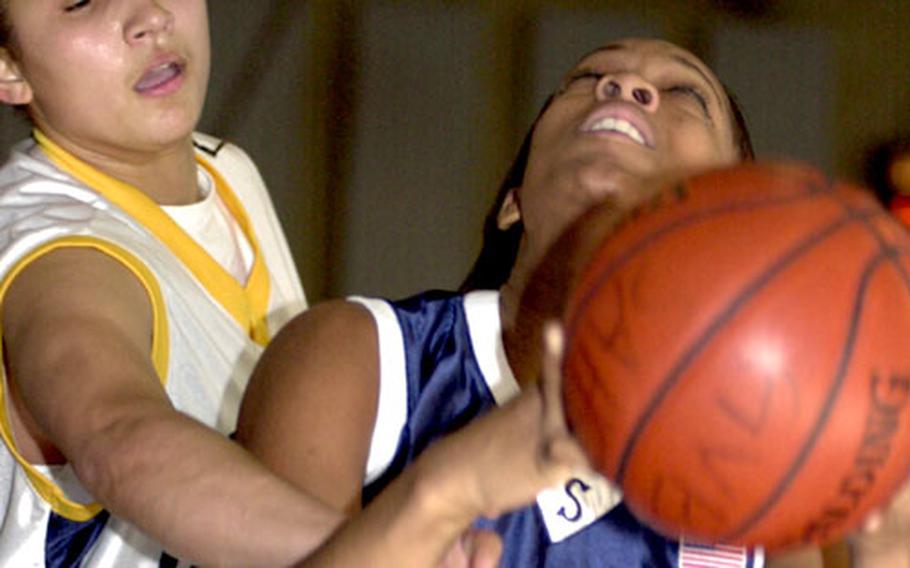 YONGSAN GARRISON, South Korea — The grades are out. And Seoul American's boys and girls basketball squads scored a strong C for confidence and E for experience and education during their stint in the 2005 Pacificwide Open Holiday Basketball Tournament.
Never mind that they only won three games out of the total of 10 they played. Forget that the Falcons boys were outscored by an average of 20 points and the girls by 4.8. What they learned, players and coaches said, by playing military teams for four days was worth its weight in gold.
"This has been a Godsend for us," said coach Charlotte Hicks, in her 20th season at the helm of the Falcons girls team. "What this tournament was about was confidence, that each and every single one of them could play, and they showed it."
"We got more experience, and hopefully it helped with our conditioning and to play as a team," Falcons senior Jeremy Christopher said. "There's better competition here. Hopefully, it will improve our game."
Each team played in this tournament for the second straight year; last year the Falcons boys went 1-3, and the girls went 1-4.
Seoul American's girls doubled their victory total this time, going 2-3, with victories against the Osan Defenders and Camp Humphrey. The boys finished 1-4, their only victory coming against Suwon 83-79.
"I'm extremely proud of the way they played in this tournament," said Hicks, whose Falcons played without their 6-foot-5 senior center Margaret Nurse, in the States on emergency leave.
It gave other players, such as freshman Devanee Taylor and sophomore Avianca Manning, a chance to grow, and for three-point specialist Germany Tillman to gain shooting confidence.
"Germany needed to learn to take the ball to the hole and shoot the threes, and she's done an outstanding job. Devanee has grown far beyond her freshman year. Avi [and] the ones who didn't think they had the ability, now they know they can do it," Hicks said.
Going up against adults meant the Falcons had to play "a lot faster and more physical" teams, Christopher said. "And if you make a mistake, they make you pay for it."
It would be easy, said Camp Humphreys' women's team coach Skip McKinney and others, to try to take it easy on high school players. "But if you lay down, it takes away from their game and it doesn't help them learn," McKinney said. "And you can't lay down against a team like that."
That was proven by the Falcons' girls against Humphreys and Osan.
"I told them that from the jump," said A.J. Beard of Osan, a two-time All-Air Force selection. "You can't go to sleep on a team like that."
In Monday's Falcons-Bulldogs game, Seoul American raced ahead 31-15. Humphreys charged back to take the lead in the second half before Tillman, who scored 31 points, buried the Bulldogs with three late three-point goals.
"Even though we didn't have our 'A' players in there, we took it to them, and they responded to the challenge," said McKinney, who rested All-Army guard Laurie Allen for the Bulldogs' first playoff game later Monday.
The Falcons would rather face the best the opposition can throw at them, Christopher said.
"A couple of times, they didn't use their starting five, but once we got close, they'd put them in," he said. "Other teams have played really hard and tried to blow us out. But we don't mind when they do that. It's better for us. And it's better when we win, when we're not expected to."
All in all, "It was a great experience for them," McKinney said, adding that when the Korean-American Interscholastic Activities Conference season resumes on Jan. 6, "they should run through all the high school teams they play."
At Yongsan Garrison, South Korea
Final round-robin standings
Men's Pool A
x-Kunsan Air Base, South Korea 5-0
x-Yongsan Garrison, South Korea 3-2
x-Camp Casey, South Korea 3-2
Camp Carroll, South Korea 3-2
Seoul American High School, South Korea 1-4
Suwon Air Base, South Korea 0-5
x-clinched playoff berth
Monday's games
Camp Carroll 92, Seoul American HS 57
Camp Casey 78, Suwon Air Base 71
Men's Pool B
x-Camp Humphreys, South Korea 4-1
x-Osan Air Base, South Korea 4-1
x-Camp Hovey, South Korea 3-2
Truth, Okinawa 3-2
Air Force Element, Yongsan Garrison, S. Korea 1-4
Wonju/Camp Long, South Korea 0-5
x-clinched playoff berth
Monday's games
Camp Hovey 90, Truth 77
Osan Air Base 71, Wonju/Camp Long 54
Women's pool
x-Camp Humphreys, South Korea 3-2
x-Osan Air Base, South Korea 3-2
x-Yongsan Garrison, South Korea 3-2
x-Kunsan Air Base, South Korea 3-2
Seoul American High School, South Korea 2-3
Camp Casey, South Korea 1-4
x-clinched playoff berth
Monday's games
Yongsan Garrison 53, Kunsan Air Base 49
Osan Air Base 61, Camp Casey 43
Seoul American High School 67, Camp Humphreys 57
Double-elimination playoffs
Men
Monday's games
Game 1-Camp Casey 83, Osan Air Base 82
Game 2-Camp Hovey 104, Yongsan Garrison 99
Game 3-Kunsan Air Base 91, Camp Casey 88
Game 4-Camp Humphreys 72, Camp Hovey 69
Tuesday's games
Game 5-Yongsan Garrison vs. Camp Casey
Game 6-Osan Air Base vs. Camp Hovey
Game 7-Kunsan Air Base vs. Camp Humphreys
Game 8-Game 5 winner vs. Game 6 winner
Wednesday's games
Game 9-Game 7 loser vs. Game 8 winner
Game 10-Game 7 winner vs. Game 9 winner
Game 11-Game 7 winner vs. Game 9 winner, if Game 7 winner loses Game 10
Women
Monday's games
Game 1-Camp Humphreys 88, Kunsan Air Base 56
Game 2-Osan Air Base 72, Yongsan Garrison 45
Tuesday's games
Game 3-Camp Humphreys vs. Osan Air Base
Game 4-Kunsan Air Base vs. Yongsan Garrison
Game 5-Game 3 loser vs. Game 4 winner
Wednesday's games
Game 6-Game 3 winner vs. Game 5 winner
Game 7-Game 3 winner vs. Game 5 winner, if Game 3 winner loses Game 6
---
---
---