Seoul American teams look for new dimensions
---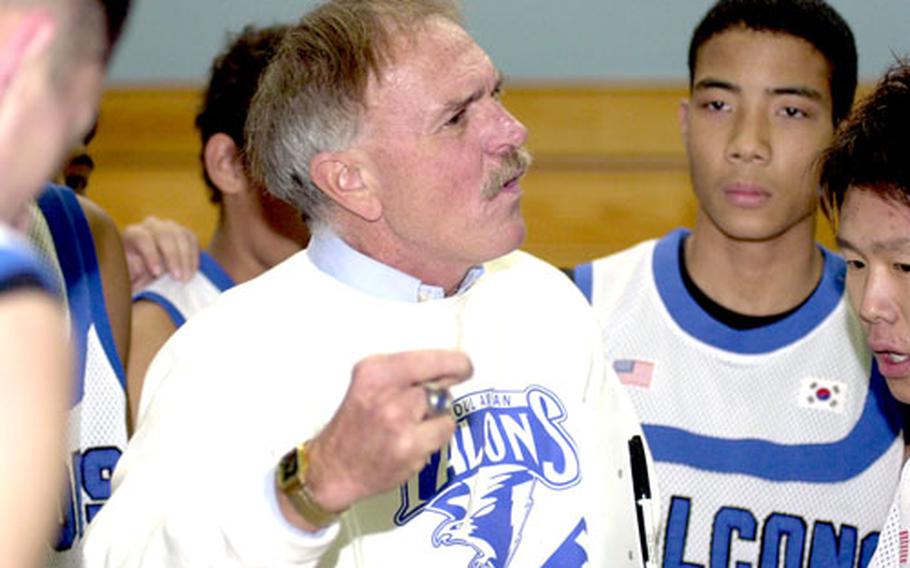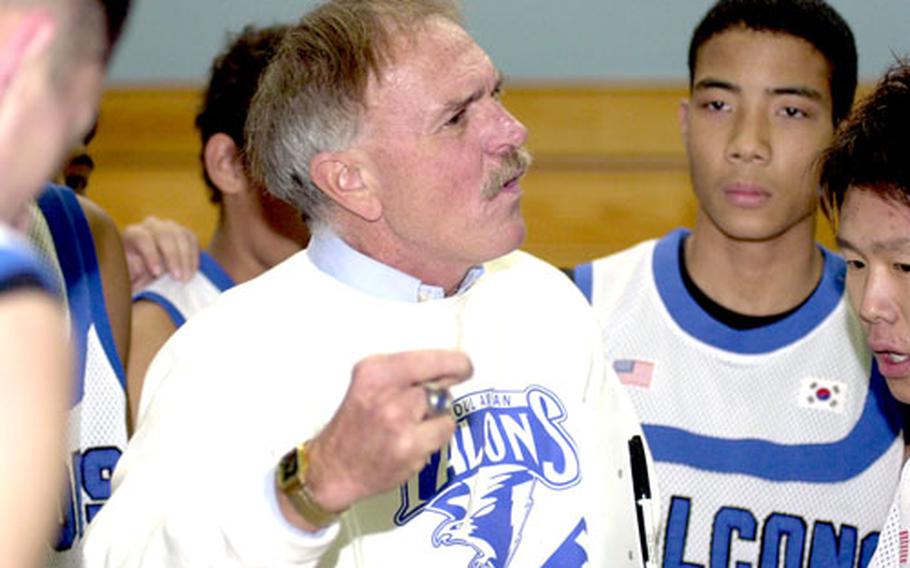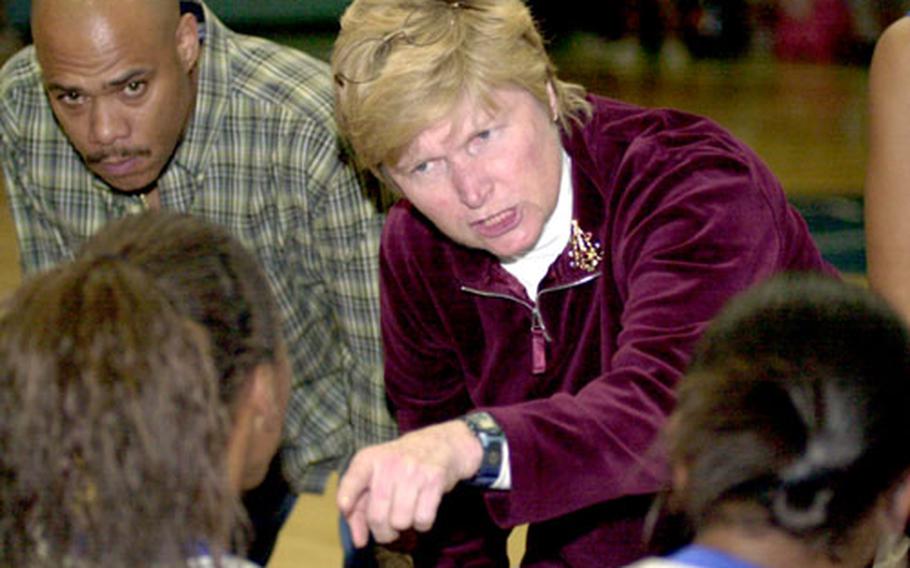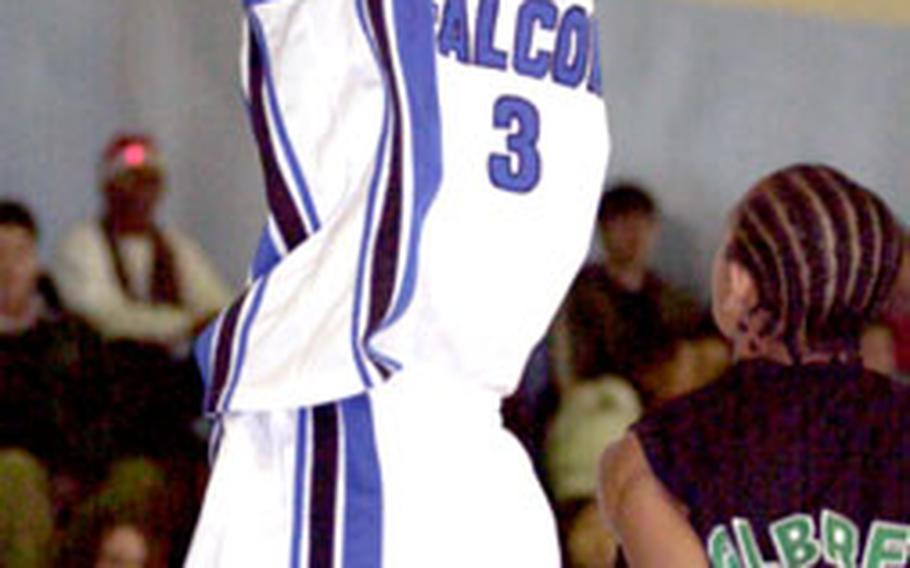 YONGSAN GARRISON, South Korea — Call it Extreme Makeover, Seoul American Basketball Edition.
The Pacific's most successful program the past three years has been a study in contrast. The Falcons' boys used a veritable forest of tall players to bring home Class AA titles in 2003 and '04, while the girls rode a tide of speed and quickness to their first Class AA title in 19 years one season ago.
But now, the shoe is on the other foot. This year, it's the girls who are blessed with height — sporting the region's tallest player in 6-foot-5 senior Margaret Nurse — while the boys are making do with a squad of speedy shorties.
"It's an interesting contrast. You'd like to have both size and speed, but you take what you have and do the best you can with it," said Steve Boyd, in his sixth season as boys' coach.
"They're [girls team] much bigger than we are. But you can't always depend on getting height. There are different things you can do with speed and quickness that you can't do with size. You have to adjust."
Likewise, just having a team of giants doesn't automatically give a team an advantage, 20th-year girls coach Charlotte Hicks said.
"Height is not always the key to winning a ballgame," Hicks said. "You have to get them to play together."
The Falcons have long been the dominant team in the Korean-American Interscholastic Activities Conference. Since Boyd took the varsity helm in 2001-02, not only have the Falcons run the league title table — they've won 66 straight league games during that span.
In his two Class AA championship seasons, Boyd rode the talents of MVPs Nino Etienne and Jake Abramowitz, then a season ago went 36-17 and took fifth at Class AA with a lineup featuring Jay Higgins, Mike Goodman and Anthony Gatlin, all 6-5 or taller.
Now, Boyd's starting lineup averages 5-8, with 5-6 senior Jamaal Mohn running the point on a team that's emphasized run-and-gun offense and a relentless trapping, pressing defense.
"You can't afford to get into a half-court game with people," said Boyd, whose Falcons are 15-9 overall and 7-0 in KAIAC. "Your presses ought to work better, your man-to-man ought to work better. By the third or fourth quarter, the other team is so tired, it takes them out of their game, and you can get higher-percentage shots."
If nothing else, "we'll be the best-conditioned team out there," said Mohn, who leads the team with 15.8 points, 4.3 steals and 4.2 assists per game. "But we can't feed it down low any more. We have to run more. We can't sit back on defense, we have to pressure them all the way up court and make them tired."
Hicks' girls have enjoyed even more KAIAC league success than the boys. Every year since 1990, the Falcons have won the league title, but not until last season did they break their Class AA title drought. And they fashioned their 27-5 record thanks to small but determined leaders such as Amy Bakameyer and Class AA MVP Janel Daniels.
But even with Nurse, who transferred from Class A champion Osan American, and new talents such as Avianca Manning, Alyssa Gray and Angye Law (transfer from Pusan American) and holdovers Germany Tillman and Jevonna Green, Hicks said she'd love to have the ingredients that Bakameyer and Daniels brought to the table.
"It makes no difference how much height you have, but how much desire and how much you want to win, how much heart," said Hicks, whose team has gotten off to a 7-0 start in KAIAC and 10-3 overall.
"Amy and Janel had that desire. Having a taller team, doesn't necessarily feed into that equation. There was a point when I saw that height and I said, 'Oh, wow.' But there were others when I said that we weren't playing as a team," she said.
The key to a championship repeat, Hicks said, will be to "realize that height is not the issue, but finding open players, taking advantage of opportunities and playing good defense."
It all means much anew, this "extreme makeover" and a definite step outside a comfort zone that came with getting used to a certain style and type of player.
"It was easier last year," Mohn said. "It will be a lot more of a challenge this year."
---
---
---
---