Seoul American takes Far East title over Kadena in overtime
---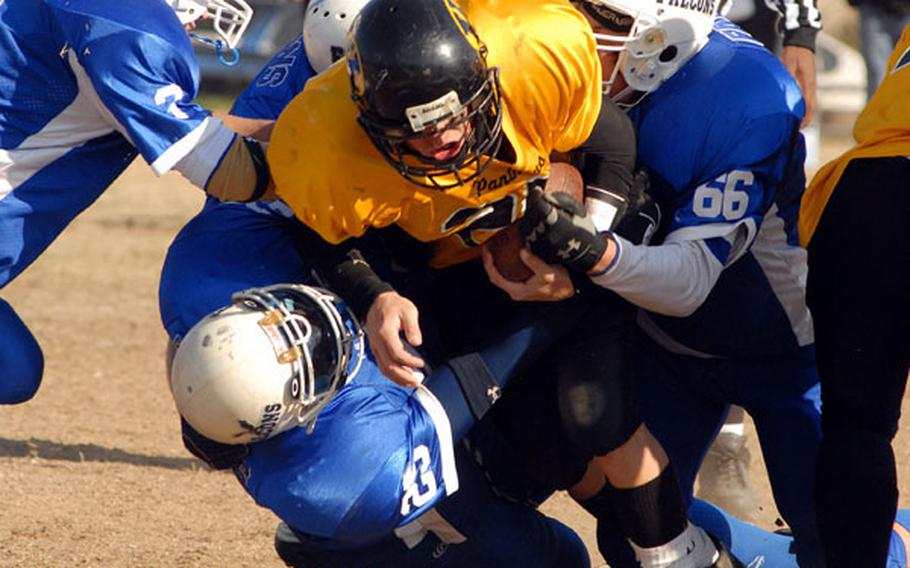 YONGSAN GARRISON, South Korea — Seoul American's Joe McLean hadn't caught a touchdown pass all season. He couldn't have picked a better moment to grab his first: in overtime of the Far East High School Class AA championship game.
The sophomore tight end caught a 10-yard TD pass from Daniel Burns, then recovered a fumble on Kadena's overtime possession to preserve the Falcons' 12-6 victory over the Panthers on Saturday at Seoul American High School's Falcon Field.
"What a time to do it," McLean said. "It felt good."
The Falcons claimed their first Class AA football title and redeemed themselves for their 38-8 loss to Kubasaki in the 2005 Class AA championship.
It also was the fifth Far East title for Seoul American since the 2005-06 school year began. The Falcons have won back-to-back tennis championships, the 2005 cross country team title and the 2006 Girls Class AA basketball title.
They prevailed despite being outgained 269-131, 197 yards rushing by Panthers junior Sean Shattuck and a Kadena defense that held Falcons senior running back David Smalls to a season-low 53 yards on 18 carries. Kadena also sacked Burns six times.
"A running back (Shattuck), a quarterback (Jon Robinson) who can run and throw and a defense that's unforgiving: We expected to see all that and we did today," Falcons coach Julian Harden said. It boiled down to who would make the fewest mistakes, he said.
It also boiled down to clutch plays, such as Daniel Kim blocking a 37-yard field goal try by Kadena's Alex Mierzejewski late in the third quarter, Kawika Feleciano's drive-squelching interception at the Seoul American 31-yard line in the fourth quarter and McLean's heroics.
"The little people stepped up," Harden said.
Seoul American opted to begin the overtime on offense. After Burns threw two incompletions, he rolled right on third-and-10 and spotted McLean in the corner of the end zone.
"I saw the cornerback and told myself he wasn't going to get me, then I turned and saw all that open space and just waited for the ball," McLean said.
The Falcons' two-point conversion attempt failed; Kadena took over needing at least a touchdown to send the game to a second overtime series.
Shattuck gained a yard on first down, Jeff Morton rushed for five on second down, then Shattuck got the call again on third down. But as he bulled through the left side of the line, the ball popped loose into a scrum of players.
"I just saw the ball on the ground, fell on it, then the dogpile fell on me," McLean said. "As soon as I got it, I said to myself, 'Championship, baby!'"
The rest of the game was an exercise in "mental mistakes" and "missed opportunities," Harden and Kadena coach Sergio Mendoza said.
Penalties short-circuited two of the Falcons' five first-half possessions, a third ended with a lost fumble and a fourth on Kyhrie Claibourne's sack of Burns.
"Penalties and mistakes killed us in the first half," Harden said. "And it seemed like they (the Panthers) were in the huddle with us."
One of Shattuck's trademark breakaway runs, a 91-yarder, got the Panthers on the board 4:18 into the first quarter. But the Falcons' defense stiffened from there, allowing Kadena to penetrate only to the Seoul American 20 late in the third quarter, ending on Kim's field-goal block.
A Kadena special-teams gaffe opened the door for the Falcons to tie the game. On fourth-and-9 from the Panthers 19, Mierzejewski booted a low punt into a teammate's back, going for minus-2 yards and setting up the Falcons deep in Kadena turf.
Burns passed 14 yards to David Crothers, then Smalls bulled in from the 3 with 25 seconds left in the half. It would be the last scoring before overtime.
Seoul American had trouble moving the ball throughout the second half. But another Panthers special-teams error almost gave the Falcons the game just before the end of regulation.
A botched Kadena punt snap gave the Falcons a first-and-goal at the Panthers 10-yard line with 42 seconds left. But Shattuck sacked Burns for a 6-yard loss, Smalls ran for 1 yard and Crothers was short and low with a 32-yard field goal attempt with 8 seconds remaining.
That set up overtime — and a happy ending that saw most of the 600-plus fans in the stands spill onto the field, joining the Falcons' celebration.
"That's a class team and a class coaching staff," Mendoza said of the Falcons. "It was a tough loss, but we came a long way in one year. Nothing to hang our heads about. Coach Harden deserves this one."
Notes: Saturday's championship was the second overtime game played on Falcon Field in Pacificwide interarea competition. The Korea All-Stars of the old Youth Activities League Senior Division beat John F. Kennedy of Guam 16-8 in overtime in 1991. ... Shattuck finished the season with 727 yards and seven touchdowns on 54 carries in five games, averaging 13.46 yards per carry. Smalls ended the season with a Pacific-high 20 touchdowns and 1,465 yards on 168 carries, an 8.72 average.
Far East football playoffs
Class A championship
Saturday, Nov. 4
Robert D. Edgren 23, Osan American 0
Class AA semifinals
Saturday, Nov. 4
Seoul American 22, Guam High 18
Kadena 37, Yokota 30
Class AA championship
Saturday, Nov. 11
Seoul American 12, Kadena 6 (OT)
Saturday's summary
Kadena 6 0 0 0 0 6
Seoul 0 6 0 0 6 12
First quarter
Kadena-Sean Shattuck 91 run (kick failed), 5:18
Second quarter
Seoul-David Smalls 3 run (run failed), 11:35
Overtime
Seoul-Joe McLean 10 pass from Daniel Burns (kick failed)
Kadena Seoul
First downs 8 8
Rushes-yards 37-226 39-55
Passing yards 42 76
Att.-Comp-Int 5-14-1 5-13-0
Total offense 51-269 52-131
Return yards -10 41
Total yards 259 172
Fumbles-lost 3-1 4-1
Sacks-yards lost 1-7 6-52
Penalties-yards lost 5-30 6-35
Individual statistics
Rushing: Kadena, Sean Shattuck 15-197, Jeff Morton 5-13, Mike Ward 2-7, Jon Robinson 12-6, Daniel Wyche 1-3, Manuel Duran 1-0, Alex Mierzejewski 1-0. Seoul American, David Smalls 18-53, Quintez Johnson 7-28, Joe McLean 4-23, Charles Jones 1-3, David Crothers 1-(minus-12), Daniel Burns 8-(minus-40).
Passing: Kadena, Jon Robinson 5-14-1-42. Seoul American, Daniel Burns 5-13-0-76.
Receiving: Kadena, Sean Shattuck 3-19, Jeff Morton 1-16, Alex Mierzejewski 1-7. Seoul American, Joe McLean 2-44, David Crothers 2-38, David Smalls 1-(minus-6).
---
---
---
---