Seoul American overpowers Taegu to extend unbeaten streak to 16 games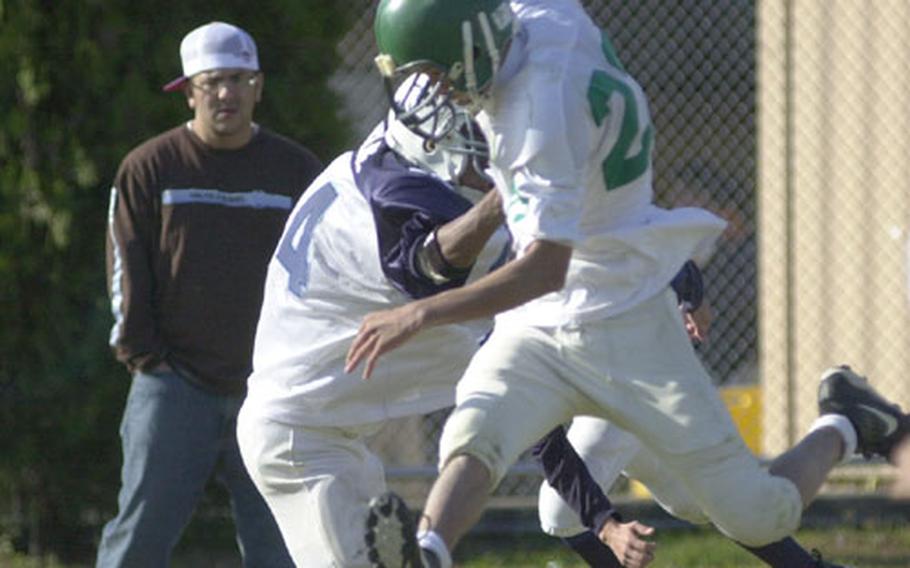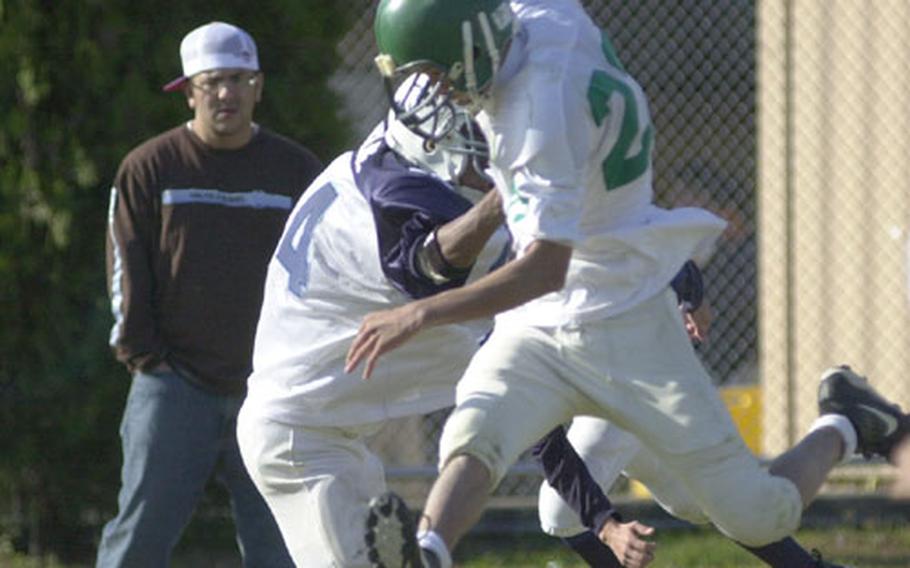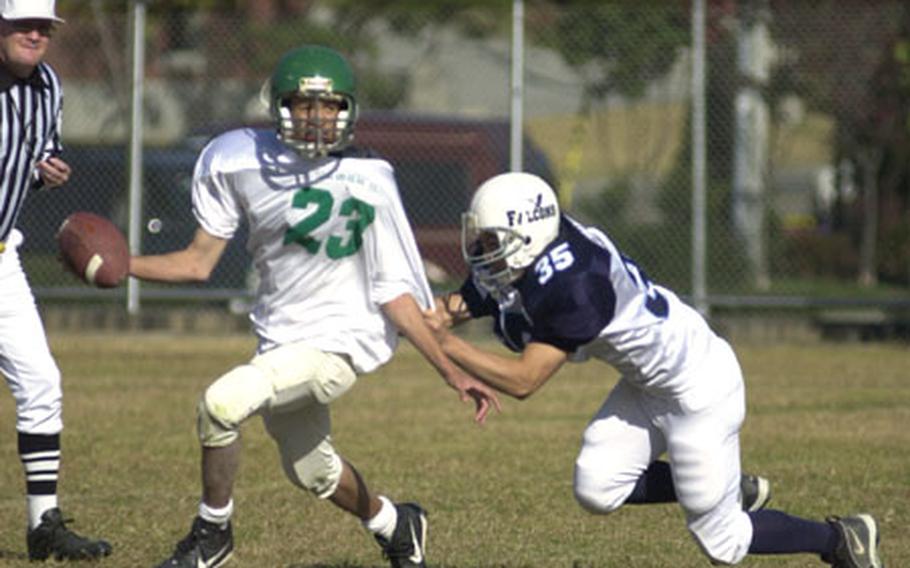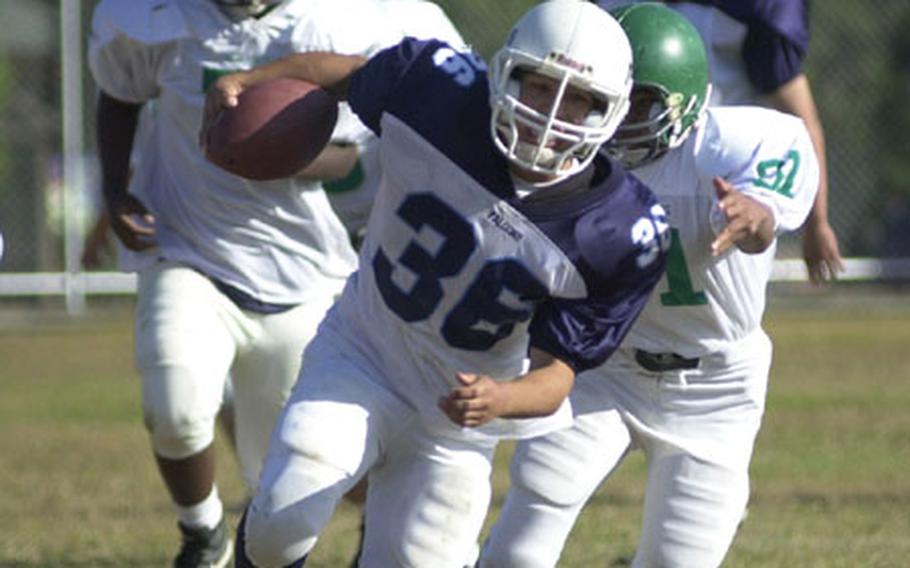 YONGSAN GARRISON, South Korea — Paced by an offense that racked up 424 yards and six touchdowns, unbeaten Seoul American wrapped up its first Korean-American Interscholastic Activities Conference season by whipping Taegu American 43-14 on Saturday.
The Falcons went 4-0 in the first year that DODDS football in South Korea. Since the 2001 Korea Youth Activities League- Senior Division season, Seoul American has won 16 straight, the second-longest streak in the Pacific.
But unlike the teams' first meeting, which Seoul American won 59-6 on Oct. 4 in Taegu, the Falcons had their hands full early.
"It was a much better game than the first time we played," said Seoul American coach Julian Harden. "They came at us full steam and they played well."
Brian McGee brought the heat for Taegu, scoring twice on running plays, as the Warriors repeatedly burned the Falcons on outside sweeps. Seoul American also hurt itself with 22 penalties for 155 yards.
"They were hurting us turning the corner," Harden said. "We went in at halftime and talked about it, made some adjustments, with the defensive ends and cornerbacks playing tighter against the run."
Leading 21-14 at halftime, Seoul American exploded for three third-quarter TDs, then turned it over to the defense, which shut down the Warriors the rest of the way.
Steve Sivak ran 11 times for 105 yards and two TDs and caught two passes for 65 yards. Leo Pacheco added 99 yards and a score on eight carries and 37 yards on four catches.
Bruce Voelker and Ryan Robbins combined to go 13-for-18 for 207 yards and three touchdowns. Jeremy Christopher caught five passes for 72 yards and a score, Voelker had three receptions for 27 yards and a TD and Robbins added a 13-yard touchdown run.
Scott Tunis had 10 tackles and an interception and Brandon Church and Ezra Taimanglo added six tackles each, with Taimanglo recovering a fumble.
Japan
Zama American 33, Robert D. Edgren 16
MISAWA AIR BASE, Japan — Zama (5-3 overall, 4-3 Japan Football League) got an early scare but rallied from a 14-0 deficit to score 26 unanswered second-half points against the Eagles (0-6).
Defensive end Kyle Deutsch returned a fumble 20 yards for a touchdown and recorded a safety and Jason Emery fell on a fumble in the end zone before the Trojans offense, with six starters missing due to ACT testing, got untracked in the third period.
Donovan Nance ran for touchdowns of 40 and 80 yards, Gavon Watson added a 3-yard run, Anthony Garcia ran 8 yards for a score and David McMahon a 1-yard sneak to fuel Zama's rally. Nance carried 15 times for 185 yards and finished with 240 all-purpose yards. Zama forced five turnovers.
Yokota 40, American School In Japan 14
TOKYO — Roy Roach accounted for 215 all-purpose yards, rushing 19 times for 162 yards and two scores and Jeremiah Pearcey added 157 yards and three TDs on 11 attempts as the Panthers (8-0) won their fifth straight Kanto Plain Association of Secondary Schools title.
The Mustangs (1-4) made it a game early behind Ben Seevers, who was 10-for-19 for 144 yards and two touchdowns and had 170 yards in total offense. His 47-yard TD pass to Nathan Tanaka, who finished with 123 total yards, tied it 7-7 in the first period before Yokota scored 33 unanswered points.
Yokota ran its on-field winning streak to 36 games, the second-best in Pacific history.
Nile C. Kinnick 42, Matthew C. Perry 0
IWAKUNI MARINE CORPS AIR STATION, Japan — This one was never in doubt, as Lenny Lynce ran 14 yards for a TD and passed 12 yards to David McDermott, gaining 162 all-purpose yards and recording nine tackles for the Red Devils (6-2).
Kinnick (5-2 in JFL) kept alive its slim hopes for a berth in next month's Rising Sun Bowl V on Okinawa with the victory.
McDermott recorded a safety and returned the ensuing free kick 55 yards for a score. Brenden Lynce had 88 yards and two touchdowns on four carries, plus eight tackles and two batted passes. Matt Trevino added a safety, Jamal Tolbert had 12 tackles and Richie Korth blocked two punts.
Guam
George Washington 36, Guam High 6
MANGILAO, Guam — Fresh off a 36-0 victory over Guam International Christian Academy, the Panthers (2-2) came crashing back to Earth as Danny Manibusan of the Geckos (2-1) threw four touchdown passes, three to Mateo Matanane.
Manibusan went 5-for-14 for 183 yards and the Geckos racked up 156 yards on 20 carries. Hosea Ware ran seven times for 85 yards and caught a 55-yard scoring pass from Manibusan.
The Panthers managed 76 yards on 28 rushing tries, with Theo Tom scoring the team's only points on a 25-yard run to open the second period. Guam High committed 11 penalties, seven in the second half, for 110 yards.
— Akash Shringi and Matt Krueger contributed to this report.
---
---
---