Seoul American looks to launch new tradition
by
Dave Ornauer
August 31, 2011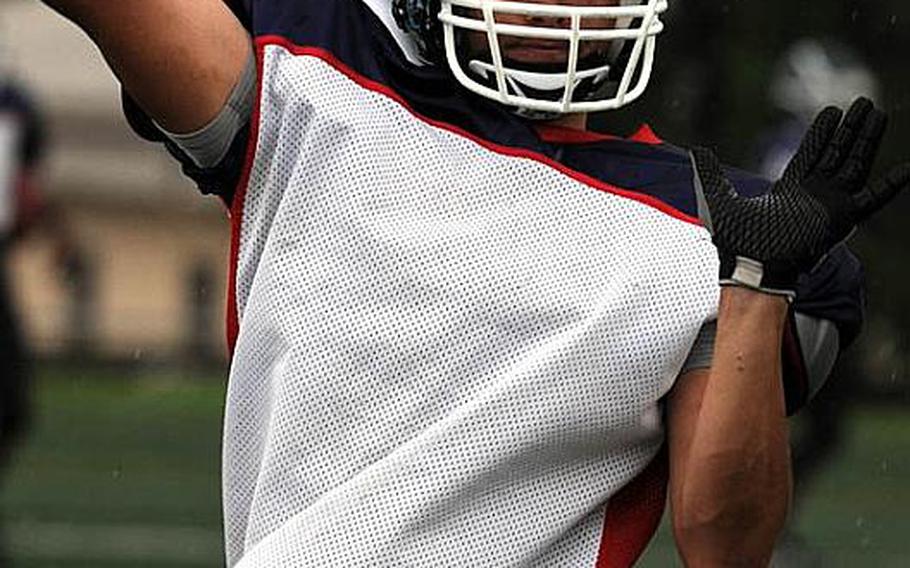 Ninth in a series of high school football previews.
YONGSAN GARRISON, South Korea – Rydell Wilkins is well aware that Seoul American football once was the model of stability as well as the home of champions. The Falcons won Far East Division I titles in 2006 and '08 before taking a tumble the last two seasons.
Seoul's fourth head coach in four seasons is planning to help his team peak once more after reaching the valley's depths. But more importantly, he says, he wants to build quality people as well as a quality team.
"We're going to build a team of character and for the future," said Wilkins, whose Falcons have gone 2-15 the last two seasons, losing the Far East Division I title game 44-0 to Kadena in 2009 and the third-place game 45-12 last year at Kubasaki.
Wilkins cautions that an immediate turnaround is probably not in the cards. "Is it going to happen today? No," Wilkins said. "But the emphasis is going to be on unity, teamwork and character."
One thing working in the Falcons' favor is the most returning players (16) and most returning starters (eight) they've had in a few years. The rebuilding will be done around a core of three seniors, strong-armed quarterback Harold Martin, receiver Tomiwa Akinbayo and running back Ty White.
But there's plenty of youth behind them, enough that Wilkins and his coaches have plenty of teaching to do, all the while putting the past behind them.
"We're playing in the now, not focusing on the last years, but focusing on the now, and the players are buying into it," Wilkins said. "You have your wild cherries here, but for the most part, they're coachable. They're a good group. They listen."
How much they'll progress is "a little early to tell," Wilkins said. "But they have the potential to be a good group of players. We're building good people as well as building good players."
Seoul American will try for its first DODDS Korea title since 2008 and its first D-I title game berth in two years starting Saturday, when the Falcons entertain two-time defending D-I champion Kadena at Sims Field. They're at Kubasaki on Sept. 17 in their other interarea regular-season matchup.
The D-I playoffs begin on Oct. 3, when the Falcons visit DODDS Japan's second-place Division I team in a play-in game.
The winner of that game travels to Okinawa to play the island's top D-I program in the Oct. 29 semifinals. The winner of that faces the other semifinal winner in the D-I title game on Nov. 12 at a site to be determined.