Seoul American forward headed for S.C.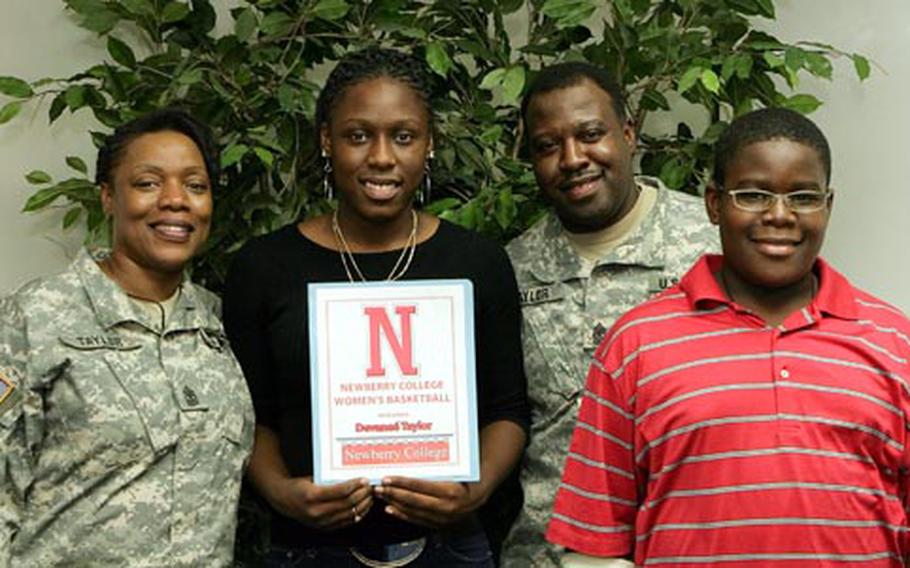 Devanee' Taylor will soon be trading her Seoul American Falcons Navy blue-andwhite uniform for the scarlet and gray of Newberry College in South Carolina.
The Falcons' senior forward signed a national letter-of-intent Friday to play basketball for the NCAA Division II private Lutheran school. She also received a financial grant-in-aid equal to a full scholarship.
"It's a best-of-all-worlds situation," said Taylor's father, Army Sgt. Maj. Darvin Taylor. The grant-in-aid's value comes to about $30,000 a year, he added.
Taylor has played since her freshman year for the 2006 Class AA champion and two-time defending runner-up Falcons. She signed the offer at Seoul American's Falcon Gym conference room, surrounded by her family, friends, coaches and athletic department officials.
Taylor will be playing for an Indians team that finished third last season in the South Atlantic Conference at 7-7 and 19-10 overall. Tusculum (13-1, 26-5) won the championship.
The Taylors said they chose Newberry, a school of just under 1,000 in a town of the same name, for three reasons:
 Newberry is near relatives in Virginia, Florida, the Carolinas and Georgia. "This happened to be in the middle of each of those. Nobody in my family has ever seen me play before," Devanee' said. It's rated No. 31 in the South by U.S. News in terms of academics and quality of education. The ratio of students to professors and teaching assistants is 16 to 1. Playing time.The Taylors said they sent a videotape to first-year coaches Sean Page and Vern Robateau along with a resume. The coaches, the elder Taylor said, told them Devanee' has potential and "they like how she runs up and down the court, that they like her low-post game."
Attempts to reach Page and Robateau by phone and e-mail were unsuccessful.
The Taylors haven't visited the campus, but some relatives have and "they gave it high praise," the elder Taylor said.
Devanee' says she plans sports management as her major. "I've been around sports all my life and I don't see any future without it," she said.
She would like to become an athletic trainer, but coaching or perhaps playing beyond college could be in the cards, "if it happens to go that way."
A smaller Division II school, the Taylors said, is a natural for somebody coming out of the DODDS system.
"A lot of people think because it's a Division II school, they're not going to be noticed or anything. Other coaches come out and see you and you might transfer to their school. Right now, I'm grateful for being at a Division II school," Taylor said.
If she tried to move from DODDS to a Division I program such as Duke, Tennessee or Connecticut, "they might just point to the end of the bench," Taylor said. The message for other DODDS students is for them to follow their dreams. "Nothing's impossible. Anything can happen," she said.