Soccer preview
Seoul American boys, Osan girls to try to repeat
by
Dave Ornauer
March 8, 2012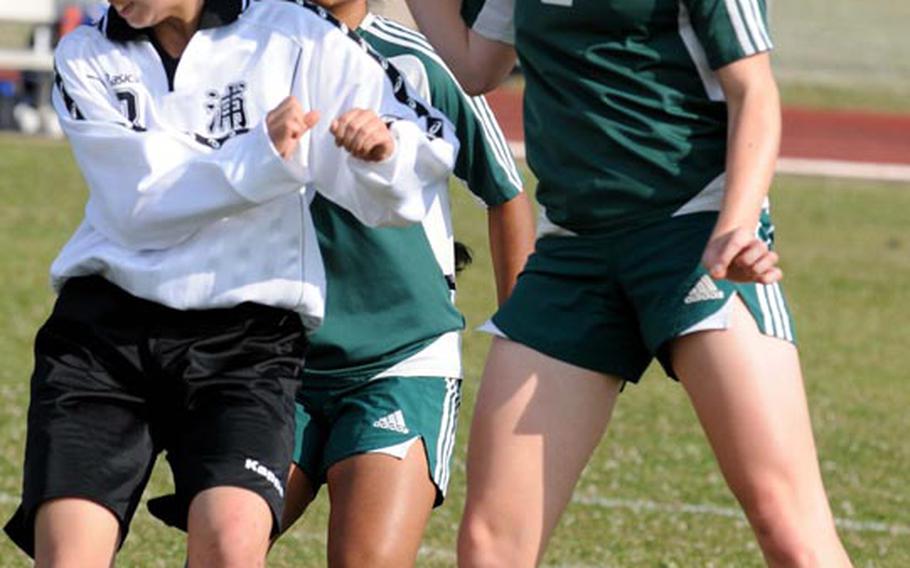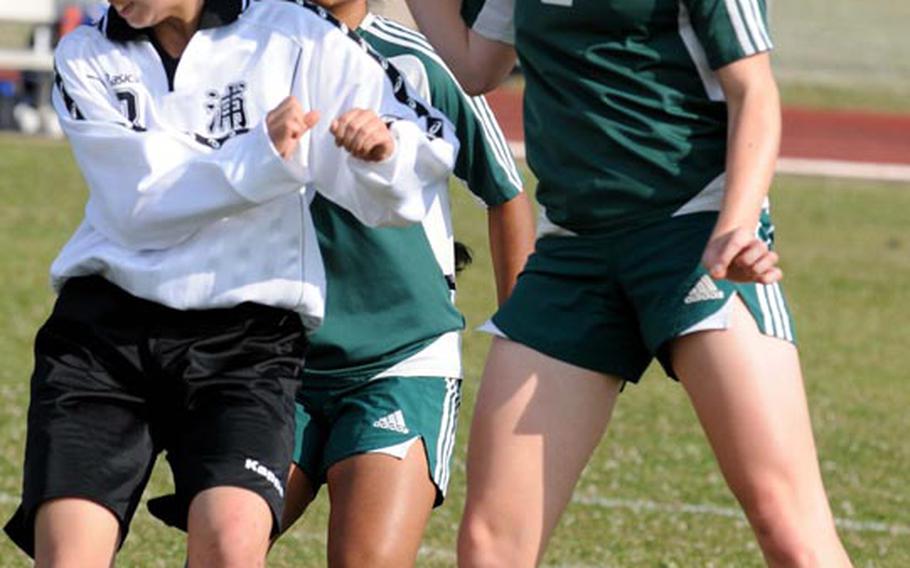 Few might have seen Far East Tournament MVP Josh Chung and Seoul American's boys coming last year. They may be seeing much of the Falcons now and into the future.
After finishing sixth in Korean-American Interscholastic Activities Conference Division I in 2011, the Falcons took the Far East D-I Boys Soccer Tournament by storm, edging host Kubasaki in double-overtime for Seoul American's first such title.
Now, with 15 players back, including six starters, plus four varsity-ready freshmen, and with KAIAC appearing to be just as competitive as it was last year, coach Steve Boyd feels Seoul American is the classic "now and later" team, built to win again this season and for years to come.
"The good thing is the depth," he said, adding he used 19 players in the Falcons' 2-0 season-opening win Wednesday at Taejon Christian International.
"We've never had the depth. We go two-deep at each position. By Far East, all these kids will be able to go in (and contribute) quality minutes. The future looks bright. I'm optimistic at this point."
As it was last season, KAIAC D-I will again serve as an excellent proving ground, Boyd said, with five or six teams – including the Falcons – capable of capturing the league title.
"On any given Wednesday, Friday or Saturday, any one of those teams is capable of beating the other," Boyd said.
Among that five or six is Yongsan International-Seoul, four-time Far East Division II Tournament champion and the bane of perennial D-II title contender Matthew C. Perry's existence. Only two teams beat the Samurai last year, with the Guardians turning the trick three times.
"If they beat you three times, they're better than you are," said coach Mark Lange, whose Perry side returns the Pacific's leading goal scorer Tyelor Apple (38) and two others in double figures.
"We were just not quite there," Lange said. "The chase for the title goes through YIS-Seoul. They're up (at another) level."
At another level three years' running has been Osan American's girls team, which has overcome devastating knee injuries to its stars and somehow defended their D-II title when all seemed lost for the Cougars.
This season, coach Sung Plourde is hoping for comebacks by midfielder Stephanie McDole and defender Alex Hauter, sidelined by torn ACLs last season.
"It will be a challenge," Plourde said, adding that in years past, "we've had a couple of second-team players who have stepped up. You train the kids to become better players, go back to basics, start from scratch and hope for the best."
While Osan puts its three straight D-II titles on the line, Kubasaki's girls hope to take that last step up the gold-medal platform for the first time since 2007. Since then, the Dragons, with a fourth head coach in four years, have sandwiched two runner-up finishes around a bronze medal in 2010.
"We have to do this; it's my senior year," said Kubasaki's Liz Fabilla, the Pacific's current active leader in goals with 100.