Far East soccer - Day 5
Seoul American, ASIJ capture titles
by
Dave Ornauer
May 20, 2011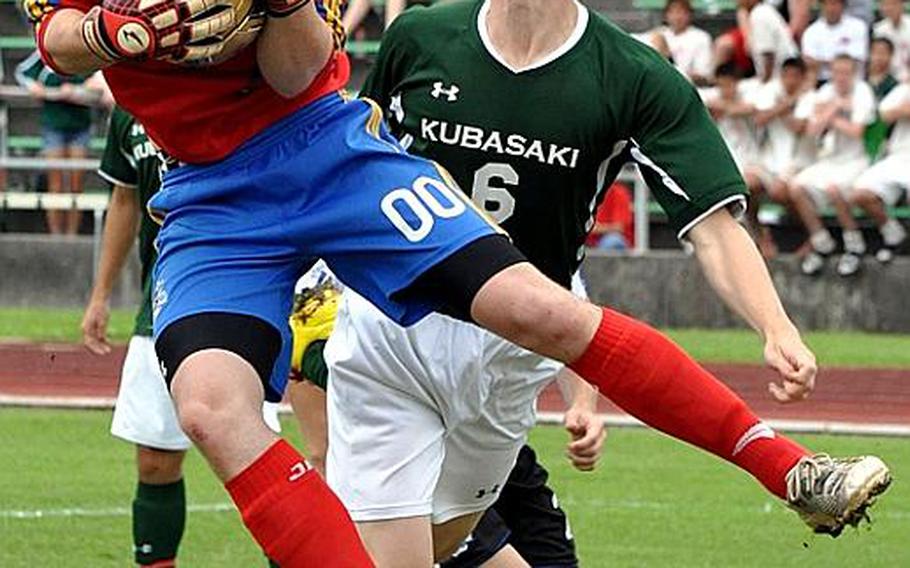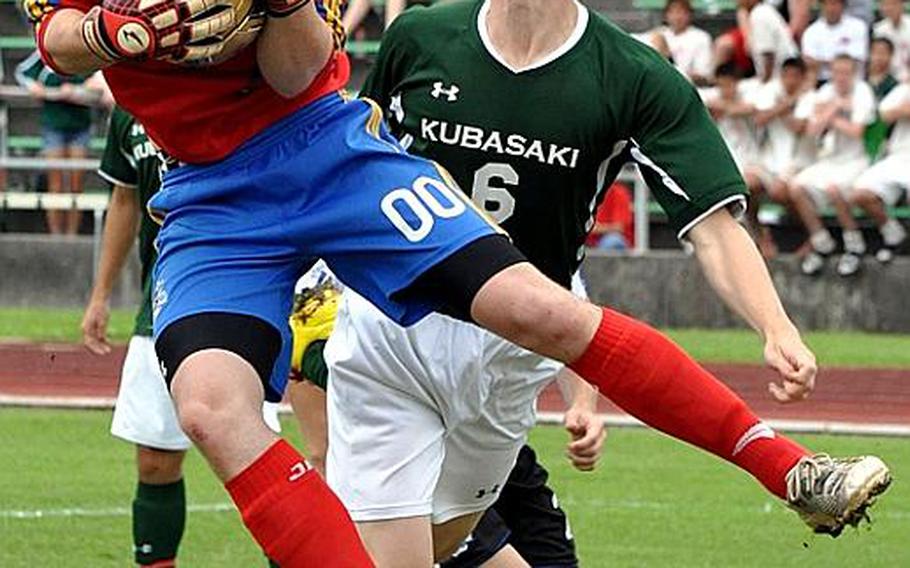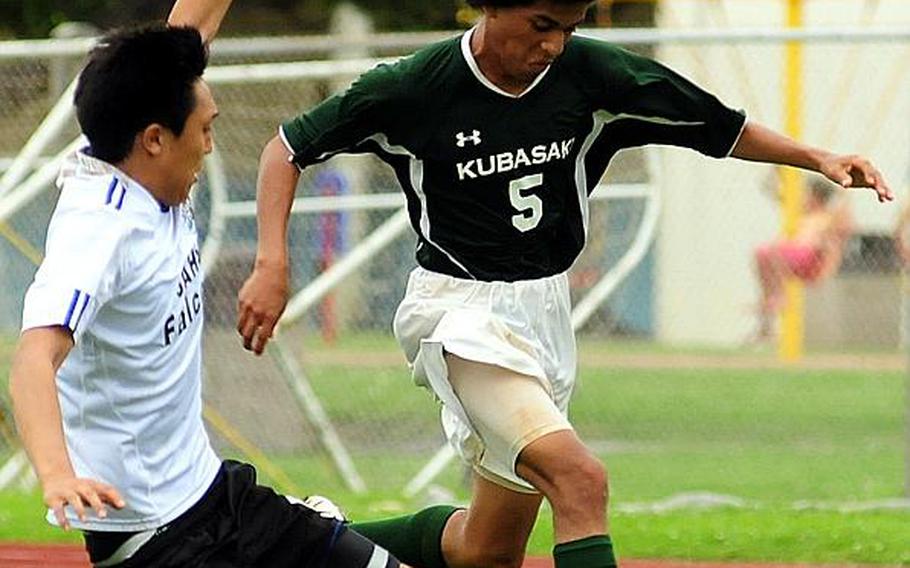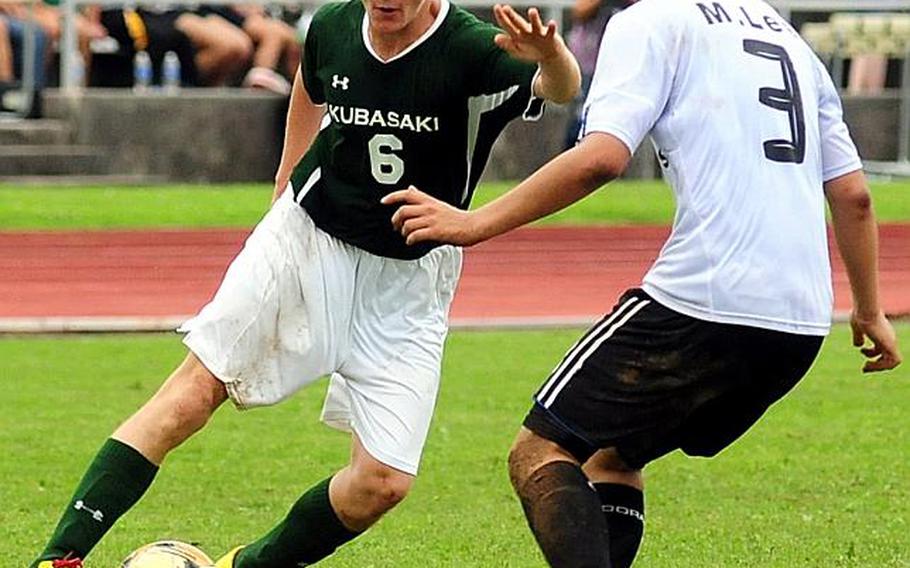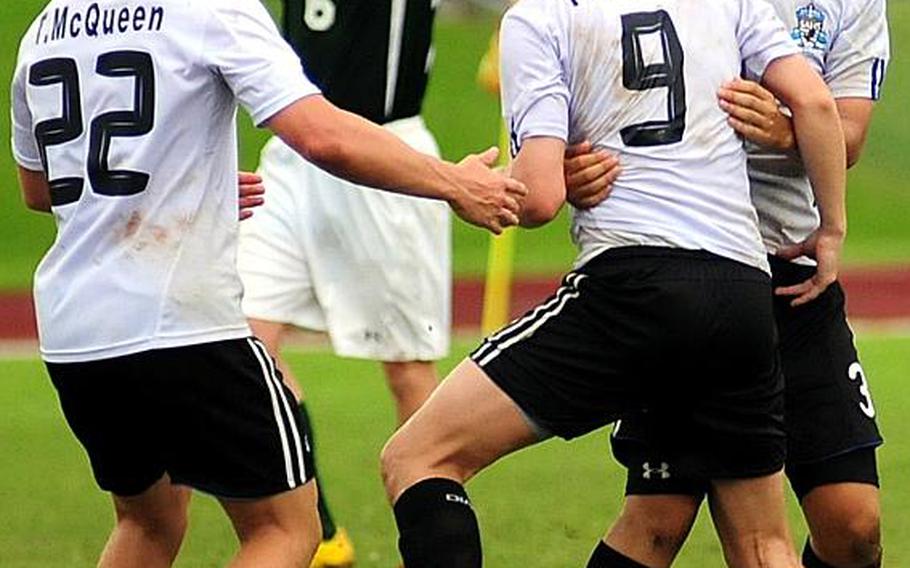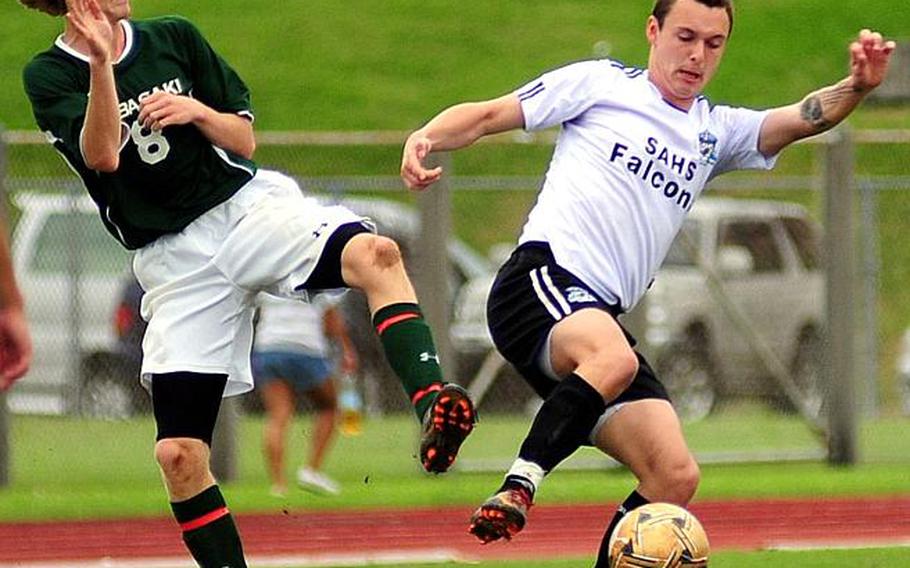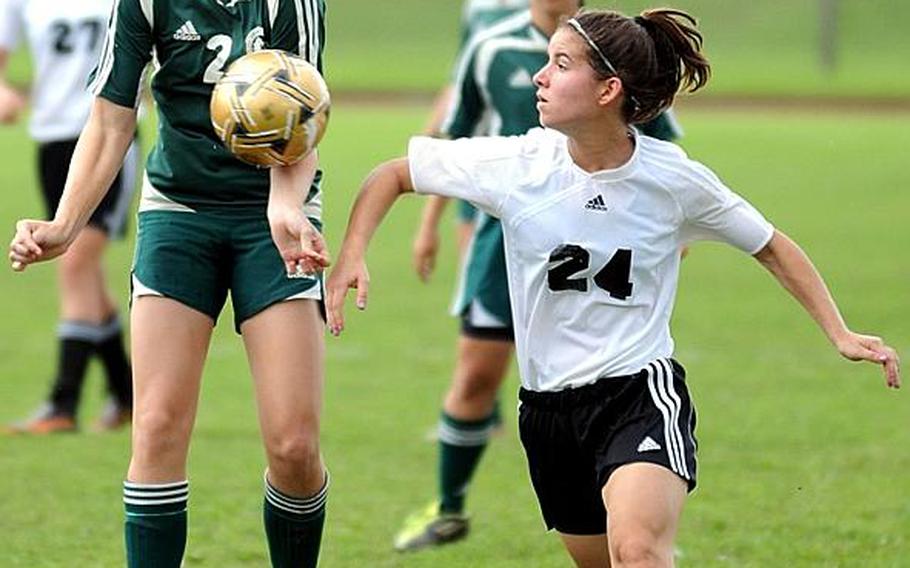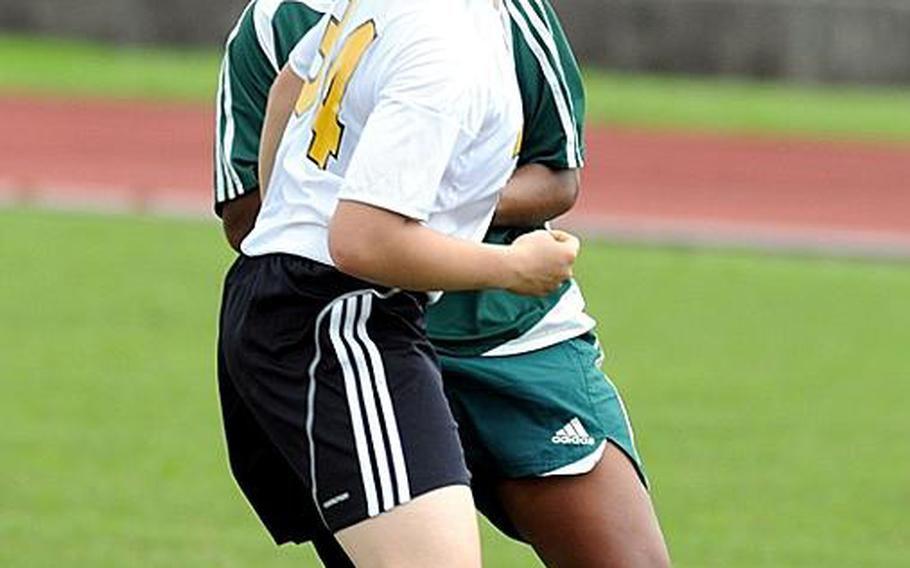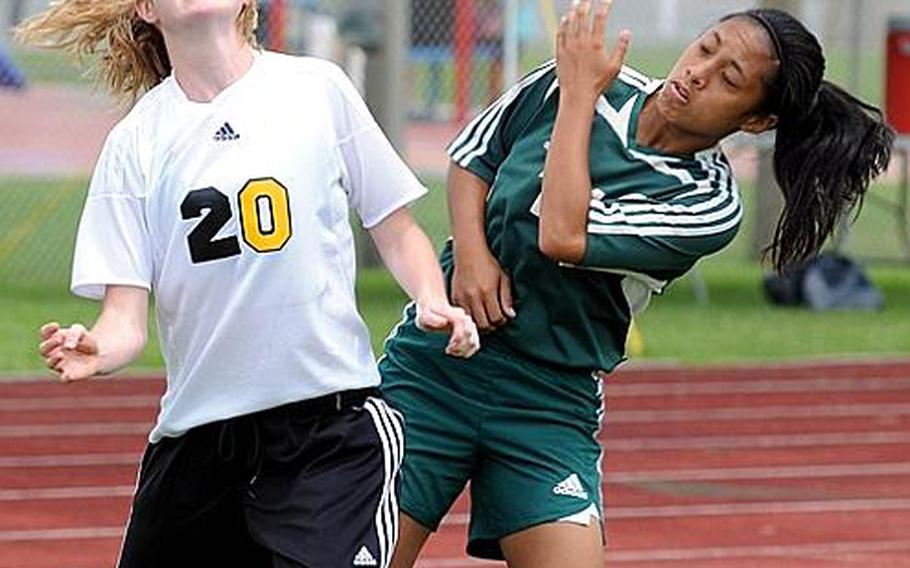 CAMP FOSTER, Okinawa – His forwards weary from making run after run late in regulation time, coach Steve Boyd sent David Voelker, who'd rested much of the second half, into the match and encouraged him to "make a difference."
He did exactly that, knocking in a free kick from 50 yards out by Peter O'Grady three minutes into the second overtime, lifting Seoul American to its school-first Far East Boys Division I Soccer Tournament title, 1-0, over host Kubasaki on Friday at Kubasaki's Mike Petty Stadium.
"I knew if we could get fresh legs in there, it would make a difference, and sure enough, David was just in the right place at the right time and made a difference," Boyd said.
"I was thinking, I had to put it as much on net as I could and I did, and somebody got to it, luckily, and that's all I could ask for," O'Grady said.
The goal capped a hammer-and-tongs battle between two quick, physical squads that relentlessly ran up and down the field, trading any number of chances. Kubasaki keeper Cristian Rivera stopped nine shots and Seoul American's Kenneth Butts 15.
As a school, Seoul American won its third Far East Division I Tournament title, along with three runner-up finishes, best in the Pacific this school year. Boyd credited the midfield, players like O'Grady and tournament MVP Josh Chung, for the team's success.
"It's the best midfield we've had since I've been in Seoul" said Boyd, who arrived in 2001. "I knew we'd reached a certain point because we were playing so well with our passes; it just took all season long for us to get it down. We just couldn't seem to get it for an entire game. And we finally started doing it."
Boyd also credited the strength of the Korean-American Interscholastic Activities Conference Division I, which this season featured six teams that could have won the postseason tournament, Boyd said.
"There can't be a tougher conference than KAIAC," he said. "Wednesdays, Thursdays and Fridays amongst those top six, anything could happen."
Boyd became the first coach in Pacific high school sports history to win three DODDS Pacific Far East Tournament titles in three sports in three seasons. He has two cross country and three basketball titles to his credit.
ASIJ girls top Kubasaki, 1-0On the girls' side, senior Birke Duerloo's career ended the way it began, with her American School In Japan Mustangs beating host Kubasaki, 1-0, in the Girls Division I Tournament final. Duerloo's Mustangs edged the Dragons by the same score at Yokota on May 23, 2008, when she was a freshman.
And very much like that 2008 final, Friday's lone goal came on a shot from deep. Katie Helwick made a long run down the left side, then lofted a shot from 25 yards that arced over Dragons goalkeeper Rimika Ortiz and tucked into the lower right corner in the 39th minute. ASIJ's defense made it stand.
"I didn't imagine ever going to the finals with this team because it was so new," Duerloo said of an ASIJ squad featuring six freshmen. "But I'm proud of myself, I'm proud of my team and thankful for four years of soccer."
Kubasaki assailed ASIJ keeper Hannah Siegel throughout the second half, hitting two crossbars and one post, but couldn't break through.
"All the credit to ASIJ," Dragons coach Shawn Green said. "They deserved it. They earned it. Sometimes, the ball doesn't bounce your way. If we play them again, it might swing the other way. We're that evenly matched."
Friday was the first time that Kubasaki had both its teams in the Far East finals since 2008, when the boys won and the girls lost, and the first time since 2004 that both Dragons teams lost Far East finals.
Kadena student-journalists Stephanie Mobley, Zabrina Comia, Alex Zermeno and Avery Lennard and Kubasaki student-journalists Angelina Furusho, Tammi Ragan, Miasha Nakahara, Averi Coppa, Brandon Sheldrake, Sonora Willeford, Tiajha Nakahara and Allani Alvarado contributed to this report.
---
---
---