Senior transfer Spencer helps Warriors build momentum going into break
---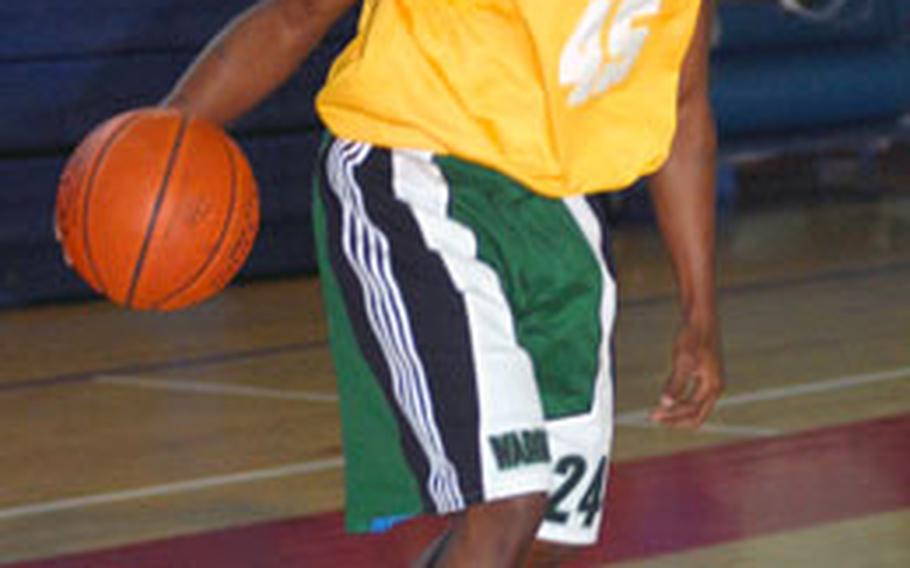 CAMP WALKER, South Korea — It's a rite of passage as much as taxes and snow in winter.
Come the start of every basketball season, Daegu American boys basketball coach Phillip Loyd takes stock and hopes he has enough spare parts and returners to cobble a team together.
Players seem to leave almost as soon as they arrive, staying for a year or two at most. "I wish I had a dynasty I could build upon," Loyd said of large-school programs like Seoul American, Kadena or Kubasaki. "We're always rebuilding here."
But occasionally, one gem bucks the outward tide and flows into Loyd's hands as a centerpiece of a potential winning team, perhaps capable of challenging for a Far East Class A title.
This year, the "it guy" is Brandon Spencer, a senior swingman and three-year starter at Ridge View High in Columbia, S.C., who transferred to Daegu last June.
"I like the teaching part of it, having new players I can teach. The challenge is to mold them into a team. Having players like Brandon makes that much easier," Loyd said.
Thus far, Spencer's presence has paid dividends. After losing three of their first four games against Seoul American and Seoul Foreign, Loyd's Warriors have won three straight, improving to 4-3 with Spencer averaging 17 points and 7 rebounds per game.
"He's a complete guard. He has great court vision, ball-handling, he's aggressive on the court but most importantly is willing to embrace other players," Loyd said. "He's a real leader. And he's extremely coachable."
Not bad, for a guy who admittedly had a lot of reservations about leaving Carolina.
Ridge View went 17-6 and reached the third round of the 2006-07 state playoffs, and Spencer hoped for higher heights as a senior.
"I was shocked at first," Spencer said of when his father, Sgt. 1st Class Brian Spencer, and his mother, Warrant Officer Somjai Ashford, each received orders to Camp Walker.
The elder Spencer conducted several heart-to-heart talks with their four children, including freshman NaShae Ashford who plays for Daegu's girls JV team.
"The only thing I could do was help them understand, there are decisions made that you can't control," Brian Spencer said.
"They said they didn't want to leave, didn't want to leave their friends. We all came to the conclusion that we as a family are the only thing we have. I said between all of us, it will work itself out."
"When I realized it was final," said Brandon Spencer, "I put it on my back and said just go with it. You can't change it."
Spencer arrived and was immediately recruited to play football. He lined up at everything from defensive back to quarterback, leading the Warriors to a 3-3 record, their first victories in five years, and their first Class A title game appearance, a 27-6 loss to Edgren.
"He can play whatever he wants to and he'll do well," assistant football coach Bill Riggs said.
Spencer found the transition from a school of 2,300 to one of 150 "different," but he and his teammates say they've accepted each other.
"I like the smaller atmosphere better," Spencer said. "At first, I didn't know what everybody was like, didn't know where I would fit in, until I started playing football. Then, everything started clicking."
After being swept by Seoul American and splitting with Seoul Foreign, "we started molding. We got better and better," Spencer said.
Teammates speak highly of Spencer the ballplayer and the person.
"He's good. He sees everything. It's easy to play point guard with him there," senior Angel Hickman said. "We accepted him right away. As he goes, this team goes and he makes everybody around him better."
Whether that means the Warriors can challenge for a Class A title or contend for top Korean-American Interscholastic Activities Conference honors remains to be seen.
Spencer says he's not worried about either at this point.
"We're just concerned about ourselves," Spencer said. "Whatever comes, comes. I have faith in myself and my teammates."
This week's schedulePacificBoys basketballWednesday, Jan. 2-Saturday, Jan. 52nd New Year Classic: Kinnick, Kubasaki, Kadena, St. Mary's and Seoul American at Yokota.
JapanBoys basketballSaturday, Jan. 5 CAJ alumni game, 5:30 p.m.Sunday, Jan. 6 St. Mary's alumni game, 1:30 p.m.Monday, Jan. 7 Sagamihara at Zama, 5:30 p.m.Tuesday, Jan. 8 CAJ at St. Maur, 5:30 p.m.Wednesday, Jan. 9 St. Mary's at Yokota, 5:30 p.m.; St. Maur at Zama, 5:30 p.m.
Girls basketballWednesday, Jan. 9 Zama at St. Maur, 5 p.m.; Seisen at Yokota, 5:30 p.m.
South KoreaBasketballDivision IWednesday, Jan. 9 Seoul Foreign at Osan American, 3:30 p.m.
Game of the weekBoys basketball 2nd New Year Classic TournamentWhen: Jan. 2-5.Where: Capps Gym, Yokota High School, Yokota Air Base, Japan.What: Second gathering of boys high school basketball teams from Japan, South Korea and Okinawa, including programs that historically have been competitive in the Far East Class AA tournaments. This year's tournament includes the last five Class AA tournament champions, headlined by defending champion Kubasaki of Okinawa.Teams and players to watch: Junior Jamil Barney has been a headliner all season for defending Classic champion Kadena (11-2), while Kubasaki (8-5) gets its fill of star play from returning Class AA title veterans Chris Cooke, a senior, and junior Jacorian Callier. Class AA runner-up Seoul American (13-1) suits up eight of the 10 players, including seniors Chris Churchwell, Daniel Burns and Chris DeFrancisco and juniors Willie Brown, Joe McLean and Raidion Fails, from last year's Falcons. St. Mary's International (8-4), powered by returning senior Tobi Taniguchi, has already posted victories over youthful Yokota (7-3), headlined by senior tandem Riki Byrnes and Anthony McNeill, and Nile C. Kinnick, on the rebound after a shaky 3-4 start behind the play of seniors Sam Green and T.J. Jones.
---
---
---
---