Senior guard Schellas enjoys passing to Bucs
---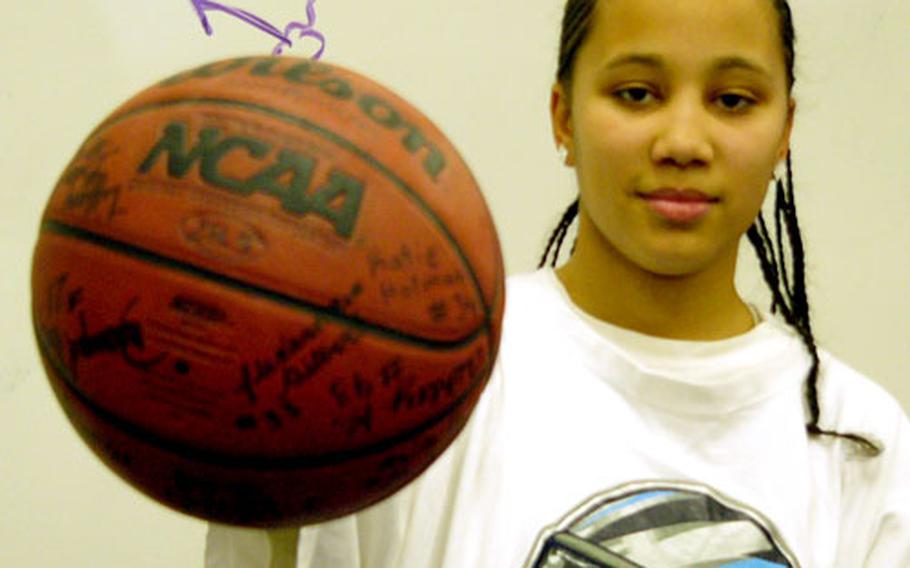 BAUMHOLDER, Germany — Tish Schelhas turns 18 on Sunday, but she's already sharing her gifts with the Baumholder Lady Bucs basketball team — and has been for the past four years.
Schelhas, a 5-3 guard, is scoring at a rate of 19.8 points per game this season. But she gives her team more than numbers, her teammates say.
For all her star status — second-team All-Europe as a sophomore and first-team All-Europe as a junior — Schelhas is just one of the gang.
"When we don't understand something, we can ask her about it," said junior Kendall Williams on Tuesday. "She's very approachable."
And very specific, according to Baumholder coach Carter Hollenbeck.
"She'll grab the white marker board and show them what to do," Hollenbeck said. "She even works with our JV. She teaches everyone else."
The briefest of conversations with Schelhas provides an insight into her team-oriented instincts.
Even though she's scored one-half of the unbeaten Lady Bucs' points this season, Schelhas is still averaging seven assists every time out this season.
"I like it when my teammates score," she said about sharing the ball. "I like our team chemistry. If I don't score, my teammates can do the [the scoring]."
With Schelhas, who averaged 22 points per game last season, drawing extra defensive attention from Baumholder's opposition this season, her role in setting up her teammates will loom increasingly large.
Last weekend, for example, Schelhas scored 23 points Friday in a 59-33 road victory at AFNORTH of Division II. Saturday, when AFNORTH coach Greg Blankenship switched to a triangle-and-two to double-team her, Schelhas scored just 12 points but pulled off eight steals and grabbed 10 rebounds to gain vital possessions for less well-defended teammates. Her steal and assist to Williams in the closing seconds sealed Saturday's 38-35 victory.
Schelhas is used to exciting finishes.
Her first season on the team, the Lady Bucs won the European Division III crown. Her sophomore and junior years, the Lady Bucs finished third in Europe, with last year's clutch 47-44 overtime victory over Sigonella in the third-place game providing Schelhas a career highlight.
"Tish was fouled on a three-pointer with time running out," Hollenbeck recalled. "She hit three clutch free throws to tie the game, then hit a three to win it. She can penetrate and she can hit the threes."
Schelhas said pressure made that game and those shots special.
"My team was depending on me," she said. "I made it, even with all that pressure."
The Lady Bucs are apt to be depending on her again at tournament time.
"I'm trying to beat last year," she said of her personal goals for her final season.
With her high school career ending, Schelhas hopes to move on to college basketball. She's in the process of sending tapes to colleges and awaiting replies.
"It's sad to be leaving," she said, "but at the same time, it's exciting."
Only the first half of that emotional assessment, however, applies to the Lady Bucs.
"She's a great teammate to have," said junior guard Grecia Gonzalez. "She'll be missed."
---
---
---
---