Senior Frank relishes opportunity to shine for Vilseck
by
Rusty Bryan
December 13, 2007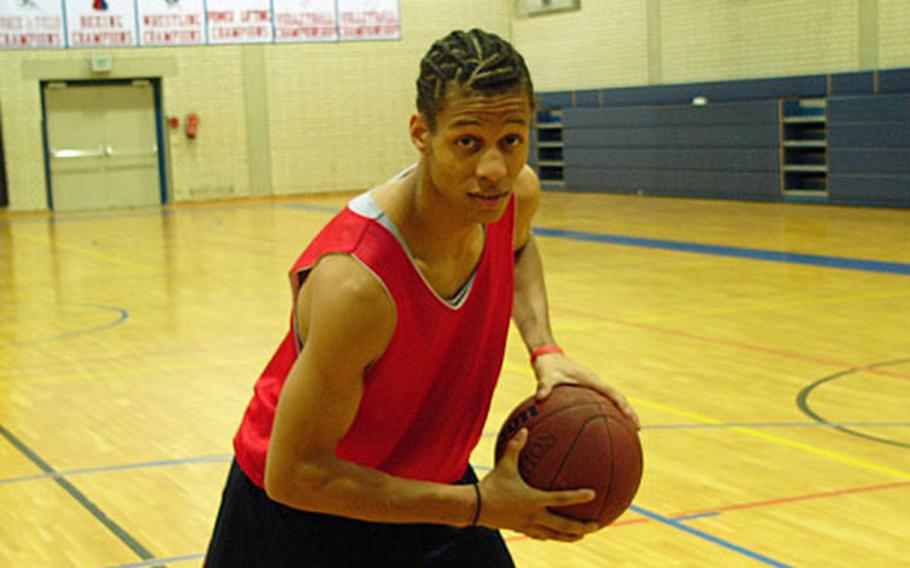 VILSECK, Germany
Not that he needed any, but Josh Frank says his first game as a Vilseck Falcon was all about redemption.
"The best part of the game was showing the coach from K-town that I had skills," Frank, a 17-year-old senior who transferred from Kaiserslautern this year, said of playing his old teammates Friday.
"He didn't play me."
That last remark clearly strays into hyperbole, since Kaiserslautern coach Brant Tryon called Frank "an incredible player" in nominating him for All-Europe. The 6-foot-4 forward was in the lineup enough to make the All-Europe second team, averaging eight points, 11 rebounds and two steals per game.
Coaches and players invariably differ over what constitutes adequate playing time, and this time is no exception.
"What an unfortunate comment from a player that I always felt had enormous potential," Tryon said Wednesday when informed of Frank's opinion. "I was disappointed to see Josh leave K-town because I knew he was a fantastic basketball player as well as a wonderful individual."
Tryon's disappointment was well-founded during Friday's 61-55 Vilseck victory. Frank scored 13 points, snared five rebounds and blocked three shots in his Vilseck debut despite being double-teamed most of the way.
"They tried to cover him man-to-man at first," Vilseck coach Billy Ratcliff said Wednesday of his prize transfer, who last month made All-Europe in football team. "He scored 11 points in about 90 seconds. After that, they double-teamed him all the way."
Frank, who scored 16 points and had four steals in Saturday's 55-50 overtime loss to K-town, said a scheduling change dictated he'd begin his Vilseck career against the team he'd been a part of during his first three high school years.
"We were supposed to play (regional opponent) Hohenfels," Frank said as his teammates concluded practice Tuesday, "but that game got moved back. I was better motivated when I found out it'd be K-town."
Motivation is great, but it's even better when it activates talent such as Frank's.
"First of all," Ratcliff said when asked about Frank's game, "he brings a lot of intangibles to the court that don't show up in his statistics. He's a great leader on the court. He has great basketball savvy. He gets guys where they're supposed to be and gets the ball to them. He's a Magic Johnson-type player."
With the ball in his hands, Frank is "just phenomenal," according to Ratcliff.
"Last year at the (European) tournament, we all heard about the kid from K-town who did a two-handed dunk behind his head on a fast break," Ratcliff recalled.
"Of course, there's more to basketball than dunking the ball. He can jump out of the gym. He could be a post player. He has great inside moves. He boxes out well. He has a great interior perimeter game.
"On defense, it's extra hard to get by him. He moves his feet well."
Frank was eager to give his old K-town friends a taste of all that.
"It was kind of a challenge for me since they knew how I played," he said. "But it also was easier for me, because I knew how they played."
The K-town series could be the high point of the regular season for Frank, who characterized the new regional set-up as "practice for the tournament."
He is confident about what will happen when that rolls around.
"The D-II tournament," Frank said. "We're taking it."
---
---
---
---