DODDS-Europe Soccer Preview
Seeding done, teams take to fields
by
Rusty Bryan
May 17, 2011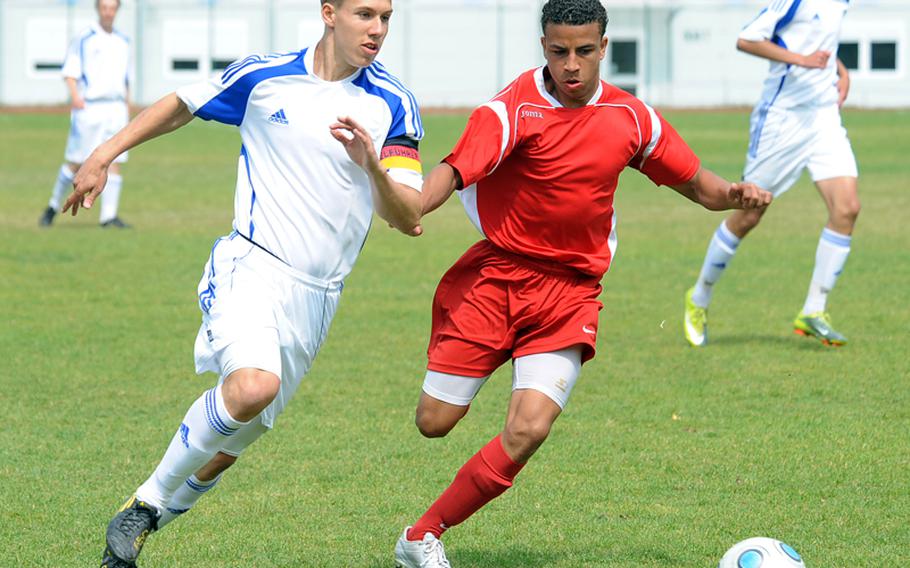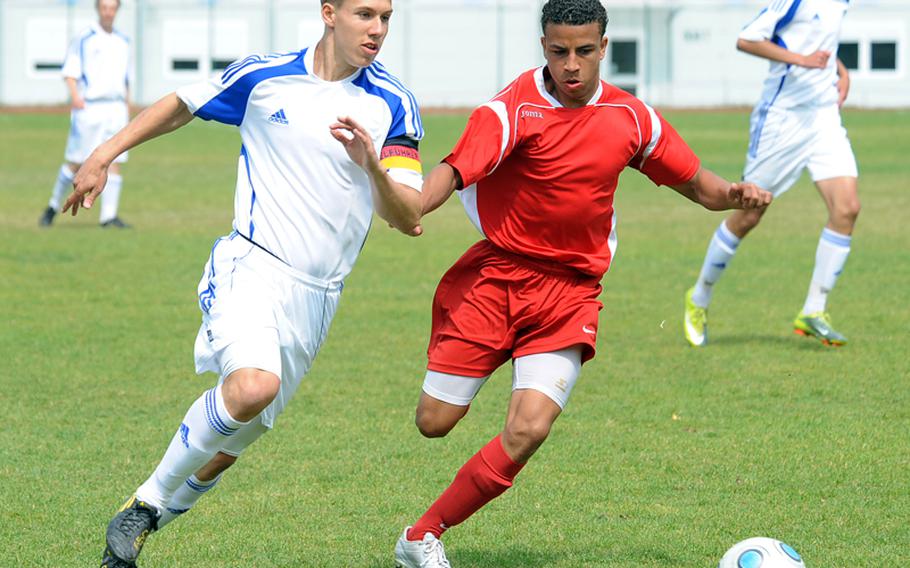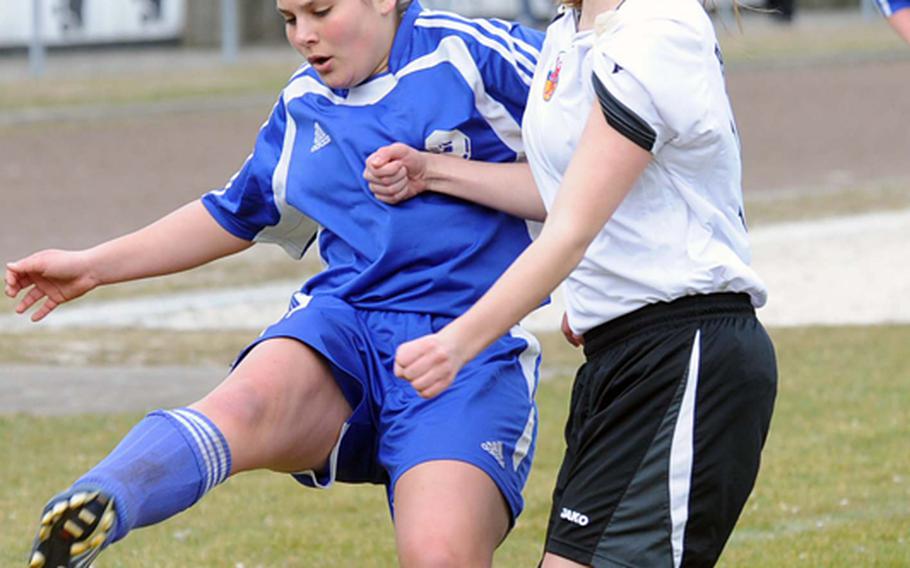 KAISERSLAUTERN, Germany — After the 63 teams vying for the 2011 DODDS-Europe soccer titles get the four-day event kicked off at 8:30 a.m. Wednesday, all the talk will be about what transpires on the field.
Before that, however, a lot of the chatter has been focused on tournament seedings — why one team was ranked above another, who would get a scheduling advantage because of their seeding, and so on.
While seeding controversies normally occupy coaches' minds before play begins, this year's rankings seem to present some glaring inconsistencies. Chief among them is the seeding of the Division I girls, where defending champion Patch, which has lost just once this season, is ranked seventh in the nine-team field.
Unbeaten, untied Ramstein and one-loss Heidelberg justifiably grabbed the top two slots, but a pair of two-loss teams — Kaiserslautern, thrashed 6-1 Saturday by Ramstein and 5-1 the previous weekend by Heidelberg, and Vilseck, beaten 2-0 last Friday by Patch and 5-1 by No. 8 Wiesbaden in March — are seeded No. 3 and No. 4, respectively, ahead of International School of Brussels at No. 5, SHAPE at No. 6 and Patch at No. 7. All three of those schools have lost just once this season.
Turns out, however, that quality of play isn't the only determinant. Logistics and luck of the regional draw also enter into the picture, according to DODDS-Europe athletic director Karen Seadore.
Because of hotel reservation and transportation issues, "Patch chose to take the seventh seed and remain in Pool B," Seadore wrote Tuesday in an email,
In Division I, the nine teams are divided into two pools: Nos. 1, 4, 5 and 8 in one pool and Nos. 2, 3, 6, 7, 9 in the other. Staying in Pool B was a bold decision by Patch coach Tom Manuel because it means his Lady Panthers will have to play one pool game more that the teams in the other group. Their opponents, moreover, will include Heidelberg, which handed the defending champs their loss, 3-1 at home, and once-beaten SHAPE.
Travel arrangements also affected the Lakenheath boys, Seadore explained. Because the Lancers needed to be informed of their schedule last week in order to book their English Channel crossing, they were ranked No. 6, below what one would expect of a team coming off consecutive 1-0 shutouts of defending D-I champ SHAPE and D-III top-seed Alconbury.
Regional considerations helped the girls from Kaiserslautern, despite big-margin defeats in their last two outings. The Lady Raiders achieved the No. 3 spot, Seadore said, because they lost just once in Region II. Their loss to Heidelberg was non-regional.
"I tried to rank-order the teams by division in their regions, and then put (regional) No. 1 and No. 3 in the same pool, with No. 2 being in the opposite pool," she said.
All that, however, will be water under the bridge Saturday, when the three divisional boys and girls champions will be crowned in consecutive title games at Ramstein High School. Speed, savvy, skill and stamina, rather than seedings, will be the main factors determining which teams play in the finals.
Stamina is particularly important, given that teams often have to play twice a day, many of them just 2½ hours after their first kickoff. How teams cope with the quick turnaround is a job for the coaches, according to Mannheim boys coach Enrique John.
"It depends on what the team has done to prepare and what the coach plans on doing with them between games," he wrote in a Tuesday email. "Proper rest, recuperation and nutrition are very important in tournament play. Teams that have practiced hard throughout the season will do well in this tournament."
John, whose Bison will play in the D-II event, isn't particularly concerned with seedings. The 15-team boys and 15-team girls fields will play in pools only on Wednesday. They'll then be placed into a single-elimination bracket based on those results and face a win-or-go home situation on Thursday, Friday and Saturday.
Two Italy-based teams, the one-loss American Overseas School of Rome boys and the unbeaten Naples girls are the top-seeded defending D-II champions.
In Division III, where the nine boys teams are to play a schedule identical to D-I, Alconbury's boys are seeded No. 1 and Sigonella No. 2. Ankara, last year's surprise champion, is No. 4.
The six girls teams are scheduled to play a round-robin with the top two advancing to Saturday afternoon's title game. Defending champion Rota is the top seed.
The girls D-III title game will be one of six scheduled for Saturday. The finales will be the first of the tourney to be played at the school, which in past years was also a daily tourney venue. This year, Seadore scheduled just the final there to save wear and tear on the field.
The rest of the games are scheduled for four German soccer complexes – the FCK Sportpark (Werner-Liebrich-Strasse 1, 67678 Mehlingen), Reichenbach (Schulstrasse, 66879 Reichenbach-Steegen), Miesau (Jahnstrasse 30, 66892 Bruchmuhlbach-Miesau) and Waldmohr (Am Stadion 6, 66914 Waldmohr). There is no admission charge for any of the games.
---
---
---