Security heightened for Air Force Marathon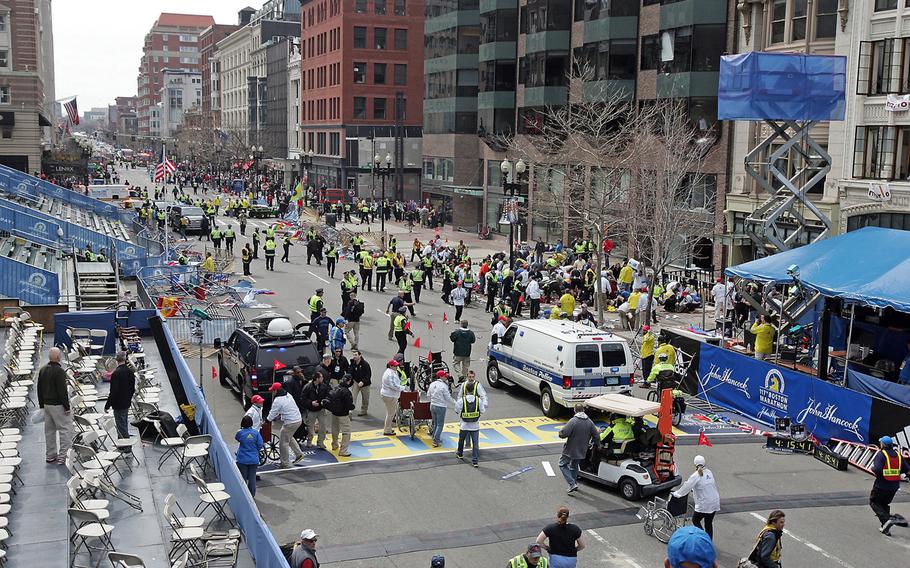 WRIGHT-PATTERSON AIR FORCE BASE, Ohio — The Air Force Marathon will heighten security of the region's largest single-day sporting event in the aftermath of the Boston Marathon bombing in April, a race organizer said.
More than 30,000 runners and supporters are expected Saturday for the Air Force Marathon races at Wright-Patterson and Fairborn.
"We've always had heightened security," said marathon director Rob Aguiar. "But more than ever our security will step up. Runners will see a greater presence of law enforcement. That's a lot to do with the events that happened in Boston."
The Air Force did not disclose how many law enforcement officers will be at the race. Wright-Patterson spokesman Theodore Theopolos said in an email, however, the event "already had many security measures in place, such as the clear runner bags and controlled entry, because our race is held on an active military base."
The marathon had a $15.3 million impact in 2012 with visitors expected this year from all 50 states, two U.S. territories and 14 countries, from Argentina to Afghanistan and Japan to Uzbekistan, officials said.
"This makes the USAF Marathon the largest single weekend event in the Miami Valley in terms of economic impact," Allen Stebelton, sales manager at the Greene County Convention and Visitors Bureau, said in an email.
The marathon and related-activities cost about $1 million to stage, and registration fees, corporate sponsorships cover the expense, Aguiar said.
The Air Force Marathon, now in its 17th year, sold out months in advance in June, and the number of visitors isn't expected to decline.
A Greene County Convention & Visitors Bureau economic study of last year's event showed much of the money was spent on hotels, restaurants, shopping and entertainment and travel expenses.
"It's very huge, I don't know if I could put a figure on it," said Nila Patel, general manager of Country Inn & Suites in Fairborn. "Without that event we would probably be booking 30 to 40 percent versus 100 percent at a higher rate."
Brides have been known to avoid getting married on that weekend out of concern about hotel room availability for wedding guests, she said.
The event has a full marathon, half-marathon, and a 10K race Saturday. Organizers plan a 5K race Friday at Wright State University's Nutter Center. A two-day Sports & Fitness Expo with more than 80 vendors will be at the Nutter Center on Thursday and Friday.
Sequestration, or automatic budget cuts, will scrap a traditional Air Force flyover, but the Wright B Flyer will take to the air in the military's place, officials said.
The popularity of the races caused organizers to expand number of running slots by about 2,000 last year, raising the prior cap of about 13,000 participants. The race, which begins and ends at the National Museum of the U.S. Air Force, started with 1,700 runners.
"When you come out here, … and you cross that finish line and you see a four-star general, a three-star general, or a general officer (who) … hands you a medal and places it over your neck, that feeling is unbelievable," Aguiar said. "You might see them on TV, but you might never ever."
Another 2,520 runners will run the races in eight deployed locations, from Kuwait to Kyrgyzstan, said marathon spokeswoman Tiffany D. Johnson.
DiAnn Stephens, 46, will be back on the starting line at Wright-Patterson a third time Saturday as a runner in both the 10K and half-marathon races.
"Why I keep coming back? It's kind of like an addiction," the New Carlisle resident said. "You see all these runners coming from 10 to 90 years old. I talk to people from Puerto Rico to Brazil."
While the race attracts all ages, the average runner is 39 years old. Some 38 percent of runners are current or prior members of the military and 60 percent have college degrees, marathon statistics show. The food tents stay busy, too, serving 13,000 bottles of chocolate milk and 72 pounds of cheese to runners, and 300 dozen Crispy Cream donuts to volunteers, Johnson said.
The cheering crowd motivates Stephens on the run. "It's loud all the way through," she said.