Home Team
Season's worth of lessons will soon be tested
---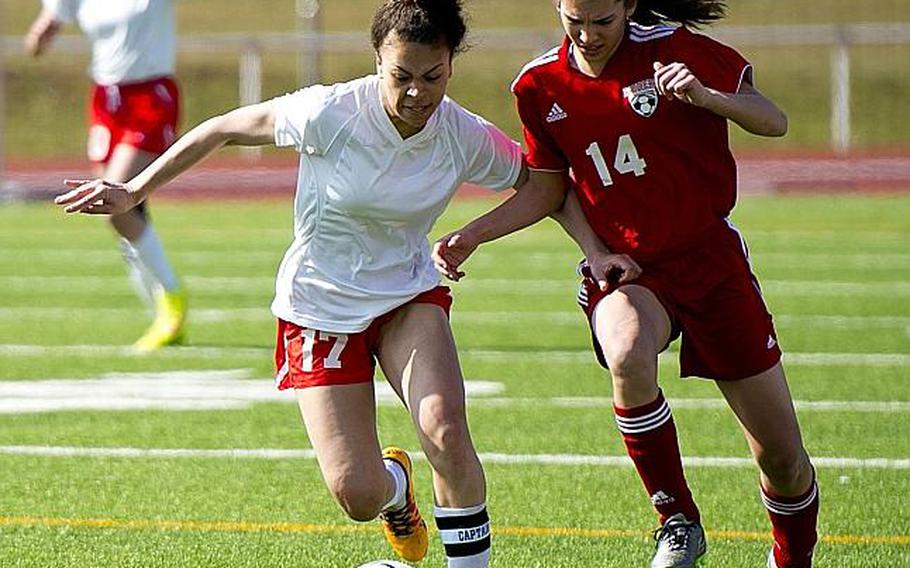 The DODEA-Europe soccer regular season is obviously a test of athletic ability and teamwork, but it can also be seen as an exercise in philosophy.
What does it all mean?
In most leagues, the outcomes of regular-season matches carry real and direct consequences. Win enough games and score enough goals and a team will earn the chance to play for a title. Lose too many and a team faces early obsolescence as its rivals advance to determine a champion.
By comparison, DODEA-Europe's regular season is a bit irregular.
Under DODEA-Europe rules, every boys and girls team, in every division and from every corner of the continent, advances automatically to the European championship tournament, which this year will be held May 18-21 in the Kaiserslautern Military Community. The teams are invited regardless of their season record and, in some cases, may enter the tournament having played few or even no DODEA-Europe opponents over the course of the spring.
All of which prompts an unavoidable question: what's really at stake in the regular season? In response, coaches identify a few key concepts.
Among a coach's first tasks of any new season is to evaluate the personnel on the field. But in DODEA-Europe, that task isn't limited to the first few practices. With short seasons, limited preseason practice time and frequent roster turnover, it can take much of the regular season for coaches to fully grasp the new mix of talents and personalities that have pulled on matching uniforms that particular spring.
"We have to look at the team as a whole and see what our possibilities are," Kaiserslautern boys coach Enrique John said. "Every year is a new start and it's always a long and challenging process."
Even as they evaluate what they have, coaches must immediately set to work trying to improve the on-field product by sharpening each player's individual skills and instilling the team's offensive and defensive styles. With all this going on, the standings can begin to seem incidental to the greater mission.
"The regular season is a developmental phase for teams," Stuttgart boys coach Eugene Macadagum said. "I look at wins and losses as a means to an end rather than an indicator to how well they will do at Europeans."
In the absence of straightforward record-based incentives, it seems self-evident that teams would pursue regular-season victories in order to develop confidence and storm into the postseason on a surge of positive momentum. Some DODEA-Europe coaches accept that as truth.
"Teams playing well at the end of the season are more dangerous," Vilseck boys coach John Sabala said. "Teams coming into the tournament struggling face an uphill battle to gain the swagger and confidence that comes from winning."
Other coaches, however, consider the tournament a clean break with the immediate past.
Vicenza boys coach Roland Sturk considers momentum all but unattainable in a regular season as short as DODEA-Europe's, in which even the busiest teams play less than 10 games over two months - very close to the number of games they hope to play over the four-day tournament.
"There is no real opportunity to build up any consistency so that momentum at the end of the season would carry over to the tournament," Sturk said. "Everybody goes into the tournament unbeaten and previous games don't impact results in the tournament greatly."
Even if a team does manage to manufacture something resembling momentum, it can often prove detrimental to the cause rather than beneficial.
Stuttgart's Daniel Coapstick and Ramstein's Ricardo Buitrago are the respective head coaches of the two teams that have dominated Division I girls soccer in recent seasons. While they're problems many rival coaches would love to have, the programs' abundant talent and constant success can still cause problems.
"A winning streak is no guarantee that teams will do well," Buitrago said. "Sure it helps to be confident, but overconfidence can be a recipe for disaster."
That can be especially true against highly motivated teams looking to redeem less-successful regular seasons by taking down one of DODEA-Europe's powerhouses.
"Teams who don't have anything to lose will sometimes play better than expected," Buitrago said.
Coapstick, coach of the defending Division I champion Panthers, is always alert to the possibility of "a false sense of security" taking the edge off his team in the tournament.
"Players may begin to think having beaten teams already in the regular season, they may need to save their energy for the bigger games," Coapstick said. "That is dangerous thinking. Other teams might be getting hot at the right moment."
Whether or not the wins and losses of the regular season can translate directly to postseason performance, the habits developed and bonds formed between teammates throughout the spring can create a foundation for a successful tournament run.
SHAPE girls coach John Arias has watched his Spartans grow into "sisters" over the spring as they've developed into legitimate championship contenders.
"They look out for one another and this attitude transfers on the field," Arias said. "They are motivated because they want to do well for each other."
All the skills, chemistry, confidence and motivations accumulated over the course of the spring will soon be tested over the four decisive days of the European tournament. Whatever lessons each team took from its regular season, that's where its fate will be ultimately determined.
"Not a fresh start," Bitburg girls coach Jose Pumarejo said. "But a completely different ballgame."
Twitter: @broomestripes
---
---
---
---