Pacificwide Open Interservice Softball Tournament
Scrapalators rally past Legion
by
Dave Ornauer
May 30, 2011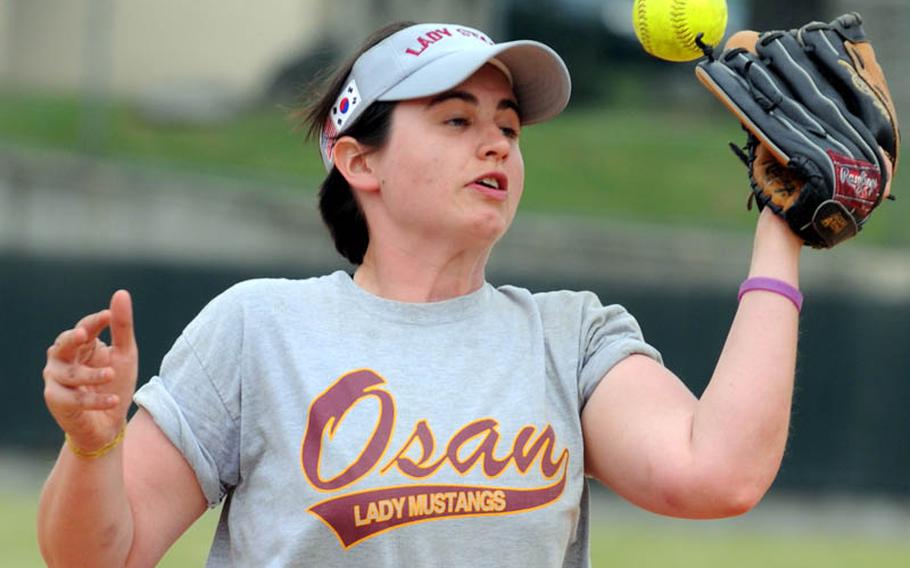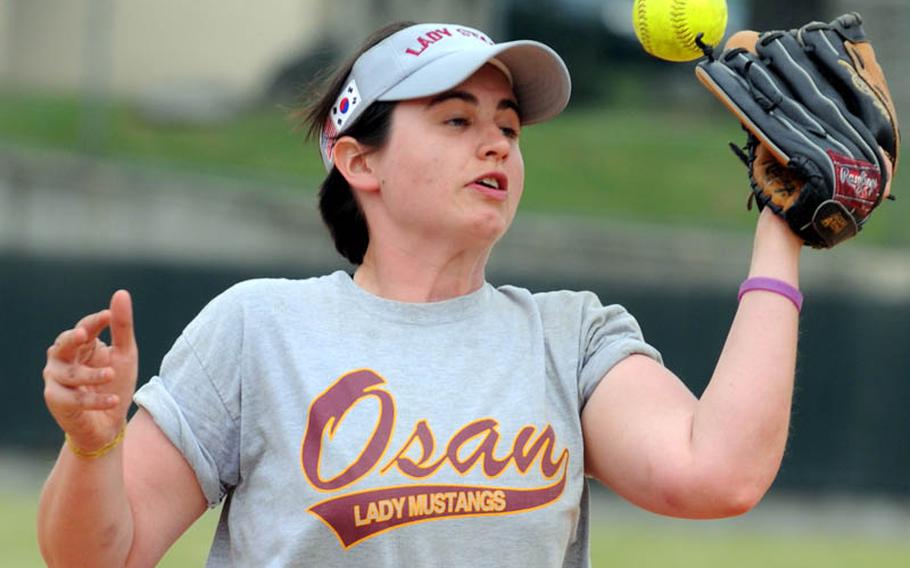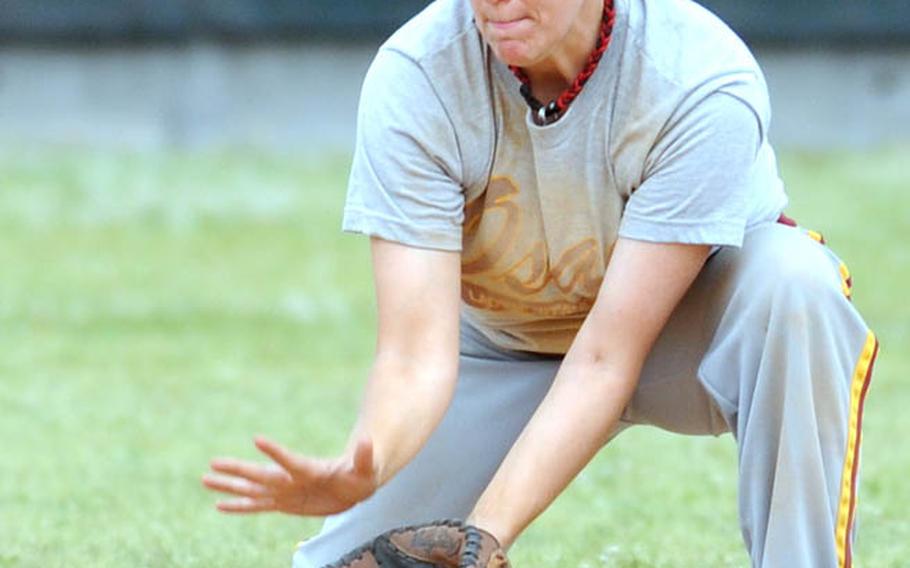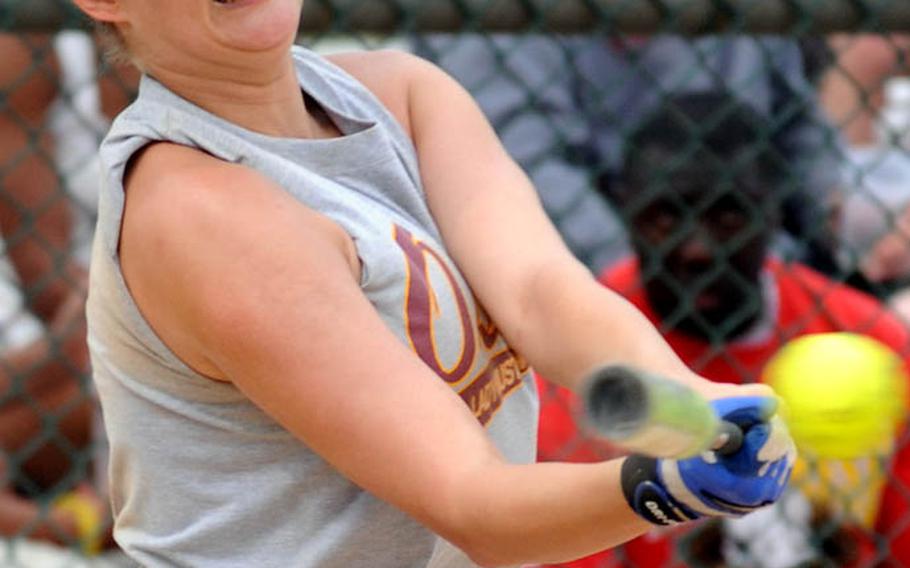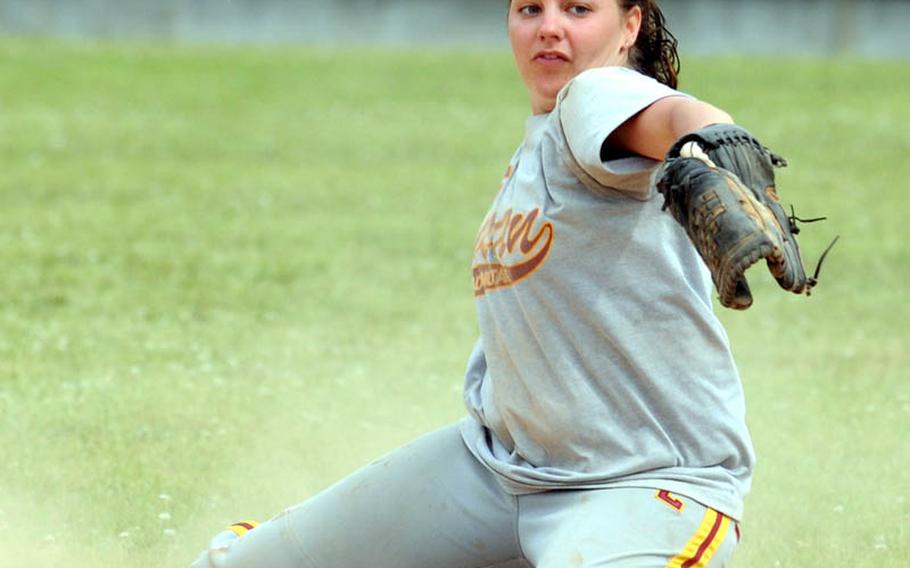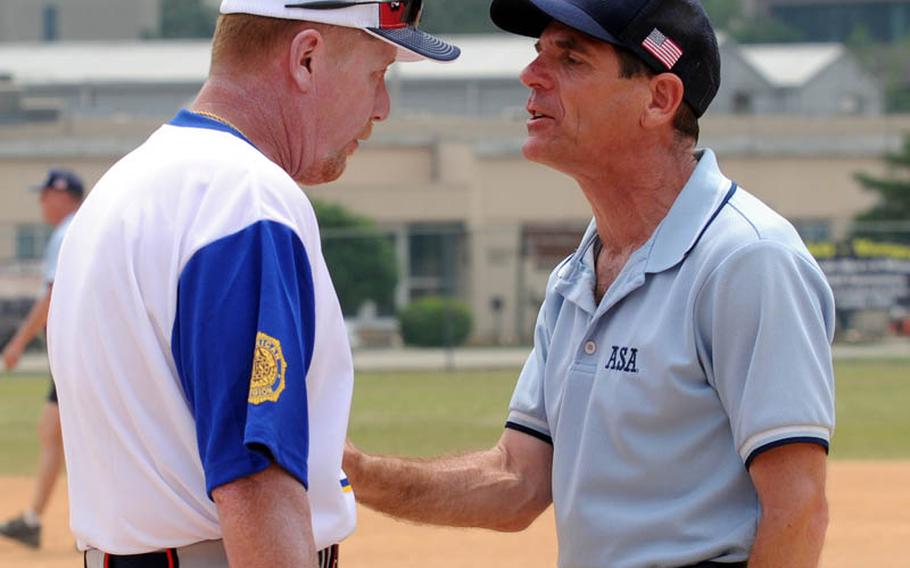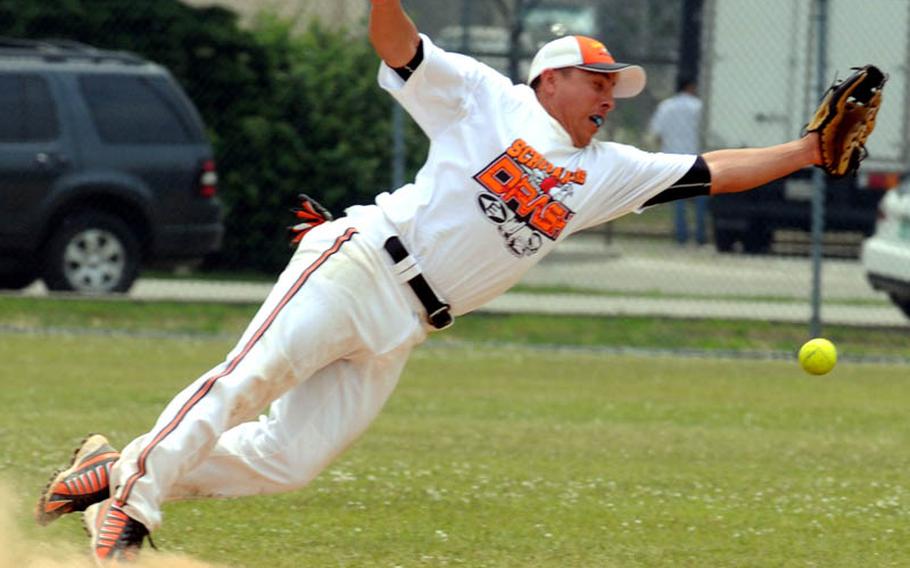 YONGSAN GARRISON, South Korea — He wasn't supposed to be in right field. He wasn't even supposed to play.
Yet All-Armed Forces outfielder Ralph Hodgdon, in relief of slumping teammate Doug Hooks, played the biggest part in a comeback victory by Scrapalators over two-time defending champion American Legion for their first Pacificwide Open Interservice Softball Tournament men's title Monday.
Hodgdon made a leaping catch at the right-field fence to rob Keahi Kapana of a three-run home run in the sixth inning, then All-Armed Forces infielder Reginald Myers ripped a walk-off bases-loaded single as Scrapalators rallied past Legion 31-30 in the first of two final games.
Scrapalators dethroned Legion 33-16 in the second game of a battle between open teams comprised of All-Service and All-Armed Forces players from Pacific and U.S. bases.
The women's championship went to a Korean team for the first time since 2008, as Kyungnam, Korea's national team, beat Osan Air Base in a two-game final 12-6 and 13-12.
And Sustainment Training Brigade-Korea won the tournament's inaugural company-level division title, downing Suwon Air Base 12-1.
"Every play, you have to believe; that was the team's mind-set the entire weekend," said All-Army team captain Elmer Mason of Scraps, who trailed Legion 30-19 in Game 1. "Hook went cold. Hodge stepped up. He didn't give up on the home-run ball. It would have been very easy to sit and watch it."
"It was definitely out, definitely over the fence," Hodgdon said. "Just went back to the fence, jumped up and got lucky enough to bring it back in."
Hodgdon's catch was the turning point, Mason said. "It was absolutely key," he said. "It sets the tone for the second game. We came out and we fed on it. We were guests, we batted first [in the second game] and we went right out and got on what we had to do: hit the ball hard and score runs."
After completing the Game 1 rally, Scrapalators scored 17 runs in the opening inning of the second game, sending 16 batters to the plate and chasing two Legion pitchers before recording an out. Legion cut it to 23-16 in the third, but Scrapalators piled on 10 more in the fourth to end it via the run rule.
All-Armed Forces infielder Gabe Beltran drove in nine runs, including a grand slam home run, in the two games. All-Armed Forces infielder Leonard Myers added 10 RBIs including a grand slam, Reginald Myers added six RBIs and All-Air Force slugger Scott Harris homered three times and drove in five runs in the first game for Scrapalators.
For Legion, which was going for its fourth Pac-wide title in eight years and 15th Pacific tournament title overall, Ahi homered three times and drove in eight runs, Will Twaddell also hit three homers and had six RBIs and All-Air Force infielder Chadd Malin hit two three-run homers in the second game.
In the first women's final game, Kyungnam broke open a tight contest with six runs in the fifth inning. All-Air Force outfielder Candace Dugo had a triple and two RBI singles and Jessica Meadows went 3-for-3 with two runs for Osan.
In the clincher, Osan burst in front 6-0, then the bats fell silent as Kyungnam scored 11 unanswered runs. The Mustangs clawed back into it with five runs in the sixth. Brittney Dial's RBI triple tied it, and she scored the go-ahead run on an error.
But Kyungnam settled the issue with a two-run triple in the bottom of the inning, and Osan couldn't answer in the seventh.
The company-level division was added to this year's tournament to prevent a spate of forfeits in which unit-level teams failed to show for games against open-level teams. This year, eight intramural teams played only one another, and open-level teams played one another exclusively.
STB-K, the intramural champion, used to be known as Headquarters Eighth U.S. Army.
---
---
---