Schweitzer basketball: U.S. bounces back with victory over Israel
by
Rusty Bryan
April 18, 2006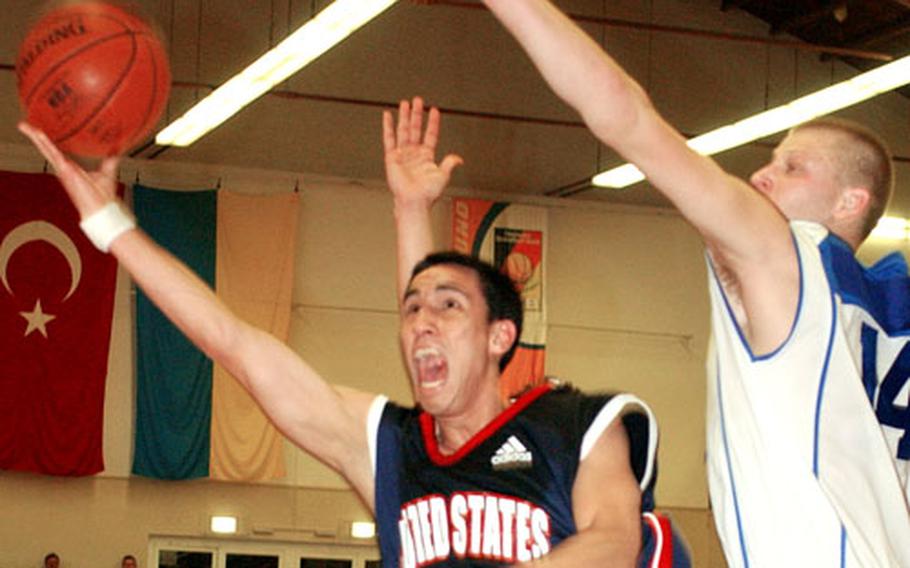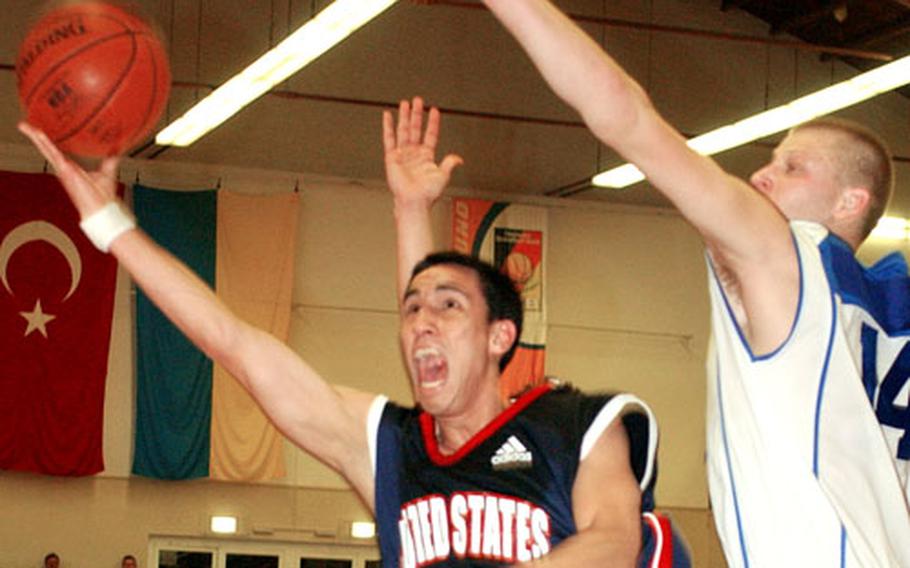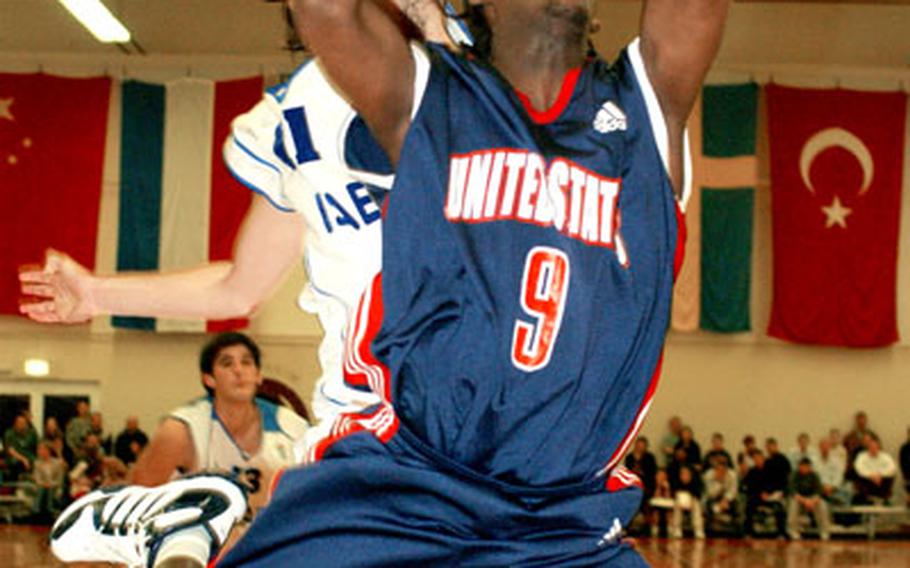 Update: In Monday's action, the U.S. defeated Spain, 81-73. Game story will follow on Tuesday. See the game stats here.
MANNHEIM, Germany — After a 112-91 victory over Israel on Sunday night, the U.S. team faced another must-win outing Monday night against Spain in the Albert Schweitzer basketball tournament. "Coach [Dick McCann] told us we had to win tonight," Antonio "Scoop" Jardine said after Sunday night's dominating performance against Israel. "After that, we got together by ourselves, and decided we didn't want to have to tell folks we lost."
Jardine and his Philadelphia teammate, Rich Jackson, performed just as expected against Israel.
Jardine, a 6-2 shooting guard, scored 15 points, grabbed five rebounds and handed out six assists. Jackson, a 6-9 power forward, scored 17 points and made seven rebounds.
But emerging from the pack for the U.S. on Sunday was 6-10 center Sam Muldrow of Florence, S.C. He posted a double-double, 19 points and 10 rebounds, and blocked three shots.
"He was aggressive and played his position well," McCann said. "He's just a junior in high school. When they asked me to put Muldrow on the team, they told me he had a tremendous upside, but that he wasn't there yet. Well, Sam Muldrow arrived tonight."
The U.S. never trailed after taking a 21-20 lead with 2:41 to play in the first quarter, largely thanks to Muldrow's grit in the final three periods of the game.
He scored six points, collected two offensive rebounds and blocked two shots in the second period, then came back after halftime to score 13 more points, block another shot and grab seven more rebounds.
"We went out and played hard," Muldrow said when asked to contrast Sunday's performance with Saturday night's 84-77 loss to Croatia. "We played smarter, and we played great defense."
Jardine said the victory, which evened the Americans' record at 1-1, was McCann's doing.
"I give all credit to Coach," he said. "We went to practice, and he knew everything they were going to do."
Although he's still tinkering with the team, McCann enjoyed the victory.
"Overall, I was very pleased," he said. "I'll continue to be pleased as long as they realize this tournament isn't over. We still have to win five more games."
Once again, point guard Josue Soto of Jacksonville, Fla., led the U.S., this time with 25 points. Twelve of those came from 4-for-5 shooting from beyond the three-point arc, but Soto also had six assists, as did Jardine.
"The thing I was proudest of tonight," McCann said of his team's 17 assists, "was the way they shared the ball."
If the Americans were able to defeat Spain on Monday night, they advanced to a 6 p.m. game Wednesday at BFV Arena against the winner of Group B, most likely Serbia and Montenegro. A loss to Spain would send them into a 4 p.m. game against the last-place team in Group B, most likely Italy. Tuesday is an off-day.
Schweitzer scoreboardUnited States 112, Israel 91
(Pool-play Sunday
at Mannheim, Germany)
United States ..... 28 29 30 25—112
Israel ..... 24 27 15 25—91
Scoring—United States: Josue Soto 25, Sam Muldrow 19, Richard Jackson 17, Antonio Jardine 15, Luke Babbitt 14, Edwin Rios 13, Cole Aldrich 5, Matt Salay 2, Anthony Stewart 2. Israel: Gal Mekel 29, Omri Casspi 20, Anton Shoutvin 11, Sean Daniel 9, Ahiad Bukra 7, Eran Asante-Asare 6, Evgeni Lioutrine 5, Iddo Stplero 2, Eyal Solomoviz 2.
Rebounding leaders—United States: Muldrow 10, Jackson 7, Jardine 5. Israel: Shoutvin 7, Oded Brandwine 7, Asante-Asare 6.
Assist leaders—United States: Jardine 6, Soto 6, Rios 3. Israel: Asante-Asare 6.
Sunday's pool-play results
(Pool records in parentheses)
Canada (1-1) 67, Italy (0-2) 65
Turkey (2-0) 101, China (0-2) 58
Germany (2-0) 80, Sweden (0-2) 68
Serbia and Montenegro (2-0) 76, Greece (1-1) 42
Croatia (2-0) 56, Spain (0-2) 55
Australia (1-1) 71, Ukraine (0-2) 54
France (1-1) 92, Lithuania (1-1) 76
United States (1-1) 112, Israel (1-1) 91
Monday's pool-play results
Sweden 96, China 77
Lithuania 100, Australia 91
Serbia and Montenegro 91, Canada 85
Croatia 95, Israel 59
Greece vs. Italy, late
Turkey vs. Germany, late
France vs. Ukraine, late
United States vs. Spain, late
Tuesday's games
No games scheduled
Qualification round
Wednesday and Thursday at Halle am Herzogenried and BFV Sports Arena. Pairings TBD; tip-offs begin at 2 p.m. each day. Tickets each day are 10 Euros for adults; 7 Euros for youth and available at door or in advance at Rhein-Neckar USO, Sullivan Barracks, Mannheim.
Placement round
Friday and Saturday at BFV Sports Arena. Tip-offs start at 9 a.m. each day; championship game is 4 p.m. Saturday. Tickets each day are 14 Euros for adults, 9 Euros for youths at door or in advance at Rhein-Neckar USO, Sullivan Barracks, Mannheim.