Schweitzer basketball: Serbia and Montenegro edges U.S. out of contention
by
Rusty Bryan
April 21, 2006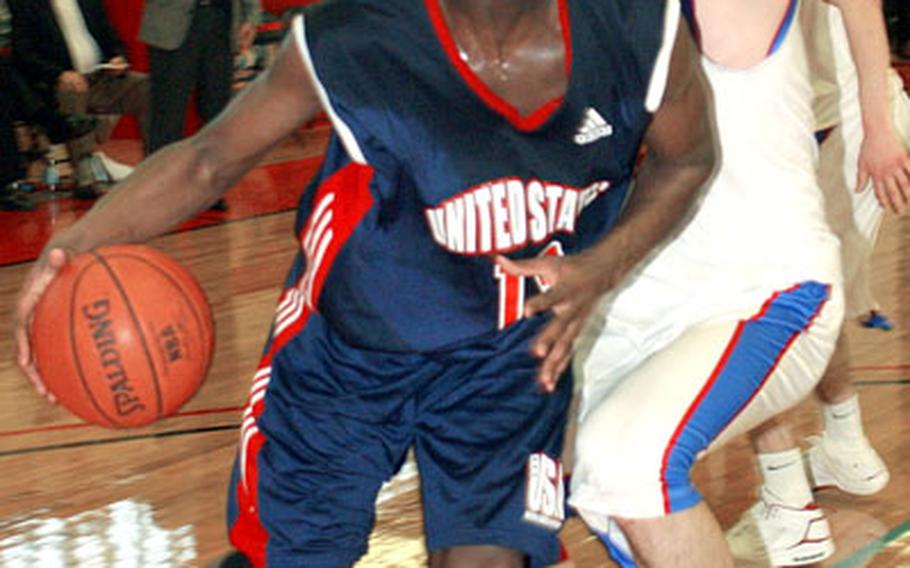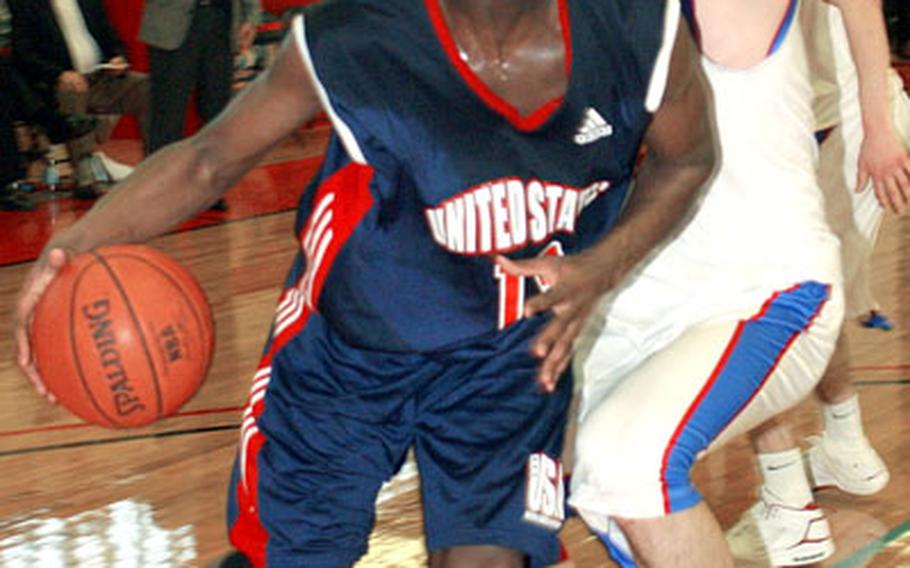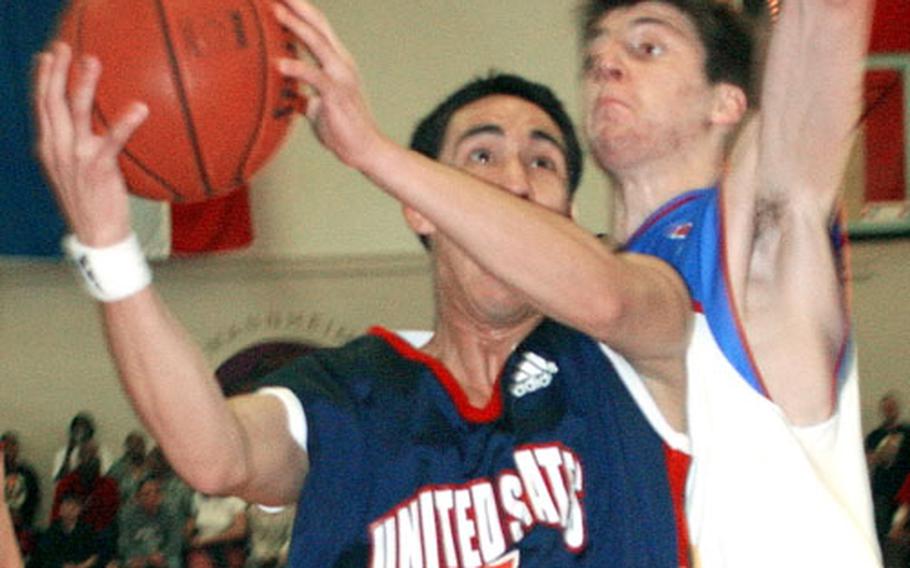 Update: In Thursday's action, The U.S. lost to Italy, 95-82. Click here for the game statistics; a game story will be posted on Friday.
MANNHEIM, Germany — The U.S. was one good bounce and one basket from advancing to the semifinals but lost 83-80 to unbeaten Serbia and Montenegro on Wednesday in the 23rd Albert Schweitzer International Youth Basketball Tournament.
"It was just a lucky play," Philadelphia's Antonio "Scoop" Jardine said of the loose ball under the U.S. basket that got away with five seconds left and the U.S. down 81-80.
The Americans had almost climbed back from an 81-74 deficit in the final minute on consecutive three-pointers by Edwin Rios of Miami, the second with 7.5 seconds left.
The Serbs inbounded the ball, and the Americans knocked it loose. However, it rolled to Serbia's Petar Despotovic, who dribbled down the left sideline and passed to Milan Macvan, standing alone under the basket. Macvan scored with a half-second left, and the Serbs piled on one another in celebration.
The best the Americans can do now is fifth place.
"We had a chance," U.S. coach Dick McCann said. "We did a couple of things incorrectly in the final going, and I made a couple of bad decisions."
The incorrect things started after the U.S. had closed to 75-74 with 2:26 left. Poor shot selection and a turnover with 1:49 to go helped the Serbs go on a decisive 6-0 run.
"We had a couple of bad trips down the floor," said Jardine, who scored 17 points.
The raucous Serb fans, including an untiring drummer, got even louder after Macvan's clinching shot.
"I tried to call time," McCann said, "but no one could hear me with all the hollering."
Throughout the game the U.S. tried to entice the Serbs out of their halfcourt game and into a quicker pace but to no avail.
"We tried to get them to run with us," McCann said, "but they wouldn't do it."
Their wariness of the Americans' quickness showed, according to McCann.
"They didn't play us as tough on defense as they did their other three games," McCann said. "In those games, they'd get right up on their men and stay there. They'd get up on us, but then back off because they knew if they stayed tight, we'd have gone by them."
The Americans countered with the three-ball, hitting seven of 15 tries, and with deft and powerful inside scoring from 6-9 Richard Jackson, who scored a game-high 20 points. Rios added 14, shooting 4-for-7 from three-point range, and Josue Soto scored 12.
The loss left the Americans, 10-time champions of this biennial event for players younger than 18, needing to win their next two games to finish fifth for the second straight time. They were to play Italy Thursday night after this edition of Stars and Stripes went to press.
"We're not going to let up," vowed Jardine, who had promised his mother a gold medal when he left home. "We're going to play as hard as we can for fifth."
E-mail Rusty Bryan at: bryanr@mail.estripes.osd.mil
Albert Schweitzer TournamentSerbia and Montenegro 83, USA 80
(Wednesday at Mannheim, Germany)
USA ..... 14 23 23 20—80
Serbia and Montenegro ..... 19 21 24 19—83
Scoring—USA: Richard Jackson 20, Antonio Jardine 17, Edwin Rios 14, Josue Soto 12, Anthony Stewart 5, Luke Babbitt 4, Andre McFarland 4, Sam Muldrow 4. Serbia and Montenegro: Mladan Jeremic 18, Miroslav Raduljica 17, Petar Despotovic 17, Milan Macvan 12, Stefan Stojacic 9, Bojan Radetic 6, Alexsandar Radulovic 4.
Rebound leaders—USA: McFarland 11, Jackson 6, Stewart 5. Serbia and Montenegro: Raduljica 11, Macvan 7, Radetic 5.
Assist leaders—USA: Soto 4. Serbia and Montenegro: Despotovic 4.
Total fouls—USA 25, Serbia and Montenegro 15.
Wednesday's results
Quarterfinals
Serbia and Montenegro 83, USA 80
Croatia 90, Italy 78
Turkey 83, Lithuania 76
France 92, Germany 75
Consolation
Sweden 71, Ukraine 69
Australia 91, China 50
Spain 66, Greece 56
Canada 84, Israel 79
Thursday's results
Ukraine 79, China 63
Australia 79, Sweden 74 (OT)
Spain 73, Canada 54
Israel 76, Greece 74
Lithuania 80, Germany 64
France 82, Turkey 78
Italy 95, USA 82
Croatia 78, Serbia and Montenegro 67
---
---
---