Boys cross country AOY
Scarver gave it a try and then went the distance
by
Dave Ornauer
November 25, 2019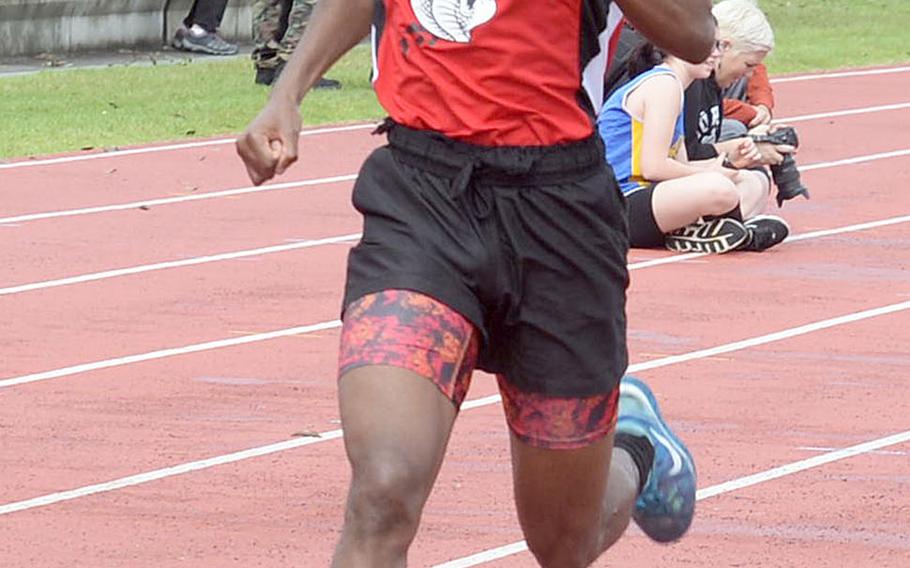 L.J. Scarver liked to run lengthy distances just to keep in shape for sports such as basketball and track and field.
But he said he never envisioned winning awards for cross country prowess.
Yet there he was, on Oct. 19 at the DODEA-Japan finals, where the E.J. King senior came in as the surprise winner. And again 2½ weeks later at Misawa Air Base, where in just his fourth cross country race, Scarver took third overall and became the Far East Division II champion.
"I don't think it hit me until three weeks after" the Far East meet, said Scarver, a basketball guard and track sprinter who found he could also conquer the art of distance running in very short order.
Scarver won all three races he entered prior to Far East, two of them at Marine Corps Air Station Iwakuni.
"I wasn't expecting to win" either the DODEA-Japan or Far East overall, Scarver said. "I was expecting to place in the top three. That was my goal."
For his quick emergence as the D-II distance king, Scarver has been named Stars and Stripes Pacific boys cross country Athlete of the Year.
Scarver said he hadn't considered cross country or competitive distance running of any sort until he said he was spotted in the middle of last season, running in a parking lot by King captain Briana Aviles.
"She just saw me running and said she saw potential in me," Scarver said. "She wanted me to run. She's a good person. So she motivated me to try it."
But for a guy who was more inclined to run shorter distances – his favorite distance is the 400 meters in track – Scarver said he found his first tries at lengthy runs a trifle exhausting.
"It's very tiresome, something I wasn't used to," Scarver said.
Still, he persisted, and eventually entered a 5-kilometer fun run at Sasebo's Hario housing annex "and I did pretty well," he said.
It wasn't until the middle of the current season, Scarver said, that he made up his mind to really give the sport a shot. He needed a full 10 practices first, before entering the first of his two races at Iwakuni, where he ran 16:45, good for first place.
"It grew on me in that race," Scarver said. "I knew I could do something special for my school, so I kept on practicing."
Now that he's an accomplished distance runner, Scarver says he's concentrating on helping the Cobras win back-to-back Far East D-II basketball titles as well as keep in shape for track season in spring.
The question being, where will his coaches Nicole Reuss and Travis Elliott use him in track? "His passion is in the 400 but his body may have other plans," Elliott said. "I'm awfully proud of him."
Ornauer.dave@stripes.com Twitter: @daveornauer