Samurai picking up steam
by
Dave Ornauer
December 11, 2008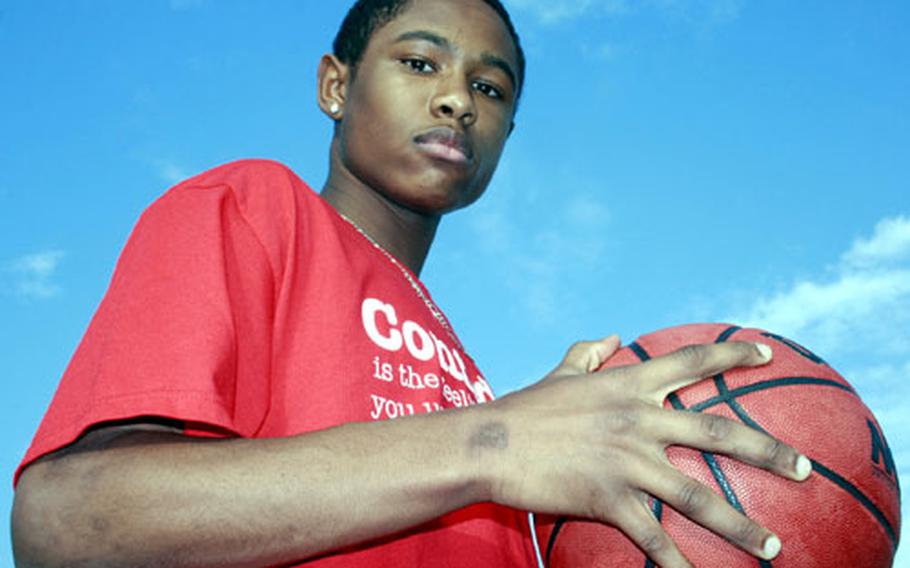 If he had his way, Chris Clark says he would not allow freshmen on his team; indeed, he would rather they abandon playing varsity basketball altogether.
But the play thus far of Matthew C. Perry point guard Chase Dariso is making Clark hedge his bets as he takes on the monumental task of reconstructing the Samurai from their aborted 2007-08 campaign.
"You can't ignore what you have when you have it," said Clark, the Samurai's first-year coach, of Dariso, who averaged 21 points and nine assists in Perry's road trip last weekend to Tokyo. "When you get a player of his skills, you go with it."
The road trip on paper looked like a disaster for the Samurai — three losses in three games to drop the team's record to 1-7.
But a closer look reveals that Perry lost by just four points at St. Mary's International, then took perennial DODDS-Japan power Yokota to overtime before losing by five points, with Dariso leading the way.
"If you told me I'd be starting a freshman, I'd have laughed at you," Clark said. "He's a freshman who 'gets it.' He goes into a crowd and next thing you know, he has a hand on the ball and [is] headed for the basket."
Compared to last season, when the Samurai played five games before being forced to shut down due to illness, injury and an undisclosed incident aboard a team bus, the Samurai are enjoying life.
"We know we're not always going to win. (But) this group is not happy with moral victories. They want to win every time we get on the floor. For being 1-7, we're feeling pretty good about ourselves," Clark said. "It's a good 1-7, if there is such a thing."
The Samurai's performance in those two tight games "shows we're coming along," Dariso said. "A lot of people expected us not to do so well, and we're surprising them. "
On a team consisting of one senior — Justin Clement — a junior and the rest sophomores and freshmen, Dariso's star is on the greatest rise.
He began playing ball at age 7 in his hometown of Oceanside, Calif., under his father, Marine Corps Maj. Vernon Dariso, until he was 12 and started playing for other coaches. Dariso credits his father for teaching him old-school philosophy, sportsmanship and respect for the game and opponents.
"You don't need to showboat. Fundamentals are important. One player can't make a team," are a few of the adages Dariso said he's learned.
The Samurai were already a "solid" team with potential to do well, Clement said. "But we're a better team with him," he said of Dariso. "He sets the example for the other players. He holds up his end."
As to the bus incident last year, "we don't talk about it," Clark said. "It happened last year. There's only one person who was around when the incident occurred. "
Opposing coaches have taken stock of Dariso and the new Samurai.
"[Dariso] was pretty tough on us," Yokota coach Paul Ettl said after the 76-71 overtime victory. "He's really poised with the ball. If he makes mistakes, they're the 'one of those things that don't work out' mistakes. And he's not afraid to step up in a big moment."
Clark says Dariso will be at Iwakuni for at least this season and next, giving him one less thing to worry about as he tries to cobble together a winner.
The presence of Clement in the middle and as a leader, plus newcomers John Ayeres and Ryan Schmidt, has "made for nice synergy so far. The future looks extremely bright [but] we're not looking toward next year. We want to make some noise this year."
The common goal, of course, is to do well in February's Far East Class A Tournament.
"We want all the wins we can get before that, but we just want to be ready when tournament time comes," Clark said.