Saints sharpshooter: Aviano guard Miller lighting up the scoreboard
---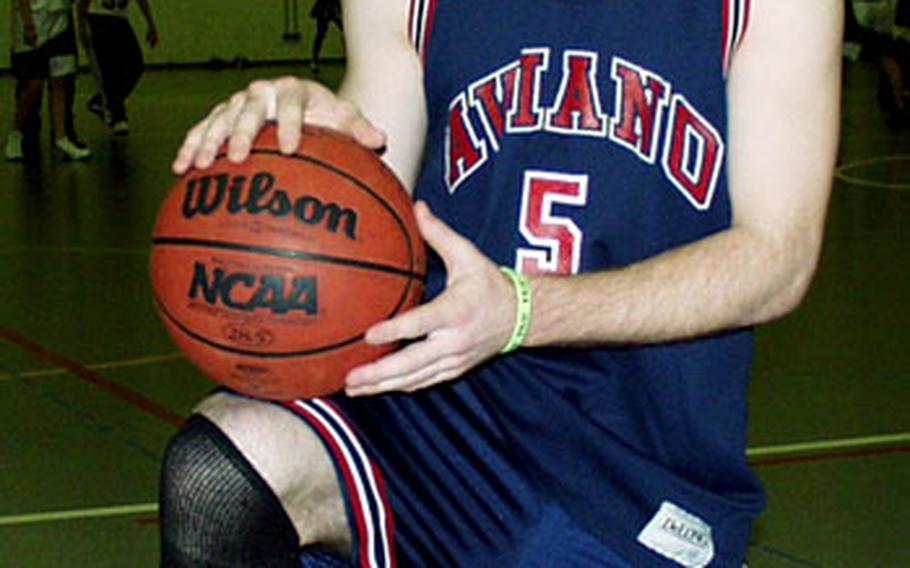 AVIANO AIR BASE, Italy — Sometimes it's hard to be the new kid on the block.
Other times . . . well, not many high school basketball players in Italy have sympathy for Dustin Miller this year.
The sophomore from South Dakota scored 38 points in his Department of Defense Dependents Schools debut on Dec. 6. He followed that with 41 the next day.
Miller appears to have adjusted to new teammates, a new position and a new continent rather quickly. That might not be too surprising, since quickness is one of his greatest strengths on the court.
Height isn't.
"I'm about 5-11," he said, then quickly smiled and added: "That's probably stretching it."
He's used to stretching it. Miller's deadly outside shooting forces opponents to play tight defense. That's when he drives to the basket.
Against Naples on Saturday, Miller scored 33 points, slightly above his Europe-best season average of 29 per game.
Those familiar with the Aviano program — and it's hard not to know about coach Ken McNeely, who earned his 600th coaching victory in 2002 — might be surprised to find such a prolific scorer wearing a Saints uniform.
"When the defense gets set, we like to run a system," Miller said.
That system emphasizes team play, not individual statistics.
"I just don't keep track of all those things," said McNeely, who has coached at the school since 1974, with 20 conference championships in that span.
So it's hard to argue with the system. And McNeely says it hasn't changed much, despite the fact that Miller is clearly the team's best player.
"Does he get more shots than the other kids?" McNeely asked. "Yes, obviously."
The Saints were 10-0 before playing Naples and won several of those game by mercy-rule victories. Despite weaker competition, Miller's stats weren't padded. The games didn't go the distance, and neither did Miller.
"One game, he played a quarter and a few minutes of another," McNeely said. It was still long enough for Miller to score 29 points.
Naples was a different matter. The Wildcats took over first place in the league by routing the Saints 80-46 on Friday. Miller had 18 points. Despite his 33-point effort Saturday, Aviano fell 68-61. Naples, now in the driver's seat for the automatic bid to the European championships, had too much height and power for the Saints.
Aviano doesn't start a player taller than 6 feet.
"When I came here, I was kind of surprised at the lack of size we have," Miller said.
He's used to playing against taller opponents. He started playing basketball in the sixth grade, when his father, Master Sgt. Troy Miller, was stationed at Ellsworth Air Force Base, S.D. The Millers had earlier lived in the Azores and Panama City, Panama.
Miller spent a lot of time in gyms in South Dakota.
"There's not much to do there, so I started going to the gym every day, playing with older guys," he said.
McNeely has sent 22 players from Aviano to college programs in the States. He said Miller has a chance to be added to the total. But he'll probably have to do it as a point guard, a position he hadn't played much until this year.
Miller's supposed to stay around long enough to graduate from Aviano, so McNeely says he'll have a few more years learn the position.
"He may develop to be one of the best players to come out of this high school," McNeely said. "But he's got to work hard to do that and he knows it."
---
---
---
---