DII football quarterfinal
Saints march into semis by downing Baumholder
---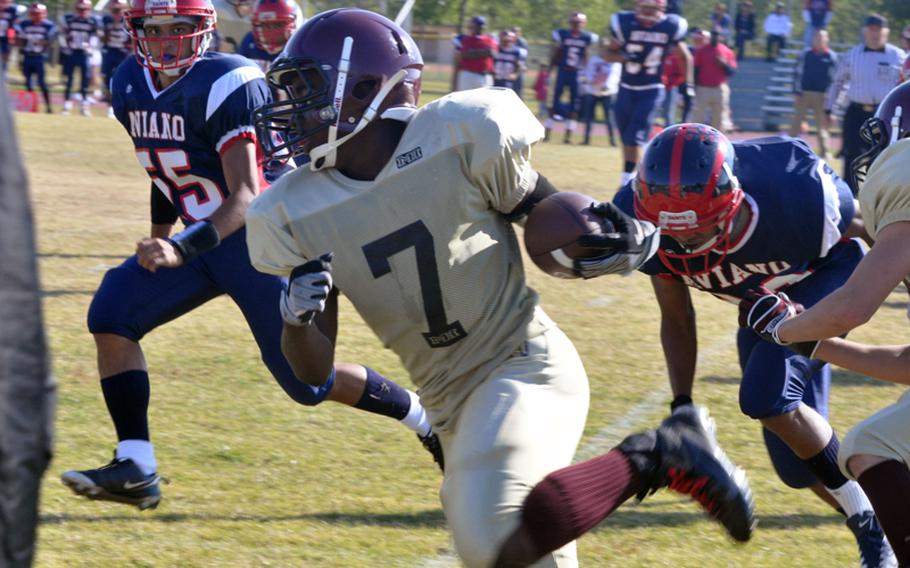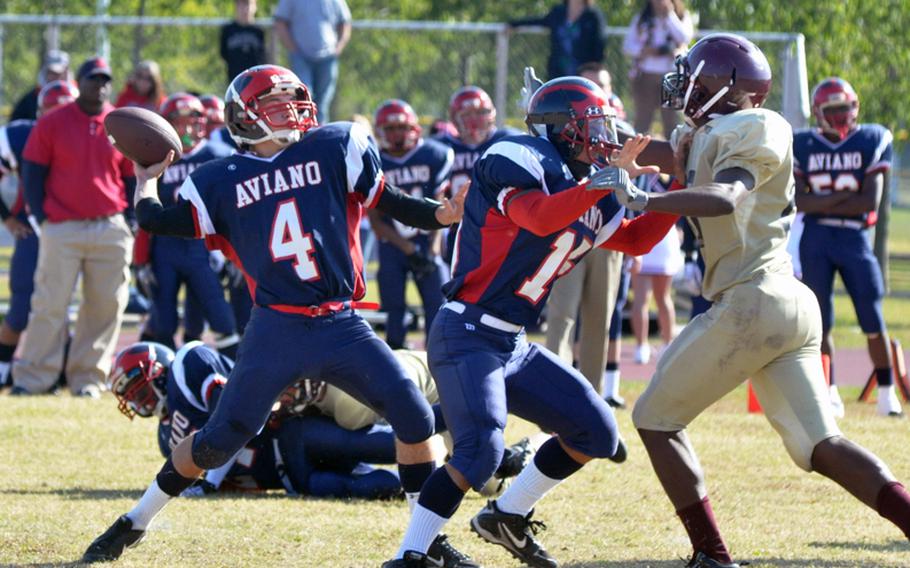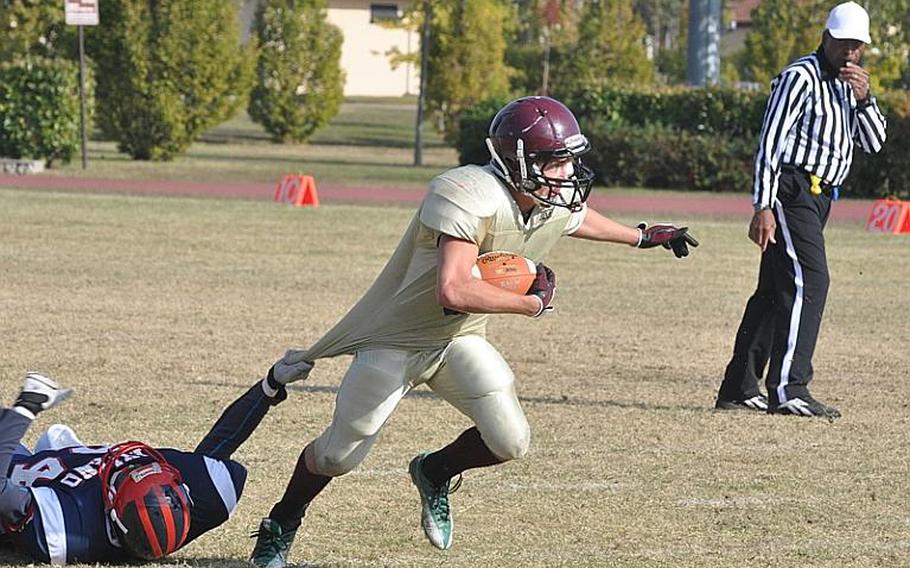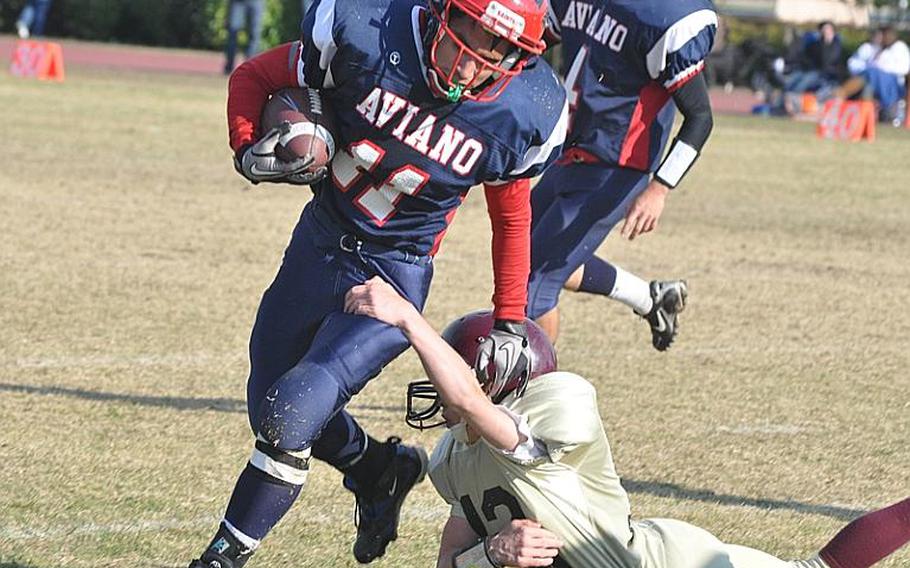 AVIANO AIR BASE, Italy — The Aviano Saints gained 9 yards in the third quarter Saturday and still outscored the Baumholder Bucs 7-6.
That statistic wasn't an indication that the Division II quarterfinal game between the two teams was a defensive showdown. But it was a sign of how things went for the Saints in their 48-24 victory.
"My hat's off to Baumholder," Aviano coach Rick Dahlstrom said. "They came to play. We had a hard time stopping them. Things just went our way today."
Things such as Andrew Bert's fumble recovery and 67-yard run for a touchdown that accounted for the Saints' only points of the third period. Bert's extra-point kick gave Aviano a 34-18 lead and Baumholder didn't get within double digits the rest of the way.
The Saints' victory propels them into a semifinal matchup with unbeaten Bitburg next week in Germany. The Bucs finished the season at 3-3.
Baumholder actually outgained Aviano 257-108 in the second half, though the Saints won the battle on the scoreboard, 21-6. Three different Bucs rushed for more than 100 yards, but costly penalties, a few miscues and poor field position hindered Baumholder all day.
"We knew it was going to be very difficult to stop them offensively," Baumholder coach Carter Hollenback said. "So we just wanted to outscore them."
Running a hurry-up offense for much of the game, the Bucs got off to a good start, taking the ball 80 yards on 11 plays on the opening drive. Quaterback Christian Kubas, who finished with 101 yards on 25 attempts, capped the drive with a 3-yard keeper.
But Aviano answered with a nine-play, 60-yard drive, capped by Nik Weiser's 2-yard run. After Baumholder punted, the Saints struck again on the next play with quarterback Corey Webb connecting with Andrew Bert for a 37-yard touchdown pass. Bert's second extra-point kick made it 14-6.
After Baumholder was stopped on downs, Darien Cornett — who finished with 122 yards for Aviano — scored from a yard out.
Kubas scored from a yard out to open the second quarter and an Aviano fumble set up D'Vonte Dawson's 31-yard touchdown to bring Baumholder within 20-18. But a 31-yard Cornett run set up a 35-yard pass from Webb to Cornett to put the Saints up 27-18 at the half.
Baumholder scored its final touchdown in the third on Dawon's 19-yard run. The sophomore finished with a game-high 128 yards on the ground.
A 40-yard pass from Webb to Myron McRae and a 11-yard run that started with Alex Ramos carrying the ball, then pitching back to Webb as he was tackled, capped the scoring for Aviano.
Baumholder's Ben Holliday finished with 115 yards rushing. Webb completed eight of 10 passes for 172 yards for Aviano.
Scoring summaryAviano 48, Baumholder 24Saturday at AvianoBaumholder 6 12 6 0 _ 24Aviano 14 13 7 7 _ 48Baumholder - Christian Kubas 3 yard run (run failed)Aviano - Nik Weiser 2 yard run (Andrew Bert kick)Aviano - Corey Webb to Bert 37-yard pass (Bert kick)Aviano - Darien Cornett 1 run (kick failed)Baumholder - Kubas 1 run (pass failed)Baumholder - D'Vonte Dawson 31 yard run (pass failed)Aviano - Webb to Cornett 35-yard pass (Bert kick)Aviano - Bert 67-yard fumble return (Bert kick)Baumholder - Dawson 19 yard run (run failed)Aviano - Webb to Myron McRae 40-yard pass (Bert kick)Aviano - Webb 11 run (Bert kick)
---
---
---
---