Sacred Heart keeps Osan from winning Class A girls crown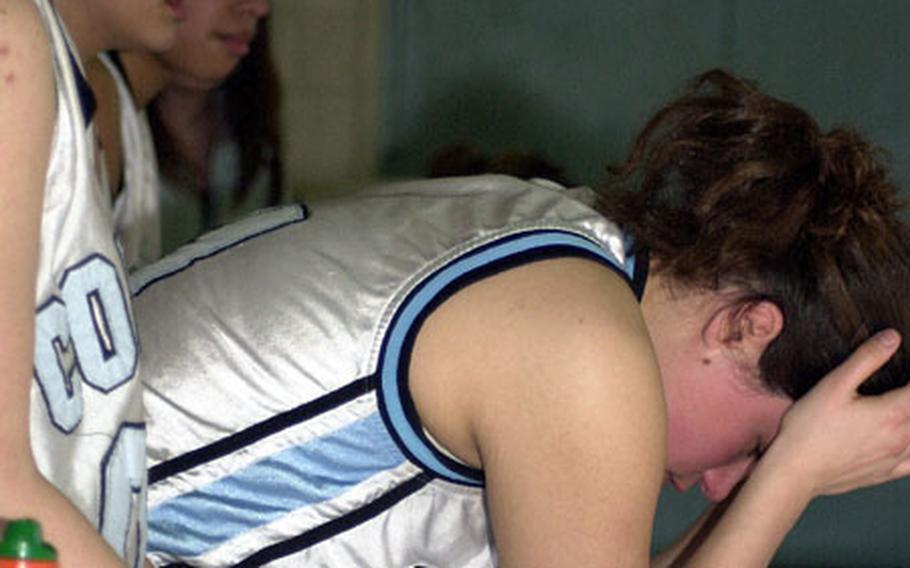 CAMP HIALEAH, South Korea — In the end, there were too many obstacles for Osan American in its bid to regain the Class A Far East High School girls basketball title.
And once more, the Christians conquered the Lady Cougars, as the International School of the Sacred Heart outclawed Osan 38-35 in Friday's championship game. Faith Academy of the Philippines beat Osan in last year's final.
"In a tournament, anything can happen," said Lady Cougars coach Bruce Barker, who's lost two straight Class A finals after winning titles in 2001-02. "The sickness, the injuries, all the little things that can happen, they catch up with you."
Starting point guard Alyssa Kopp, sapped by a flu bug, sat all but the final 3:35 of the championship. Sophomore center Margaret Nurse was slowed by a stomach virus.
And during the final, backup point guard Sharon Kroening and perimeter specialist Elizabeth Juergens went down with ankle injuries.
Then, there was Sacred Heart's Jemma Sampson and Mari Look. Sampson finished with 19 points, including 14 in the first half, while Look added 10 as the Lady Symbas used an 8-0 burst to pull ahead 23-20 at the break. They never trailed again.
"They knew who they had to watch," Barker said.
Nurse still managed 20 points and 15 rebounds, while junior forward Mina Davis had 15 points and 11 rebounds, going 7-for-8 from the line. The duo accounted for all of Osan's scoring.
Barker said Kopp's absence for much of the game hurt the most.
"I needed her. She was the captain of the ship," Barker said. "That's what she's been all season. She gave more than she actually needed to. It's just difficult to ask somebody to do a job they've not done all season."
It was a far different outcome from earlier Friday, when Osan beat Sacred Heart 57-44 in the winner's bracket final of the double-elimination tournament.
In that game, Lady Symbas coach Kurt Rose felt his team gave up too many "easy baskets" on inbound and transition plays. Osan outscored Sacred Heart 15-7 in the fourth quarter to seal it.
In the final, "we were able to take away the easy baskets and we shot and rebounded well," Rose said.
Despite the circumstances, Barker credited Sacred Heart, which won its first Far East basketball title in its first Class A appearance.
"They had to play twice. They came back and won it," he said. "But if I were healthy, there's no way they would beat us."
Seoul boys vanquish Kinnick, earn return to Class AA final
YONGSAN GARRISON, South Korea — Trailing Nile C. Kinnick 33-26 at halftime, defending champion Seoul American used a 17-1 run to rally for a 65-53 victory in the winner's final of the Class AA Far East boys tournament.
That put the Falcons in the championship game for a second straight year — something they've never done.
"It feels wonderful," Seoul head coach Steve Boyd said.
Kinnick came back in the loser's bracket final, dropping 2001-02 champion St. Mary's International 62-43 to earn another shot at Seoul American. Kinnick would need to beat the Falcons twice in Saturday's championship round to claim the title.
Kubasaki, John F. Kennedy to tangle in Class AA girls final
CAMP FOSTER, Okinawa — Host Kubasaki left nothing to chance, scoring the game's first 16 points before holding off a third-quarter rally to defeat Seoul American 57-43 and reach Saturday's Class AA Far East girls final.
Lady Dragons coach Bob Driggs, owner of three Class AA titles, the last in 1990, credited the work of forward Rachel Roberts, who had 15 points and 19 rebounds. He also saluted the Lady Falcons for a gallant comeback bid.
"Seoul made a really good run in the third quarter. I tip my hat to them," Driggs said. "Most teams would have packed it in."
Defending champion Kadena lost reigning MVP and starting senior point guard Theresa Gittens to a head injury in the other semifinal against John F. Kennedy in a rematch of last year's final.
This time around, Kadena led by 12 points with three minutes left, only to watch the Lady Islanders battle back and win 57-55.
---
---
---
---