S&S Pacific Athletes of the Quarter: Kubasaki's Wood, Edgren's Hawkins honored
by
Dave Ornauer
March 15, 2009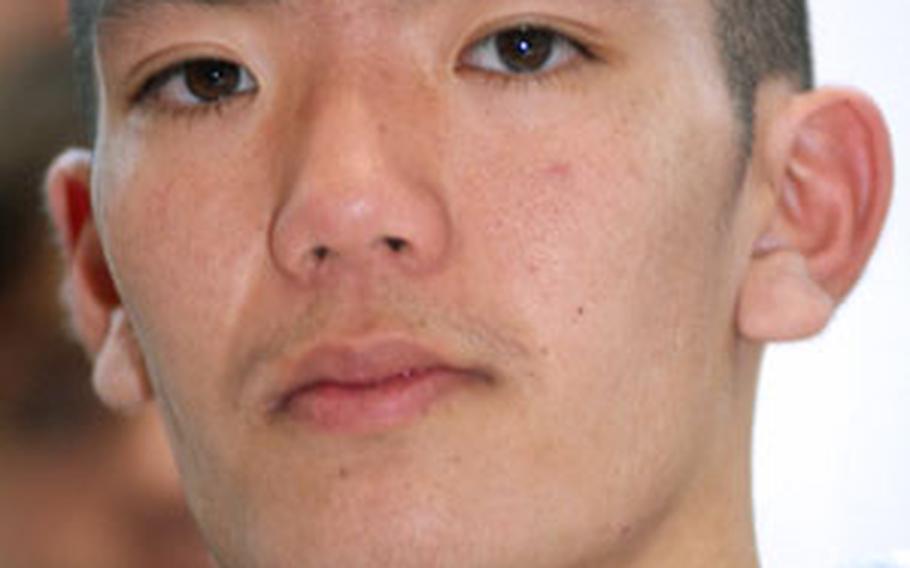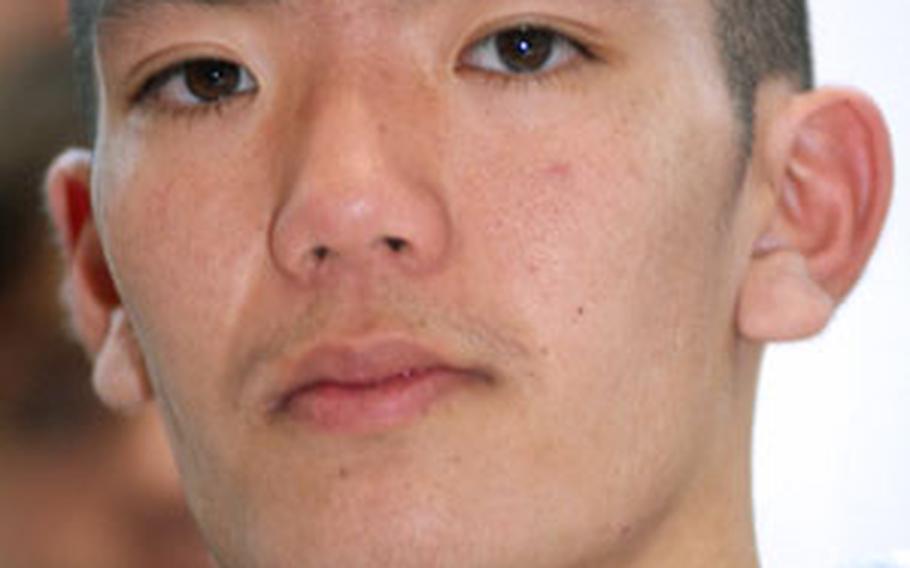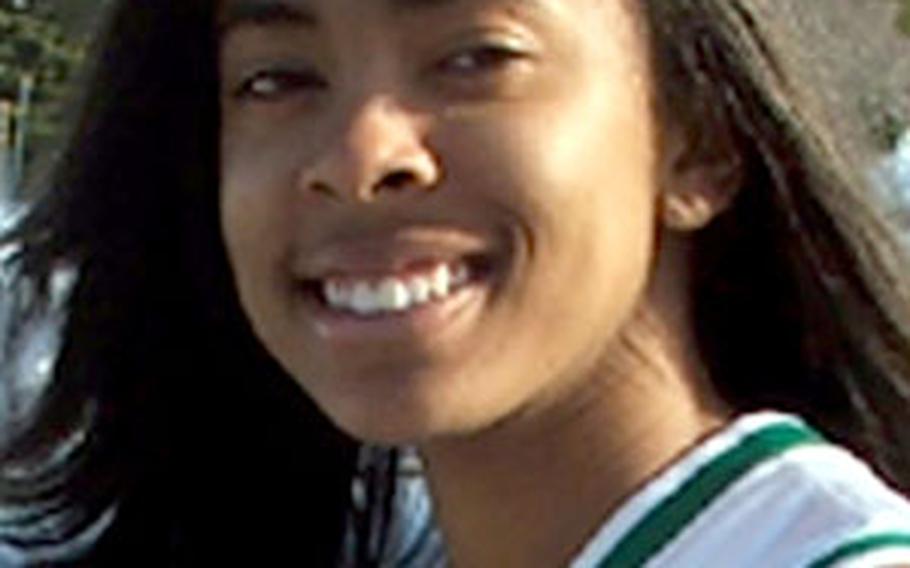 A star athlete's individual achievement can also have great impact on a team's fortune.
That was the case for senior wrestler Scott Wood of Kubasaki and junior basketball guard Ashley Hawkins of Robert D. Edgren, who share Stars and Stripes' Pacific high school winter season Athlete of the Quarter honors.
Wood captured his fourth Far East tournament gold medal, becoming just the second wrestler in Pacific history to do so, and helped lead the Dragons to a surprising Far East freestyle team title.
Wood did it in a 122-pound weight class strewn with obstacles, including J.C. Henderson of Kadena and Yokota's Nick Guzman.
In January, they handed Wood his first defeats since his freshman year, Henderson in the Rumble on the Rock at Kubasaki, Guzman in the "Beast of the Far East" tournament at Yokosuka Naval Base.
"But instead of self doubt, he redoubled his efforts and trained to win specific matches," coach Terry Chumley said of Wood, who won six "incredibly tough" bouts to secure his fourth weight-class championship.
"He has innate strength and confidence that many other athletes do not possess. His inner fortitude enabled him to keep striving to improve and he never gave up," Chumley said.
Wood, who's been accepted to the Naval Academy, joins Kubasaki's Justin L. Miller, Class of 1999, as a four-time gold medalist. Wood did Miller one better, though, earning Outstanding Wrestler honors as well.
Hawkins joined an Edgren basketball team that went 3-18 last season. The Eagles made a 12-game improvement to 17-8 and came within four points of the Far East Class A title, losing 41-37 to Osan American in the championship game. Hawkins was chosen as the tournament MVP. Edgren also won the Western Japan Athletic Association tournament with Hawkins earning MVP honors.
"She is a focused, hardworking and determined student and leader who can be relied on to accomplish any task quickly and without fanfare," said Sarah Richardson, who has helmed Edgren to three title-game appearances in her 20 seasons as Eagles coach.
Hawkins could consistently be found helping other players, ranging from shooting to handling stressful situations with peers," Richardson said. "I was proud to see her develop into the poised, confident and dynamic leader she is today."
The rest of the Stars and Stripes 2008-09 winter season sports awards:
Coach of the quarter: Chumley took a Dragons wrestling squad thought to be rebuilding to its Pacific-record 21st Far East team title.Team of the quarter: They've won five Class AA titles and four Class A crowns, but never before had a Faith Academy girls basketball squad gone unbeaten until going 42-0 this season.Most improved team: Guam High's boys basketball team went a school-best 11-2 in the regular season, won the Gadao Division, took seventh in the Class AA tournament and put a school-record four players on Guam's All-Island team. And the Panthers still have the island playoffs to play starting Saturday.Basketball players of the quarter: St. Mary's International's Toni Taniguchi, Osan American's Jasmine Pressley and Celine Baldevia, Morrison Christian Academy's Stephen Hovater, Seoul Foreign's Brittney Rader and Faith Academy's Janel Long led their teams to Far East or Asia-Pacific Activities Conference titles.Wrestlers of the quarter: For purely individual ledgers, Cameron Butts of Nile C. Kinnick not only went unbeaten at 21-0 and earned his second straight Far East gold medal, he went unscored on this season. He also garnered Outstanding Wrestler honors in the "Beast" tournament and the All-Japan invitational in December at Yokota.Basketball game of the quarter: They saved the best for last, that Boys Class AA tournament chess match for the ages, with Taniguchi and the Titans bringing Yokota's bid for a first-ever home-court Far East title to a heartbreaking end, 35-33.Upset of the quarter: Did anybody see St. Mary's 62-36 Boys Class AA semifinal shocker over Seoul American coming? Didn't think so.Basketball shot of the quarter: Yokota's DeEric Harvin scored eight points in the third quarter of the Panthers' 52-34 Boys Class AA semifinal win over Simon Sanchez … none more dramatic than his over-the-shoulder half-court prayer at the buzzer.Wrestling bout of the quarter: Going virtually on one leg, Kinnick 215-pounder David de los Santos, gets the nod for his heroic pin of Kubasaki's Kyle Patterson in 3:10, propelling the Red Devils into the Far East tournament dual-meet final.Quote of the quarter: "Things work out best for the people who make the best of the way things work out," said Zama American's Elias Labrador after he beat Kadena's Harry Bloom 2-1 in the 148-pound "Beast" final. From such things, rivalries begin; Bloom came back to edge Labrador in a disputed 2-1 decision for his second straight Far East gold medal. All told, they split their four bouts this season, each of them nail-biting close.James Brown Award: For the hardest-working team in the Pacific. Zama only put five wrestlers on the Far East mat, but four of them placed, including gold-medalists Michael Spencer (158) and Jacob Iredale (180) and the Trojans scored more team points (29) than three schools which fielded full or almost-full lineups.The nominees:Scott Wood, senior, wrestling, Kubasaki, OkinawaStephen Hovater, senior, basketball, Morrison Christian Academy, TaiwanToni Taniguchi, junior, basketball, St. Mary's International, JapanJanel Long, senior, basketball, Faith Academy, PhilippinesAshley Hawkins, junior, basketball, Robert D. Edgren, JapanSeaun Eddy, senior, basketball, American School In JapanEthan Blake, senior, basketball, Robert D. Edgren, JapanKevin Paranal, junior, basketball, Kadena, OkinawaTaiyo Robertson, junior, basketball, Kadena, OkinawaAja' Walker, junior, basketball, Kadena, OkinawaBritney Wise, junior, basketball, Kadena, OkinawaCameron Butts, senior, wrestling, Nile C. Kinnick, JapanKelli Clark, sophomore, basketball, Matthew C. Perry, JapanShavonti "Mimi" Wade, junior, basketball, Matthew C. Perry, JapanCeline Baldevia, senior, basketball, Osan American, South KoreaJasmine Pressley, sophomore, basketball, Osan American, South KoreaKelly Langley, sophomore, wrestling, St. Mary's International, JapanLiz Gleaves, sophomore, basketball, Seoul AmericanBrittney Rader, senior, basketball, Seoul ForeignTony Presnell, senior, wrestling, Yokota, JapanJacob Iredale, senior, wrestling, Zama American, Japan