D-I championship
Royals standing in way of Panther perfect season
---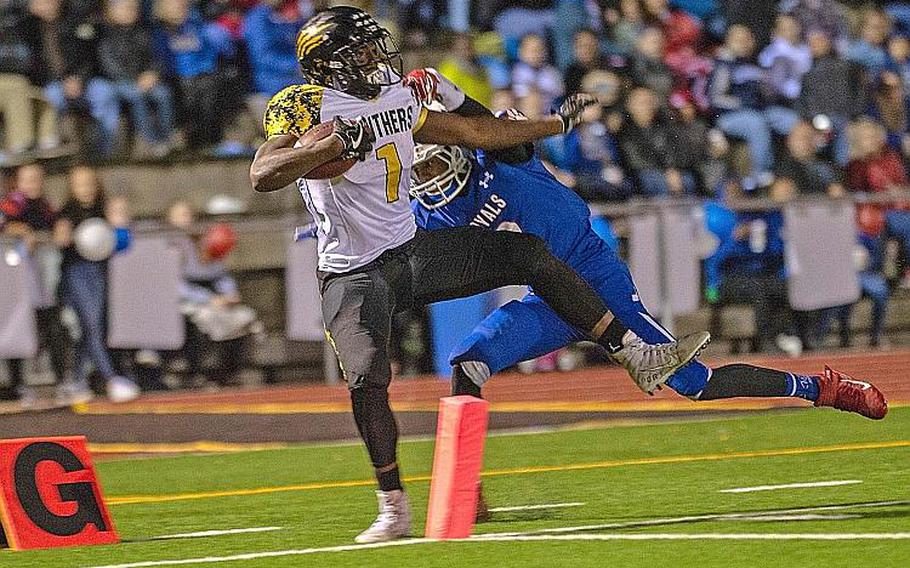 Either Stuttgart or Ramstein has won every DODEA-Europe Division I football title in the last five seasons. This season won't be any different.
The top-seeded, undefeated Stuttgart Panthers and the second-seeded defending champion Ramstein Royals meet Saturday at 5 p.m. CET at Kaiserslautern High School to determine this year's large-school gridiron champion. Stuttgart is looking to continue its streak of winning the title every other year; the 2019 crown would be its third in five seasons, joining the 2017 and 2015. A Ramstein victory would give the Royals a second straight championship and third in the last four seasons.
In the process of dominating Division I over the last five years, the Panthers and Royals have produced some of the more memorable games in recent DODEA-Europe history. Stuttgart's upset win at Ramstein in the 2015 semifinal round ranks as perhaps the most dramatic DODEA-Europe football game of the decade, and the Panthers' 26-21 defeat of the Royals in the 2017 title game is not much further down that list.
This season has seen two head-to-head meetings between the finalists. The first, the non-conference regular-season opener Sept. 6, rivalled the famed 2015 semifinal in terms of twists and turns, if not in import. The Panthers emerged with a 31-28 victory. The later meeting, a Sept. 27 clash at Ramstein, again went to Stuttgart by a more decisive 37-17 final.
Billy Ratcliff, the head coach throughout Stuttgart's recent run of success, said this Panthers teams has "created the best chemistry of any team I've coached so far."
That's manifested on the field as an overpowering team without any obvious weaknesses on either side of the ball.
On offense, Stuttgart pairs DODEA-Europe's most sophisticated passing attack with a relentless ground game fleshed out by a substantial offensive line and a deep and versatile group of ball carriers. Defensively, the Panthers can burst through to cause chaos in the backfield, funnel opposing rushers into gang tackles and smother receiving targets into irrelevance. All of that was on display in an overwhelming 59-6 defeat of Lakenheath in last weekend's semifinal.
Ramstein, meanwhile, has persevered through a season where the wins did not come nearly as readily as they did in the Royals' unbeaten march to the 2018 crown. But the defending champions fought off two coup attempts by crosstown rival Kaiserslautern, both in a 23-14 regular-season win and last weekend's 35-21 semifinal triumph, to win all of their games save for the two meetings with Stuttgart.
"We have continued each week to get better at playing as a team," Ramstein coach Carter Hollenbeck said.
This weekend, the Royals will need to be at their best.
broome.gregory@stripes.com Twitter: @broomestripes
---
---
---
---