Softball roundup
Royals roll through foes in UK swing
by
David Hodge
April 23, 2011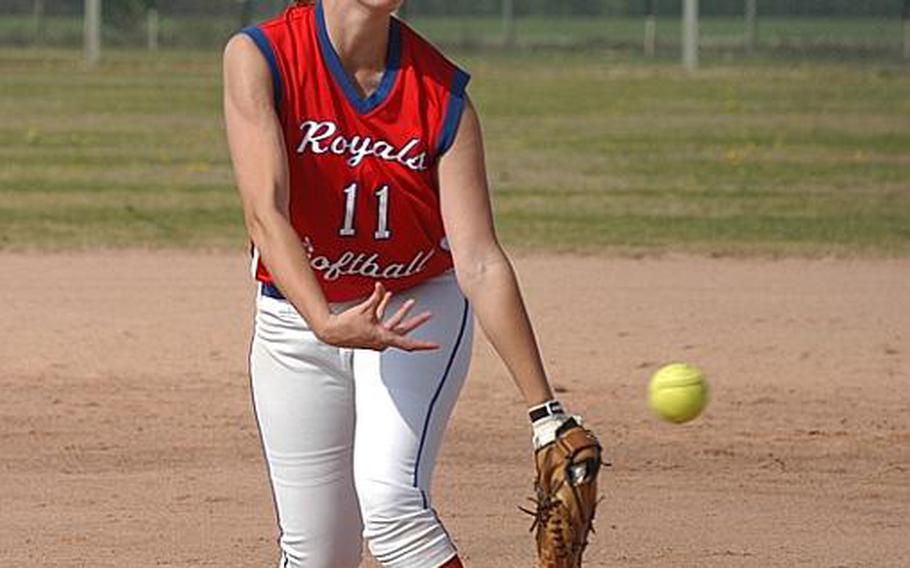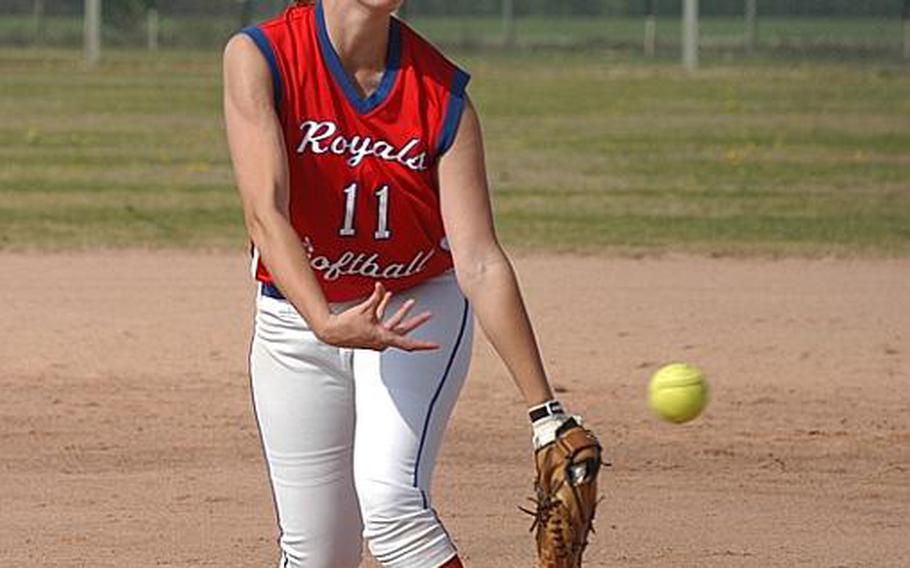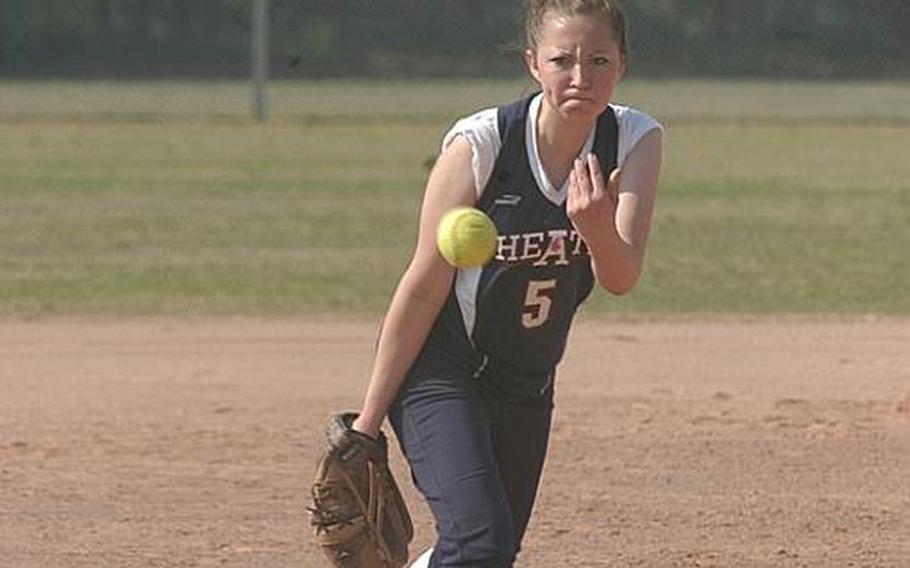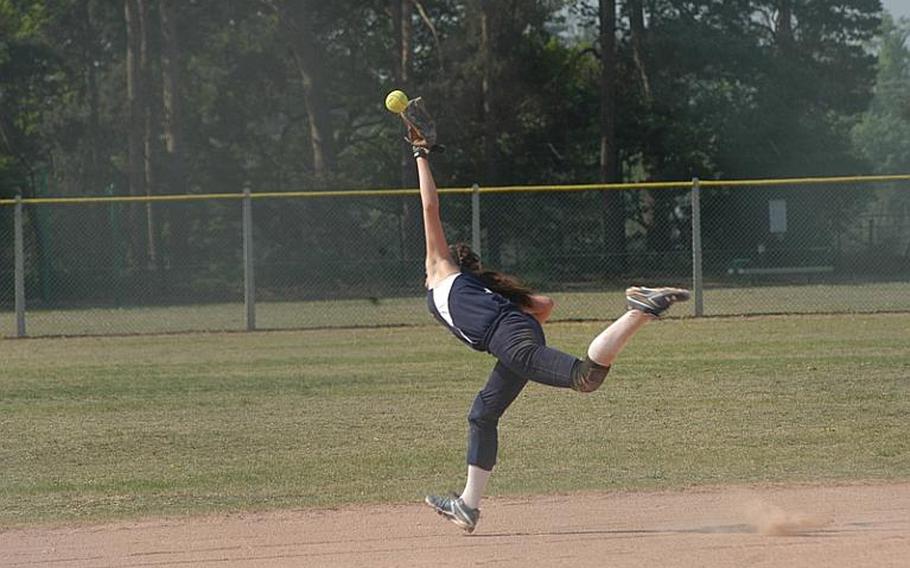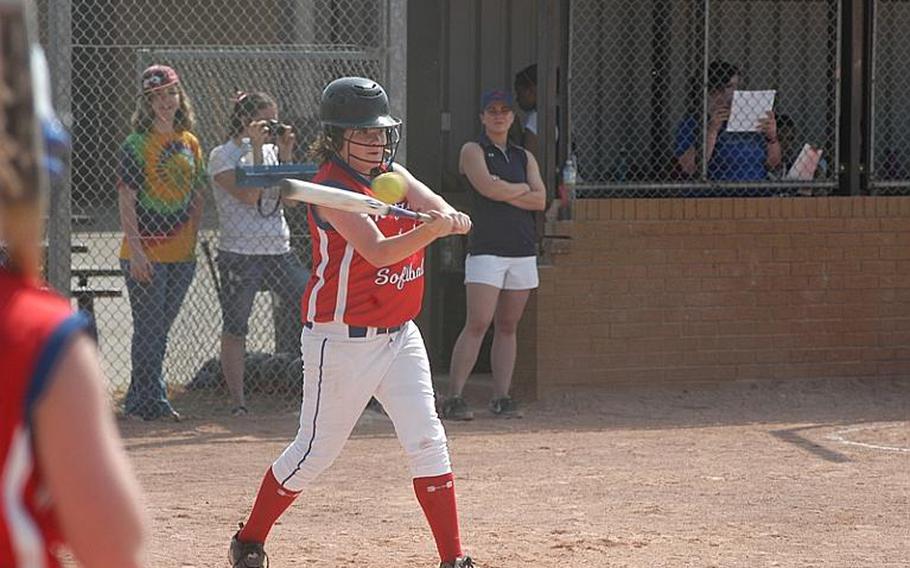 RAF MILDENHALL, England — Three-time European champion Ramstein visited England this weekend with a pair of doubleheaders against their British foes in hopes of continuing their unbeaten streak in DODDS-Europe West region.
Mission accomplished.
With what has become the status quo in the division, the Lady Royals rocked the Alconbury Dragons and rolled over the Lakenheath Lancers to bring their record on the season to 6-0.
On Friday, the Lady Royals defeated the Dragons by the scores of 16-1 and 19-0. And Saturday they defeated the Lancers by scores of 19-3 and 18-3.
Between games Saturday, Ramstein coach Kent Grosshuesch said the season is progressing nicely so far and noted that Lakenheath is always a tough opponent. Grosshuesch said he believes the Lady Royals have won 50 consecutive games when the playoffs are factored in.
In the first game against Lakenheath, the first two batters in Ramstein's lineup -Haley Haydon and Caitlyn Modisette - combined for seven of the team's 21 hits and five of the team's 18 runs. Modisette had three doubles and an inside-the-park home run. All-Europe pitcher Kelsey Freeman (3-0) coming off a no-hitter against against Alconbury on Friday, struck out nine with one walk.
The first five innings in Game 1 were close as both teams were stingy with their defense. The score after five innings was 4-2.
"The girls played really tough defense for the first five innings," Lakenheath coach Gregg Thomas said. "We couldn't buy an out in the sixth."
It was the top of the sixth when Ramstein blew the game open with 20 at-bats. This led to 14 runs from 12 hits.
Replacing longtime softball coach John Gilmore this year, Thomas said he has a young squad, with the team losing 11 seniors to graduation after last season.
Catcher Gabby Karnes, who threw four base runners out from behind the plate, was 2-for-3 at bat with one of the team's runs. Megan Hurst went 2-for-3 with one run scored.
Freeman had two hits and drove in three runs in the second game and Modisette also had two hits for Ramstein.
Kaiserslautern 15-19, Bitburg 1-3: Saturday at Kaiserslautern, the Lady Raiders' bats were alive as the team improved its record to 6-2.
According to K-town coach John Culbreath, Reagan McCurn and Karah Helm each stroked six hits on the day – McCurn was a combined 6-for-6 and Helm a combined 6-for-8, with two doubles, a triple and 13 RBIs.
Saige Isla was just as effective, Culbreath reported in a Saturday email, going 4-for-4 in Game 1.
Lexus Quesada four-hit Bitburg (4-2) to win the opener; Makenzie Hayes fanned eight in winning the nightcap.
Patch 12-19, Heidelberg 3-0: Saturday at Stuttgart, All-European Bianca Lopez struck out nine and homered in the Game 1 victory, and Shannon Wright went 3-for-4 to back the shutout pitching of Amber Marvin in the nightcap.
Kaitlyn Tingey tripled home a run to back Lopez in Game 1.
The sweep upped Patch's record to 6-0; Heidelberg fell to 1-5.
Next up for Patch is a Saturday doubleheader at Mannheim. Heidelberg next is to host Hohenfels on Saturday.