Baseball Athlete of Year
Royals' Pendergrass ready for the next level
---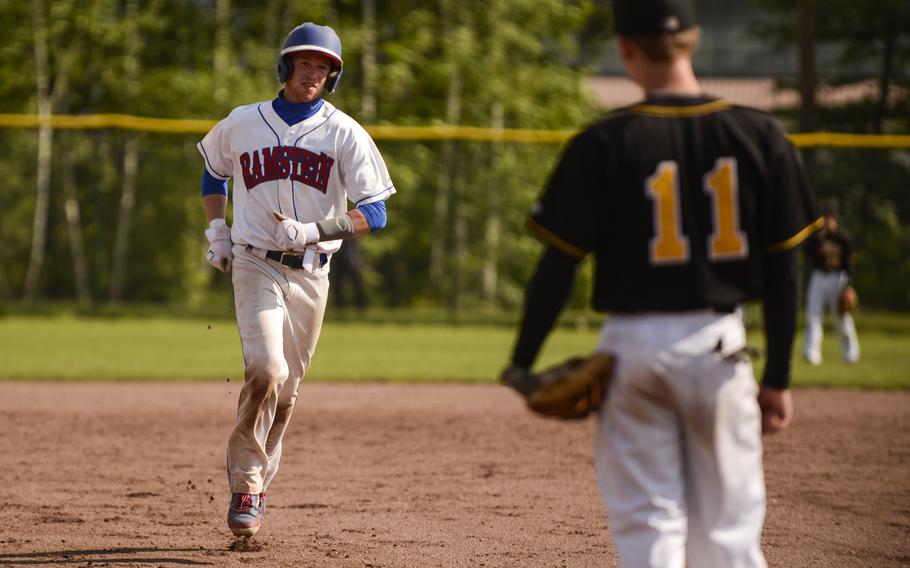 In March, Justin Pendergrass committed to play college baseball.
Two weeks ago, Pendergrass celebrated his 18th birthday.
On Saturday, he blasted a home run to help Ramstein end three years of title-game futility and finally beat Patch for a DODDS-Europe championship.
Now, Pendergrass is the Stars and Stripes baseball Athlete of the Year.
If this sounds like a recipe for an overconfident baseball player, you haven't met Justin Pendergrass.
"I think I've developed into a decent-slash-good player," Pendergrass said.
Frustrated opposing pitchers and appreciative Royal fans would call that an understatement.
The senior centerfielder stood in the middle of the batting order for all 20 Ramstein games this season. He hit .473 with a .782 slugging percentage. Nine of his team-best 26 hits were for extra bases, including two home runs. He led the Royals with 24 RBI and 33 runs scored.
The European title is a fitting end to a prep career that featured four years of varsity contributions and elevation to first-team All-Europe status as a sophomore.
Pendergrass, however, is neither impressed nor satisfied. Before the season, new coach Tom Yost and the senior slugger he inherited decided that the season's mission would go beyond high-school accolades and gaudy statistics. Pendergrass was a college-level talent, but he needed college-level preparation to prove it.
"We could have easily rode his laurels and said, 'Great job, keep it up,' " Yost said. "We decided to take this season and set him up as best as we can for the next level."
Yost knows what's required to succeed where Pendergrass is going. The first-year Royals head coach was an all-conference outfielder at Miami of Ohio; Pendergrass is headed for Columbia State Community College, a Tennessee program that plays at a level far more formidable than its name would suggest.
When he took over, Yost took a look at his centerfielder's swing and pointed out some shortcomings. Despite the success he'd found with his suddenly flawed stroke, Pendergrass set to work.
The 6-foot right hander's workout regimen starts with rounds of batting practice, where he focuses on improving his wrist mechanics and bat speed. It continues with sprints and a session shagging fly balls and ground balls around his centerfield turf. In the offseason, he adds weightlifting to the mix in hopes of expanding his already-considerable deep-ball power.
"He has a work ethic that won't stop," Yost said. "And that kind of work ethic, with that skill set, is going to allow him to be successful at the next level."
The next level is all that remains for Pendergrass. With four years of individual accolades and a long-awaited team championship on his Ramstein resume, the high-school level is unquestionably complete.
broome.gregory@stripes.com Twitter: @broomestripes
---
---
---
---