DI boys final
Royals down Raiders to reign again
by
Gregory Broome
February 27, 2016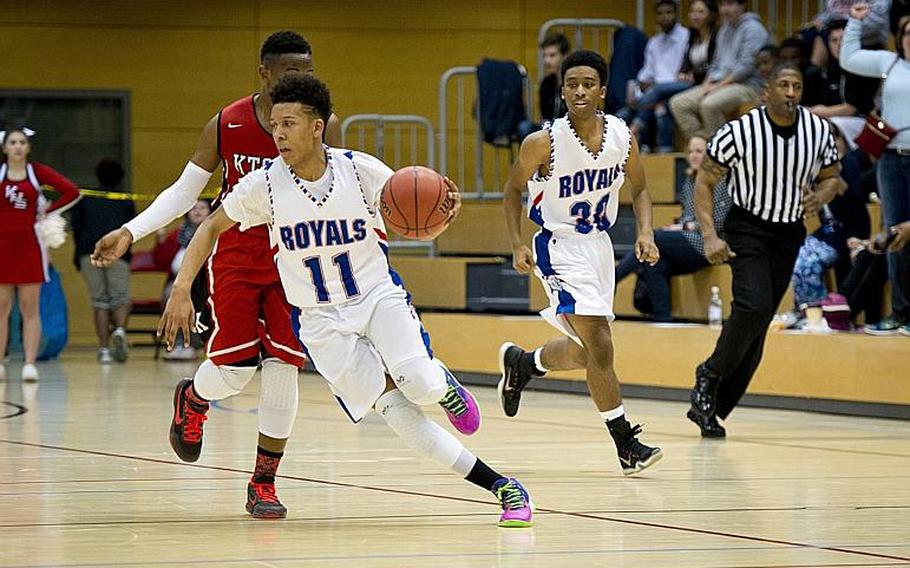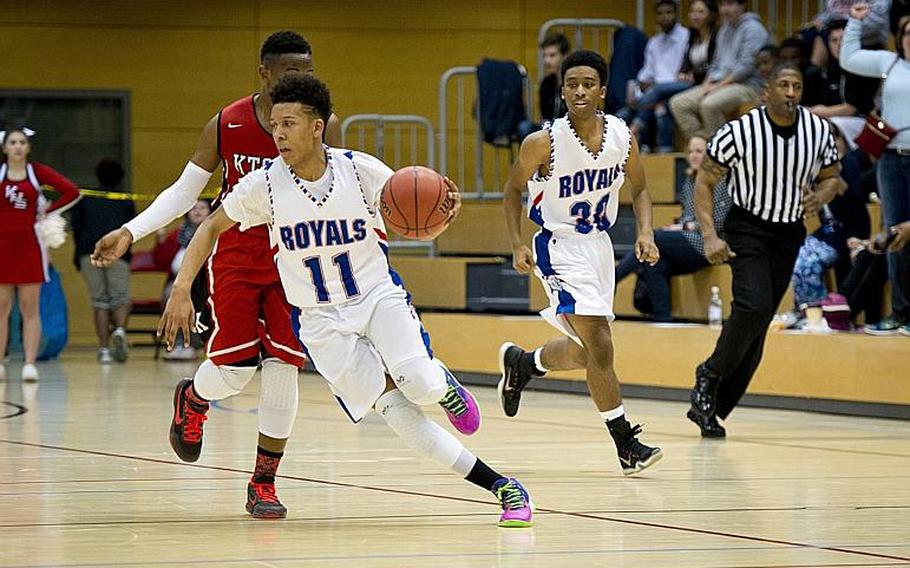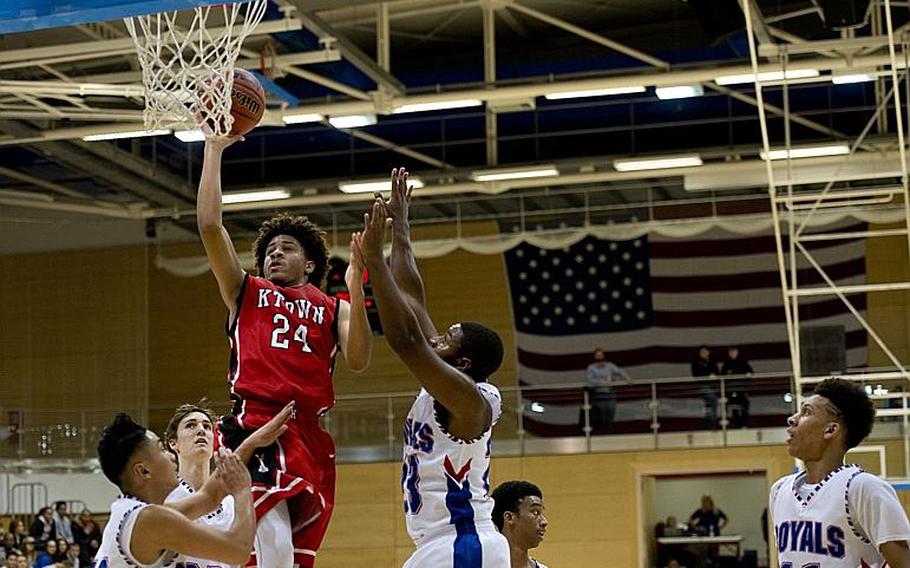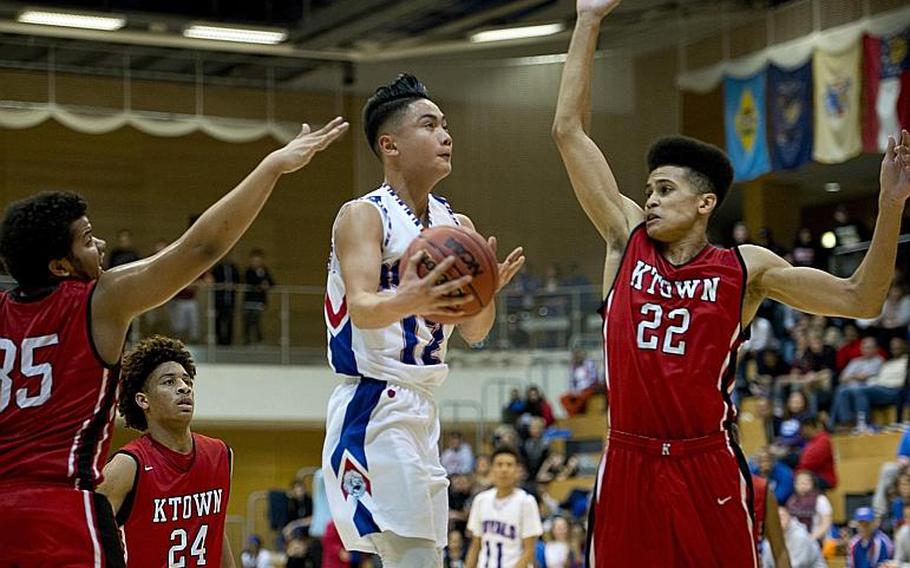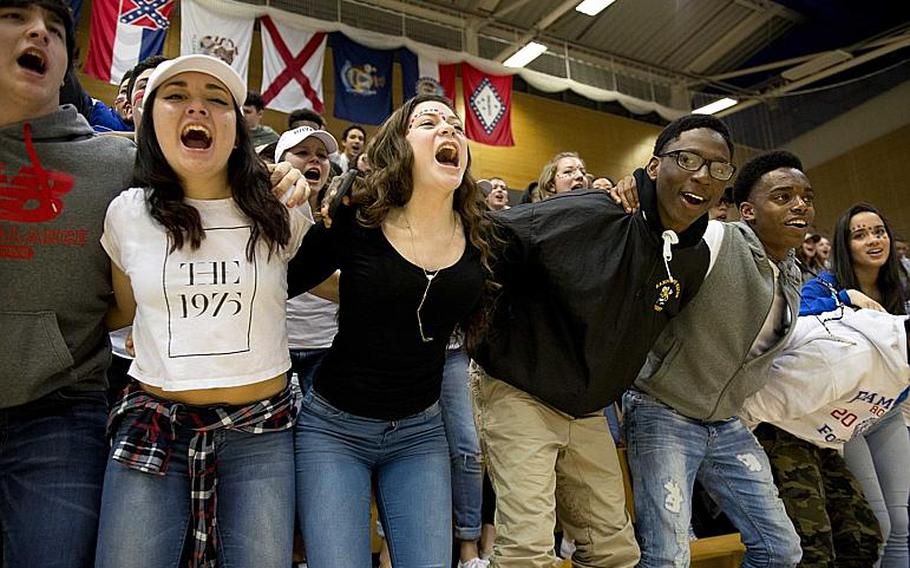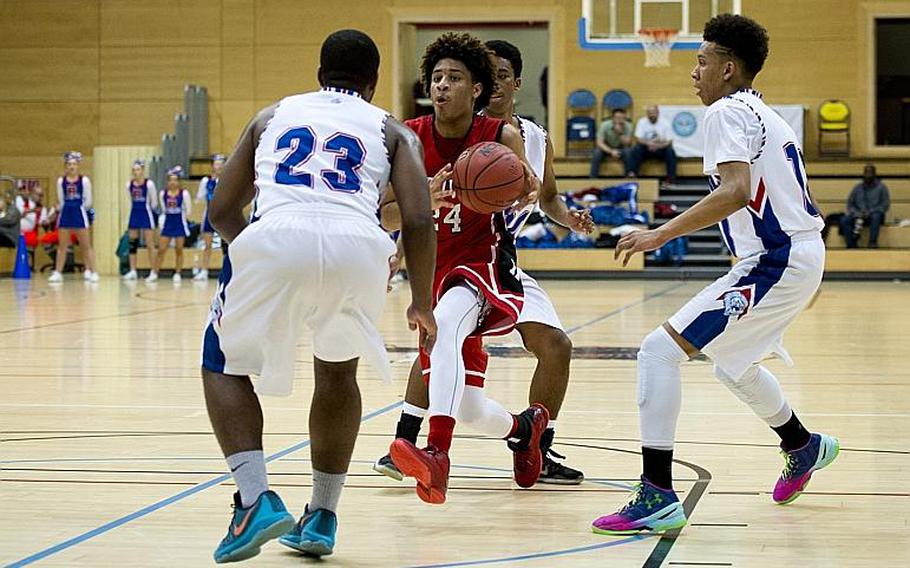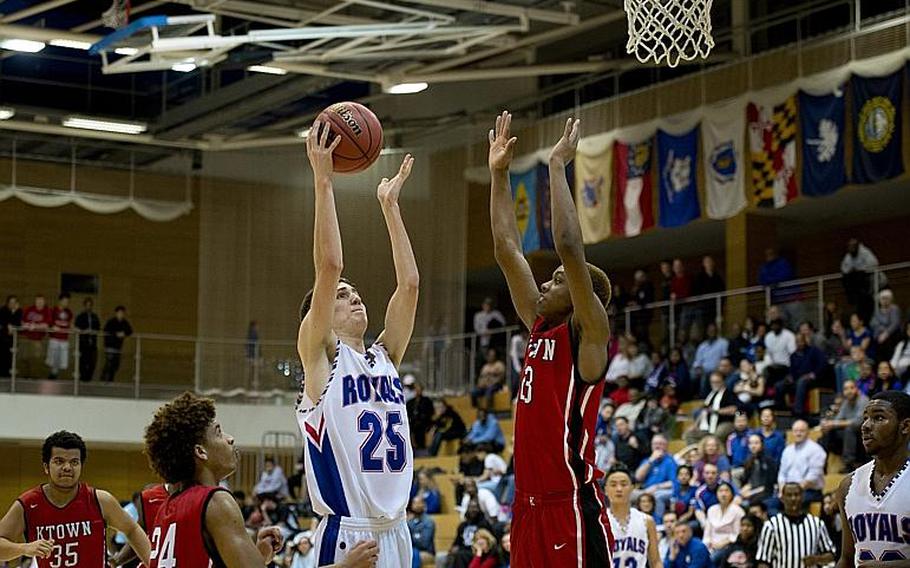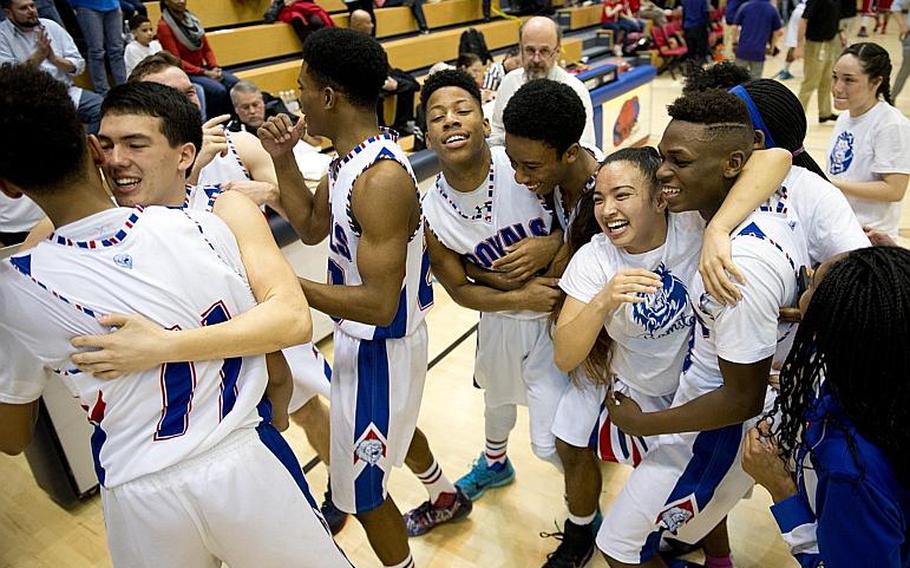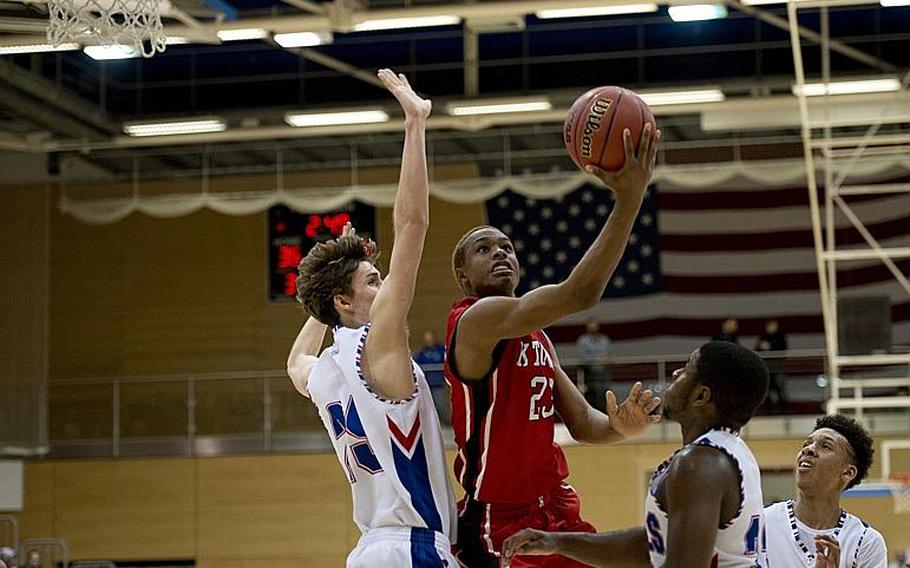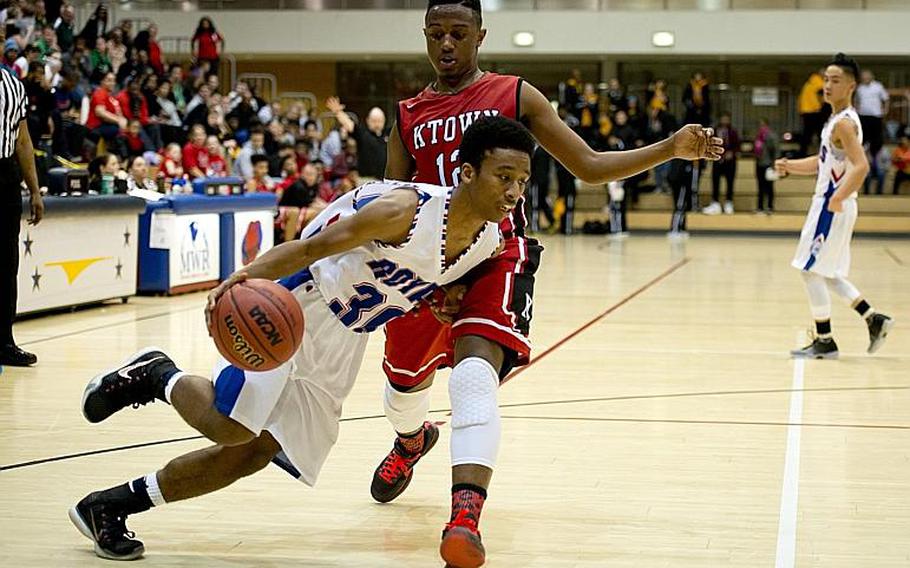 WIESBADEN, Germany – Ramstein Royals boys basketball coach Andrew O'Connor said Friday that Division I programs want to see his team lose.
But there is at least one very notable exception.
The Royals themselves.
Ramstein, gleefully ensconced in its role as DODDS-Europe's frontrunning object of opposing disdain, prolonged the suffering of its divisional rivals – in particular, the archrival Kaiserslautern Raiders – with a 54-46 victory Saturday in the 2015-16 Division I boys basketball championship game.
The title is the second in a row for the Royals, and the second time in as many years that title has come at the expense of frustrated neighbor Kaiserslautern. It also immediately followed the Ramstein girls' own European championship win, giving the Royals reason to celebrate throughout the night and the rest of Division I added motivation to avoid seeing them do it again in the future.
The Royals, meanwhile, are happy to use the dynamic to further their own objectives.
"It seemed to work out perfectly for us, didn't it?," O'Connor said. "I love it."
Ramstein forward Mitchell McKinney, the Royals' leading scorer with 19 points, agreed.
"It's something we thrive off of," McKinney said. "We like having everybody against us."
There was no distinct moment or sequence of events that swung Saturday's game in Ramstein's favor. Instead, the defending champs coolly outplayed the Raiders – a few more defensive stops, a handful of runouts, steady work on the boards, a diet of high-low action between forwards McKinney and T.J. Williams to keep the Royals fed on offense.
For the most part, Kaiserslautern fared better offensively Saturday than it did in Friday's semifinal slog with SHAPE, but couldn't make its numbers change on the scoreboard at an adequate rate to keep up. The Raiders fell behind 29-18 at the break and never fully recovered, though they did manage a late burst to make the final minute interesting.
Even as Kaiserslautern launched that tardy comeback effort, the Royals methodically hit their marks.
"We knew they could always come back," said Royals guard D'Angelo Griggs, who scored 15 points. "We hit our shots. We found the open man."
Kaiserslautern coach Corey Sullivan couldn't help but respect that process despite the infuriating result.
"They just run on confidence," Sullivan said. "They have no fear. It doesn't allow for much error."
Saturday's win closed out a dominant season for a Ramstein program quickly replenished with fresh talent after substantial losses from last year's championship roster. The Royals' only loss of the season came in a February doubleheader split with Wiesbaden. That was enough to drop the Royals to the tournament's No. 2 seed behind unbeaten Naples, though Ramstein addressed that perceived slight by emphatically ousting the Wildcats in a 60-41 semifinal rout Friday.
Kaiserslautern, meanwhile, ended another encouraging tournament run in highly discouraging fashion, trudging wistfully off of a court engulfed in a Royal celebration. But the fifth-seeded Raiders, after a 7-7 regular season, produced plenty to be proud of in the tournament.
"Coming from a .500 team to the championship game, I think they had a great week," Sullivan said. "They really gelled this week. I was proud of them."
Still, the hardwood status quo in the KMC will persist until at least this time next year. O'Connor, despite his brash comments, hopes the rest of the division will come to appreciate rather than resent the Royals.
"Maybe some teams will start to root for Ramstein," O'Connor said. "You know, it's really unfair to our guys. They work so hard, they're great in the classroom, they're great guys.
"Not to root for us just because we're Ramstein is unfair."
Twitter: @broomestripes
---
---
---