Home Team
Royals baseball down, but not out
by
Gregory Broome
April 20, 2017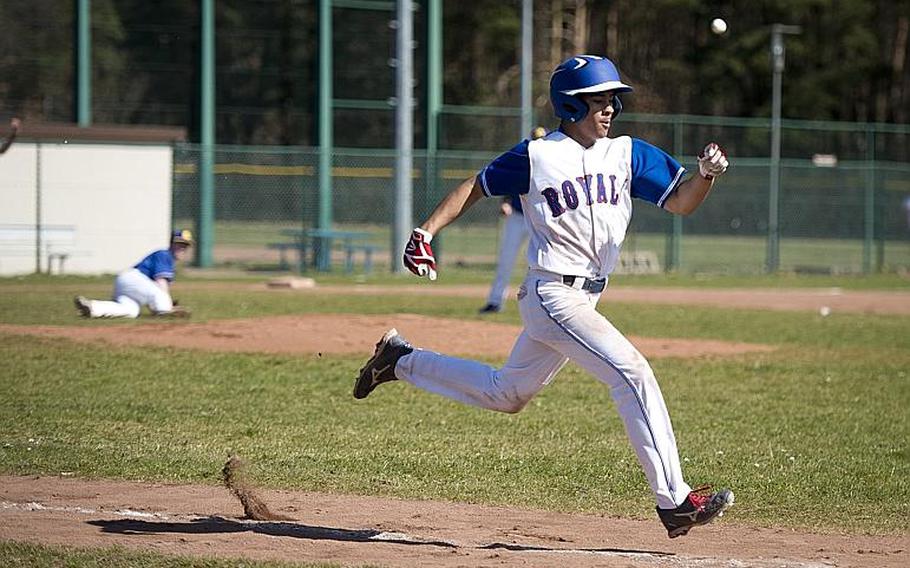 The Ramstein Royals' streak of 47 consecutive DODEA-Europe baseball wins ended on March 30 with a 4-1 loss to the Wiesbaden Warriors. On April 15, the Stuttgart Panthers defeated the Royals 6-4 to deliver a second loss of the season.
Those outcomes don't necessarily spell the end of Ramstein's four-year dynasty atop DODEA-Europe Division I baseball. But they do indicate the end of the inevitability of that reign, and its replacement with a new era of opportunity for the Royals' frustrated rivals.
In short, the DODEA-Europe baseball field is wide-open once again.
"Normally it has been a one or two-team race with everyone else trying to find a way to compete," Wiesbaden coach Steve Jewell said. "This year it looks like it will be a more competitive year of baseball."
Stuttgart coach Drake Marbury went a step further.
"This season looks to be the most competitive season since we started baseball," Marbury said, referencing the sport's DODEA-Europe inauguration in 2009.
A look at the standings backs up that idea. With just a month remaining in the regular season, at least a half-dozen teams have produced records that suggest relevance in the European tournament, set for May 25-27 in the Kaiserslautern Military Community.
Stuttgart, which alternated titles with Ramstein for years before the Royals' current reign, is 3-1 in the division, including its split with Ramstein and an impressive sweep of Wiesbaden. And Marbury thinks his team has yet to reach its ceiling.
"I believe that Stuttgart is capable of playing better baseball than we played against Ramstein," Marbury said. "We believe that we can be an even better team."
The Warriors have clawed back to .500 overall. Naples and Vilseck are both a perfect 4-0, and Lakenheath won its first three games of the season. Returning runner-up Kaiserslautern recovered from a pair of early-season forfeits to dispatch Ansbach and get back to even.
Ramstein sits squarely and uncharacteristically in the middle of the pack at 2-2 after rebounding in the second halves of each of its doubleheaders.
Royals coach Tom Yost is pleased with how his team has dealt with the unprecedented situation it currently finds itself in.
"We are a team full of guys who are proven winners," Yost said. "And they only know to respond with a renewed sense of focus."
To that end, the Royals are choosing to keep that focus directed internally, on their own correctable shortcomings, rather than externally, on the pack of hungry contenders eager to supplant them as champions.
"The reality is, we beat ourselves," he said. "Our errors and mental mistakes gave the other teams lots of runs."
The belief in Ramstein is that the Royals' usual meticulous process of steady improvement and refinement throughout the spring will ultimately lead to the usual results of a Division I championship. Yost suggested that a tough starting schedule this season has merely revealed a team in the early stages of building to a championship level of play, rather than exposed a team that's not capable of reaching one.
"I think that this year's team's development is on schedule with previous years," Yost said. "We will get to where we need to be."
While encouraged by the season's unusual parity so far, Yost's coaching contemporaries don't discount that possibility.
"Ramstein is still a very good team," said Jewell, allowing that his young Warriors are "still chasing" the historically dominant Royals and Panthers. "They are very skilled across the board, have solid pitching, and their bats will continue to get better."
Vilseck coach David Nelson led his Falcons to a title-game showing in 2015. While he said his rebuilding squad is "not on the same level" as the division's traditional powers this season, he's taken note of the potentially flattening landscape of DODEA-Europe baseball as another tournament draws near.
"Wiesbaden, Stuttgart and Ramstein seem to be evenly matched," Nelson said. "It will all come down to who has the most pitching."
The Royals are eager for the opportunity to dismiss the suddenly reasonable doubts about their continued Division I baseball dominance.
"With no disrespect to any other teams," Yost said, "we are very much looking forward to the next time we play Stuttgart and Wiesbaden."
Twitter: @broomestripes
---
---
---