Rota wins battle of attrition with Marymount
by
Kent Harris
April 22, 2017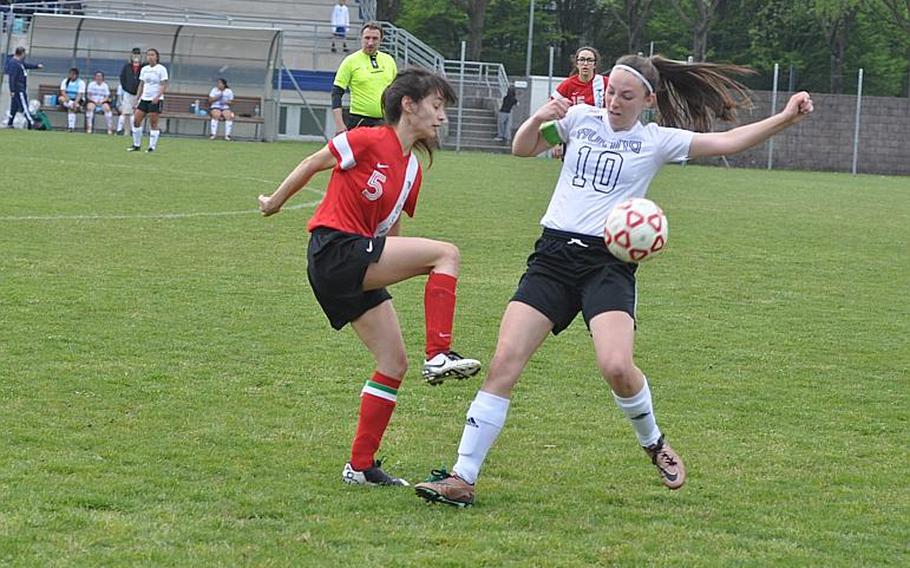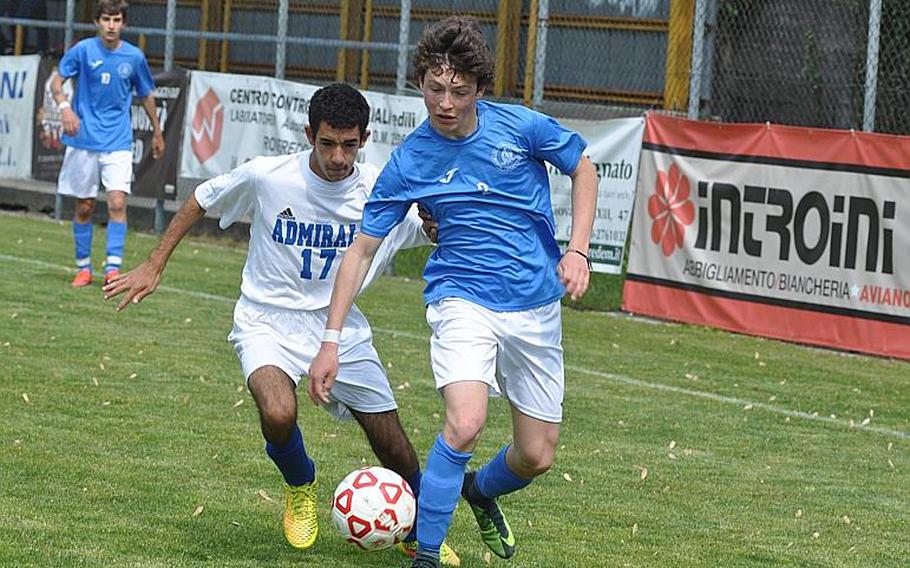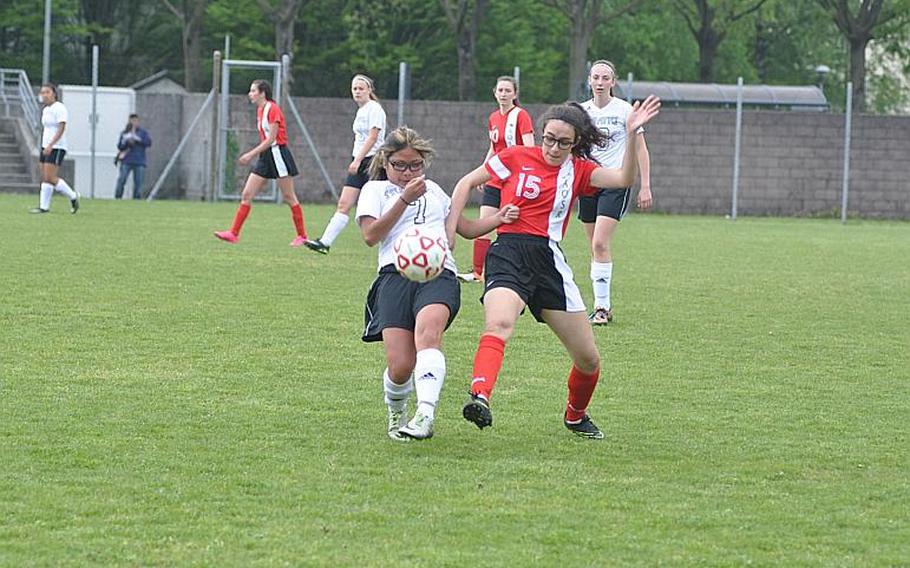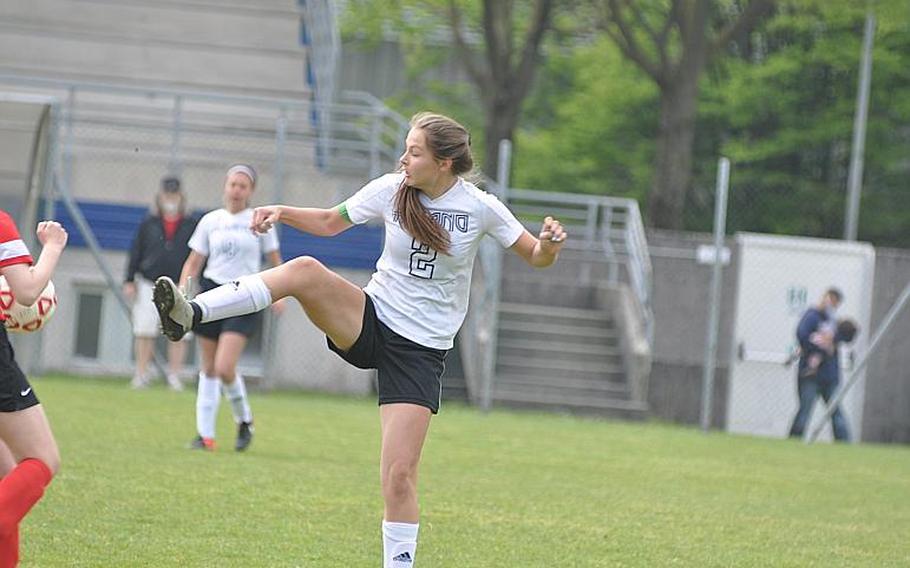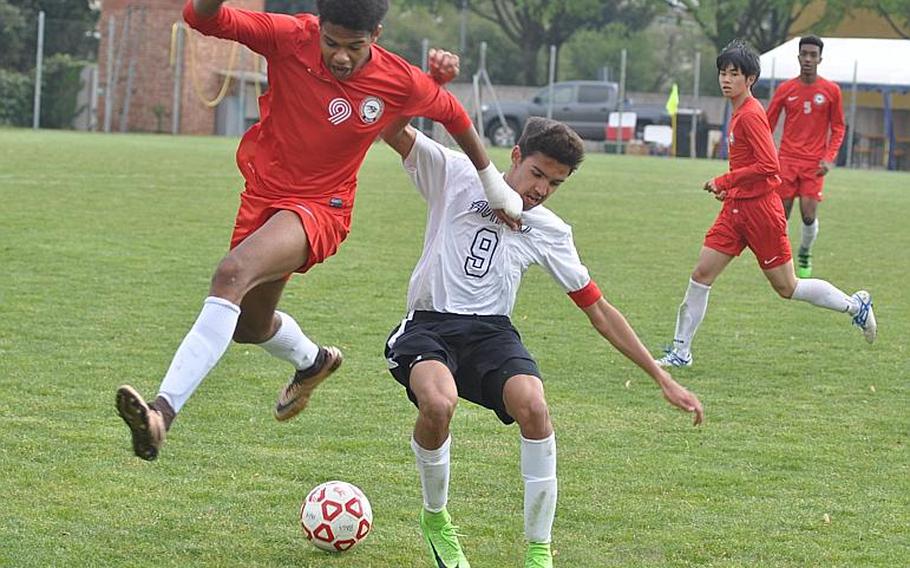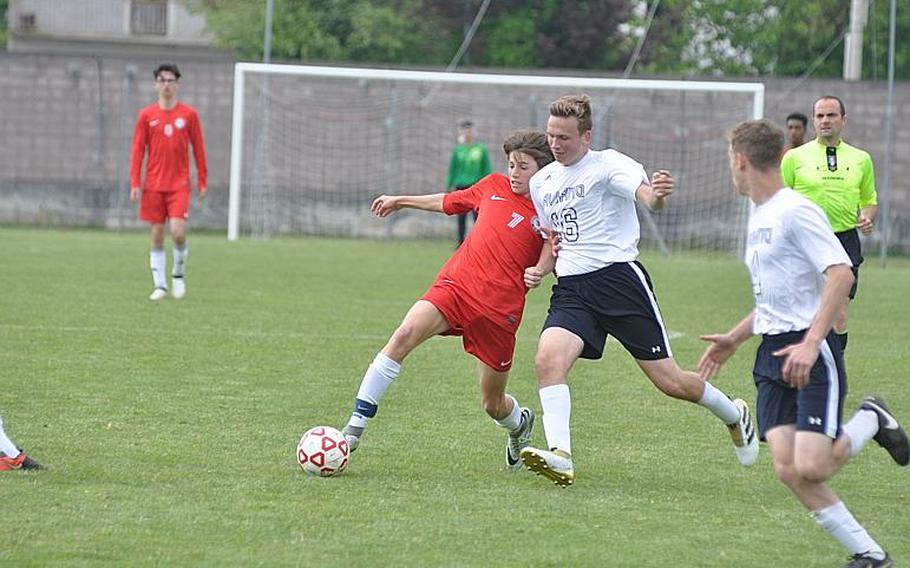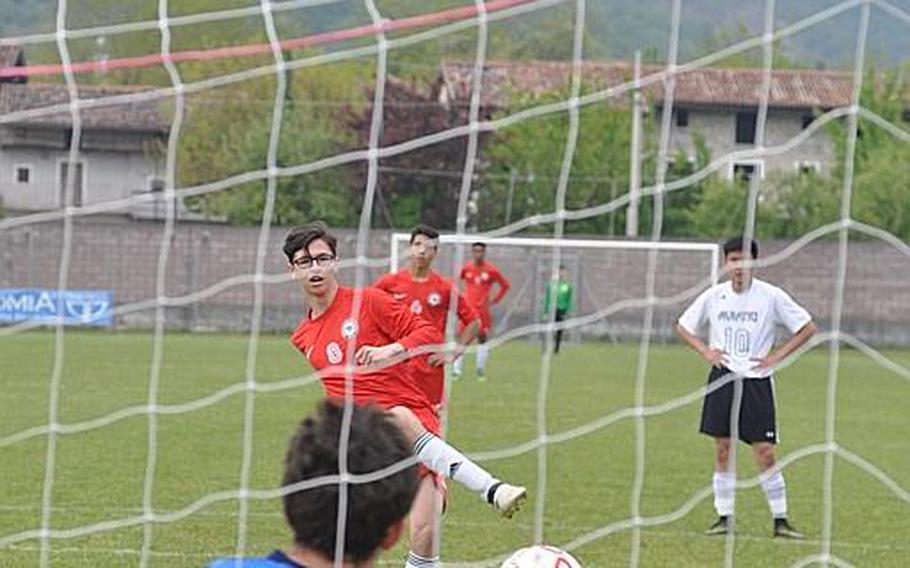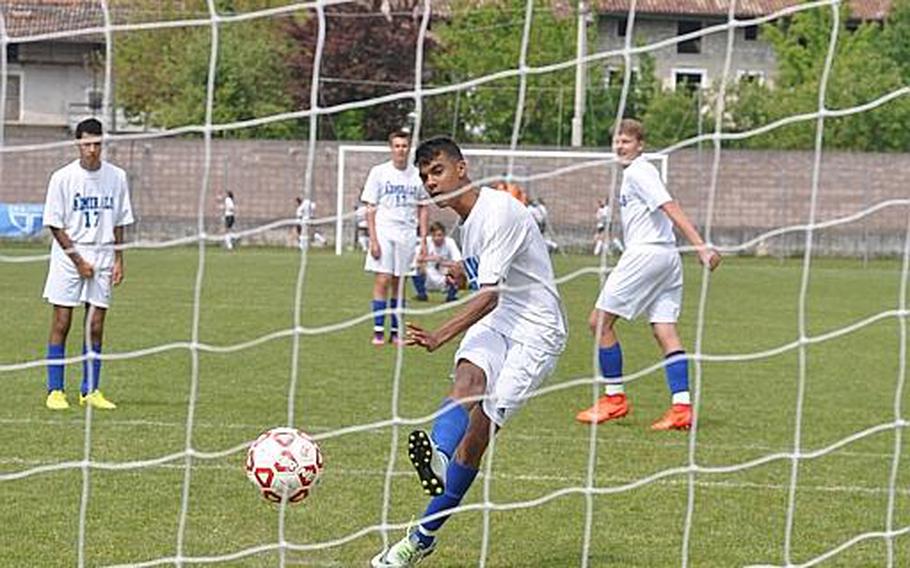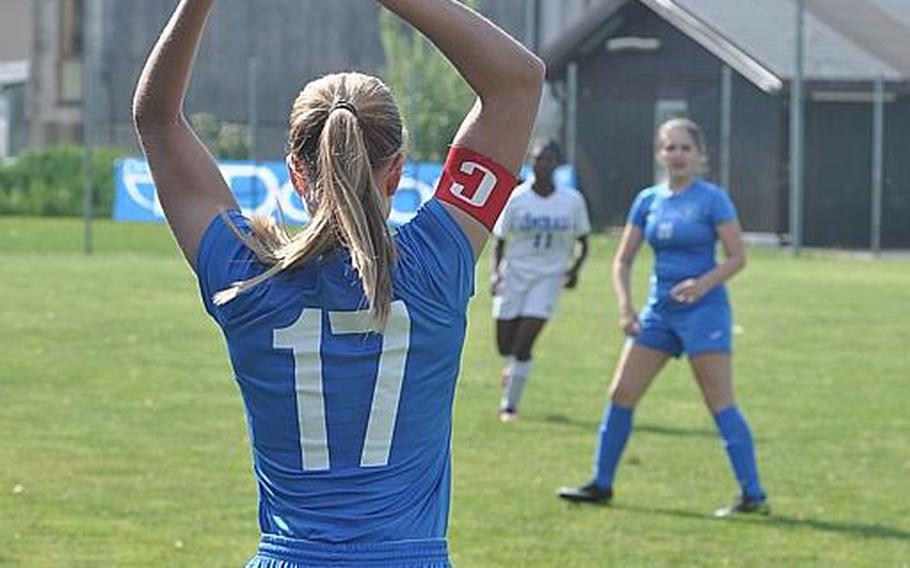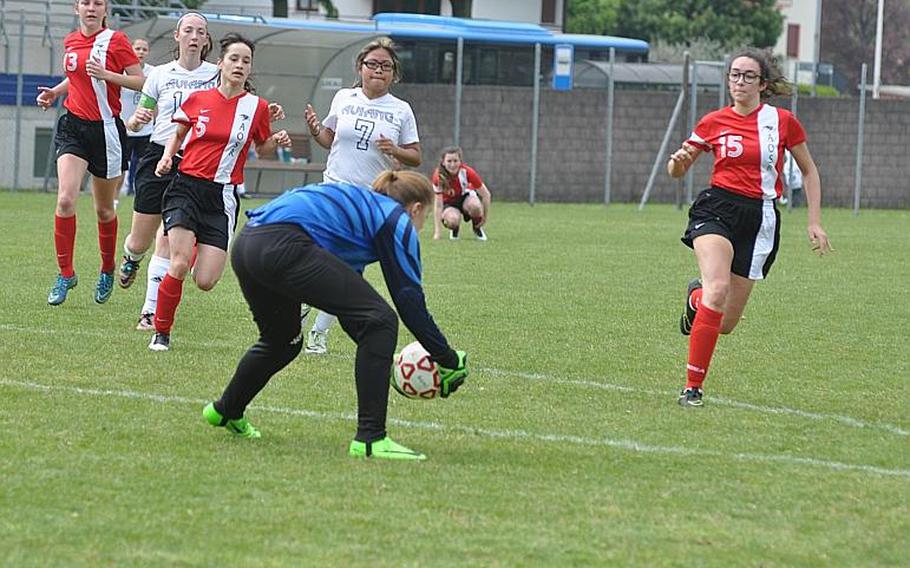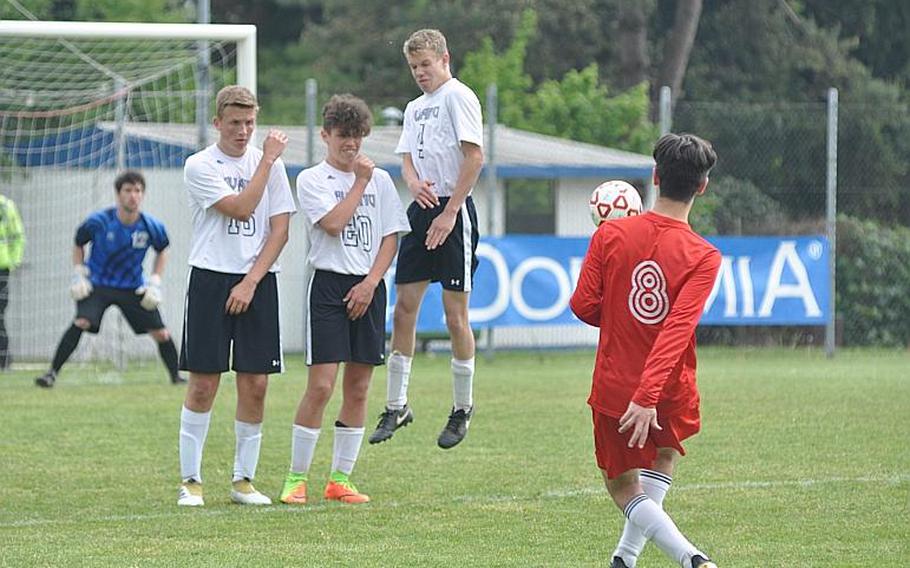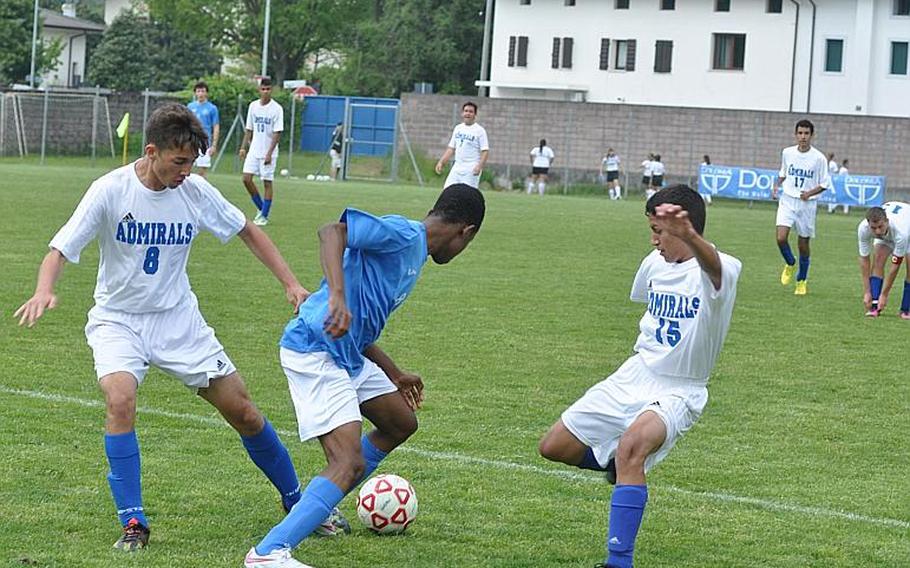 AVIANO, Italy – If one had to pick a team that the Rota boys soccer team would defeat for its first victory of the season, the defending European champion wouldn't be the first choice.
But the Admirals – coming off 5-1 and 6-0 defeats on Friday in their only other DODEA-Europe contests before the season-ending championships, did have a few advantages against Marymount in their 5-3 victory.
Due to international testing and other factors, the Royals brought only nine players up north from Rome. And one of them hobbled all game with an ankle injury. Seven starters didn't make the trip.
Of course, the Admirals had a few issues as well. Two players were out from injuries sustained in Friday's games. Rota hasn't had any comparable competition due to its isolation from other DODEA schools. And there was that 30-hour bus trip to get to the games.
So coach Jason Fox and his players were OK with a little celebration after the victory.
Fox said moving some players around the field from Friday to Saturday "was a huge shift for us."
Sam Weaver was in the right place at the right time all game for the Admirals. He scored his first goal to tie the contest when Marymount saved two quick shots on goal, but couldn't get the ball away from the net. After the Royals went ahead again, Weaver scored another goal on a rebounded shot. Then just a few minutes later, he stole the ball near the goal and fired into an empty net to put Rota on top 3-2 at the half. Jayson Lathem Penez took over from there, with a penalty kick and a shot from half field that was misplayed into another goal.
Aviano 0, American Overseas School of Rome 0: The two schools that defeated the Admirals on Friday couldn't find the net in the last of the eight games during the two-day event.
The Falcons, missing four starters to international testing, had the better chances. But Aviano goalkeeper Giacomo Fabbro stopped nine shots, including a penalty kick.
Neither coach was that happy with the result.
"It was a very physical game," said AOSR's Valerio Aureli. "We had our chances, but …"
"I'm looking forward to the tournament," Aviano coach Ian Birch said. "This team has shown quite a bit of character and I'm looking forward to seeing what we can do."
Girls
Rota 3, Marymount 1: The Admirals haven't had a lot of experience playing this season. But the Royals don't have a lot of experience period, with only one upperclassman making the trip.
Each coach called this year "a rebuilding year."
But Rota coach Clarice Brown would like "to be in the top two when we get to Germany."
Nicolle Perez, Sydney Shaw and Cecelia Diaz scored for the Admirals.
Aviano 4, AOSR 3: On senior appreciation day, junior Hailey Pulliam stole the show, scoring four times for the Saints. She was the only Aviano player to attempt a shot in the first half and scored on three of four tries.
Coach Robert Tiffany said his team doesn't have a lot of other scoring options, but hopes that will change with some more practice time. Though after the team fell apart Friday against Rota, that might not be the top priority.
"Conditioning is going to be addressed," he said.
---
---
---