Rota's Owens wastes no time in making an impact
---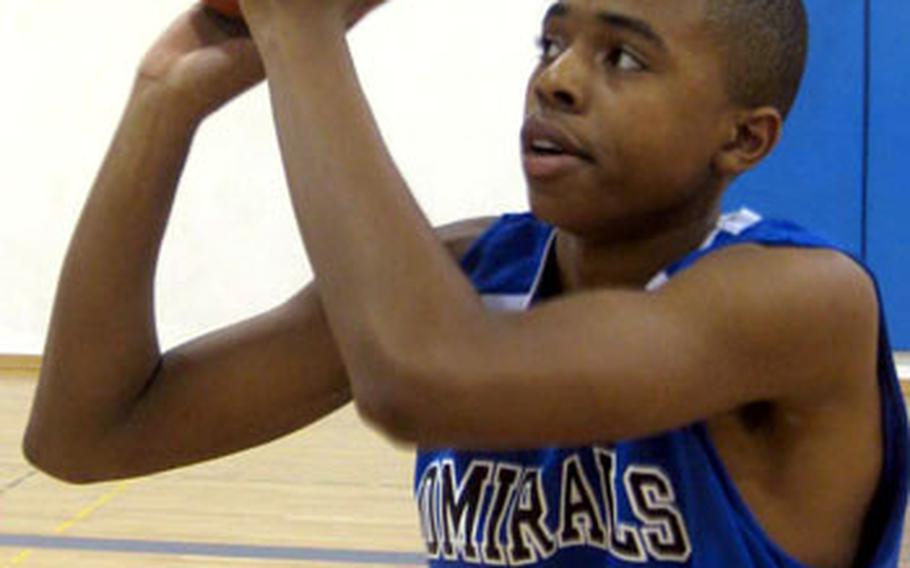 He might not mean to, but Rota freshman Tre'von Owens always seems to be making an entrance.
Arriving in Spain from Wichita Falls, Texas, just as basketball practice began in November, the 6-foot-3, Owens, 15, made an immediate impression on head coach Ben Anderson.
"He can really shoot," Anderson said Monday by telephone. "He has a great attitude."
Owens' next entrance came last month in Alconbury, when he played his first six varsity games, the only ones Rota will have against American schools until next week's European Division IV tournament.
According to Anderson, all Owens did in his varsity debut was score 140 points, grab 63 rebounds and steal the ball 19 times as the Admirals went 4-2 against D-IV schools Alconbury, Brussels and Menwith Hill.
"Yeah, I was surprised," Owens said modestly when asked about his performance. "I didn't think my shots would fall like that."
Neither did the Brussels Brigands, who split their two games against Rota, winning 62-60 despite 25 points from Owens and falling 70-47 when Owens scored 30.
"Well, we certainly didn't have an answer for Tre'von," Brussels coach Chris Vahrenhorst wrote when asked for his impression of DODDS-Europe's youngest impact player. "He's got a beautiful stroke from just about any range, and it doesn't seem to matter how much of a hand you're able to get in his face when he shoots."
The three schools Rota played in Alconbury will take another shot at Owens and the Admirals in next week's Europeans. Owens said he preferred getting an advance look at a good portion of the D-IV field rather than going in blind.
"It's better to see what they can do," he said.
Even at the risk of losing the element of surprise? Or prompting opposing coaches to start creating triple- or quadruple-team schemes to use against him?
"I didn't show everything that I can do," Owens said.
If that's the case, Owens has left the door open for his next big entrance, the European D-IV tournament next Wednesday in Mannheim.
Just as he did in Alconbury, Owens will be cranking shots from the outside in Mannheim, according to his coach.
Most of the time, anyway.
"He belongs on the perimeter," Anderson said, "but he's 6-3. In Division IV, we can't help but put a 6-3 guy on the low post sometimes."
Becalmed in remote Rota, Owens can't be blamed for missing the hyper-competitive world of Texas hoops, where college scouts follow every game. So far, though, he's content.
"At first, I didn't think it would be as fun as in the States," Owens said about leaving the mainstream. "But it's really fun to play here. It's a little slower, but not really any different."
And despite Owens' isolation, Anderson is convinced that the freshman he envisions as a "6-6 natural college wingman" at graduation will get plenty of looks from people from the next level.
"We've made a lot of connections with colleges," said Anderson, whose 2008 star Jeff Shelton is playing junior college ball in the States. "And he'll absolutely be attending summer camps in the States."
For now, though, the target is Mannheim.
"We're going to try to play our game, stay focused and try to get a championship," Owens said. "It's bigger than in Texas. In Texas, you only have a state championship. Here, it's a continent."
---
---
---
---