Rota matches up well with big schools in Stuttgart
by
Rusty Bryan
December 28, 2011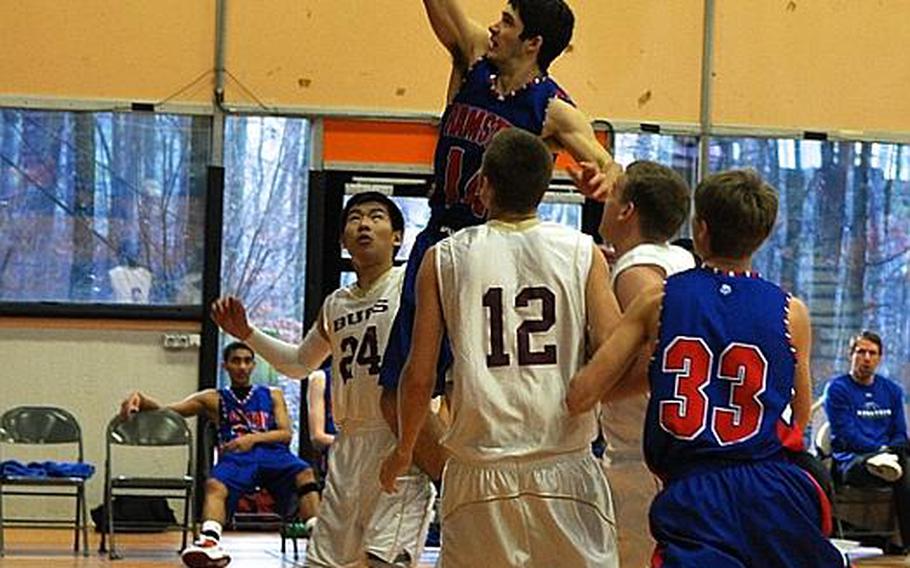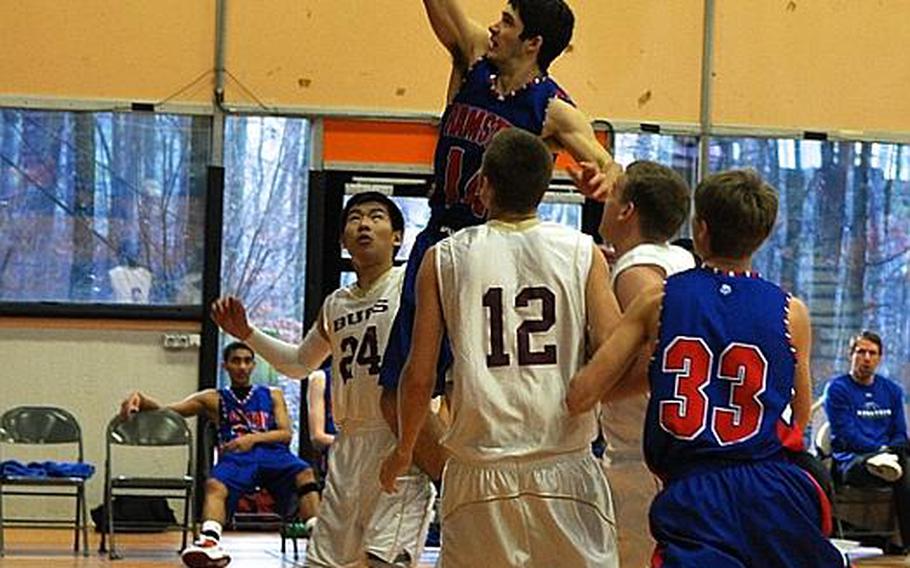 STUTTGART, Germany – Two days into an event taking place thousands of miles from the state of Indiana, "Hoosiers" is the overriding theme so far in the Patch High School Winter Basketball Tournament.
Rota isn't exactly tiny Hickory depicted in the size-doesn't-matter film, but the defending European small-schools champions downed their second Division I team in as many days Wednesday. The Admirals claimed a 47-42 quarterfinal victory over Patch to move into Thursday's semifinals of this 12-team boys' event.
Rota, led by 24 points from senior Tre'von Owens, earned a rematch against defending big-schools king Heidelberg in Thursday's 11:30 a.m. semifinal game at the Patch Barracks gym. Rota downed Heidelberg by 13 points in Tuesday's pool-play game, but Rota coach Ben Anderson is sure his team will be playing a different Lions' team Thursday morning.
"It's hard to beat a team twice," he said Wednesday. "They'll be out for revenge. They'll give it everything they've got."
The Admirals and Panthers each gave everything they had in Wednesday's 24-minute game. Owens, Stars and Stripes' male cager of the year who has accepted a scholarship from University of California-Riverside, hit consecutive 3-point shots in the first quarter to get the Admirals started. After Patch had clawed back to take a 32-30 lead in the third period, Owens canned the bucket to tie the game, then added another basket, a three-point basket and two free throws the rest of the way to make sure the host team would fall short.
"We've got to keep playing hard," Owens said about the rematch with Heidelberg, adding that he relishes the chance this tournament provides for tests against the big schools. "We always wanted more competition."
Inside presence Tim Drake, whose presence on the bench for much of the second and third quarters because of fouls facilitated the Patch comeback, also enjoys playing the big schools.
"It keeps you prepared," he said. "Every game is hard. You have to focus all the time."
Newcomer Mark Oden, a transfer from the state of Washington, added 17 points for the Admirals, whose hunger to play has led them to devote nearly as much time to fund-raising to pay for traveling as they have spent on court.
"It's really hard to get games in Spain," said Anderson, whose team will face DODDS-Europe competition just once more – a weekend date next month at Alconbury – before traveling to Wiesbaden in February in defend its D-III crown.
Heidelberg reached the semis with a 60-52 verdict over a German club, SC Sindelfingen. Marcel Simon and Sam Rosario, who was a perfect 12-for-12 from the line, each scored 21 points.
In Thursday's other semifinal, scheduled for 11:30 a.m. at the Patch High School gym, Division I power Ramstein will be taking on Black Forest Academy of Division II. Ramstein defeated Baumholder to earn its berth; BFA bounced Lakenheath 38-33 in its quarterfinal match-up.
Lakenheath had clawed to 34-32 down on Brinsley Walker's put-back basket with 1:05 to play, and trimmed its deficit to one when Alleric Jones converted one-of-two free throws with 26.7 seconds to go.
BFA, meanwhile, missed consecutive one-and-one opportunities to keep Lakenheath alive, but the Falcons' Jonas Voitl converted four straight free throws in the game's final 2.8 seconds for the final margin.
Lakenheath was missing two starters, lost to family vacations, but Lancers' coach Alan Campbell still wouldn't miss this chance.
"(Patch coach and tournament organizer) Bill Lassetter has done a great job giving us this opportunity," he said. "It's a great chance to give our players some competition during the holidays."