Rota golfers set pace on first day of DODDS championships
by
Rusty Bryan
October 9, 2003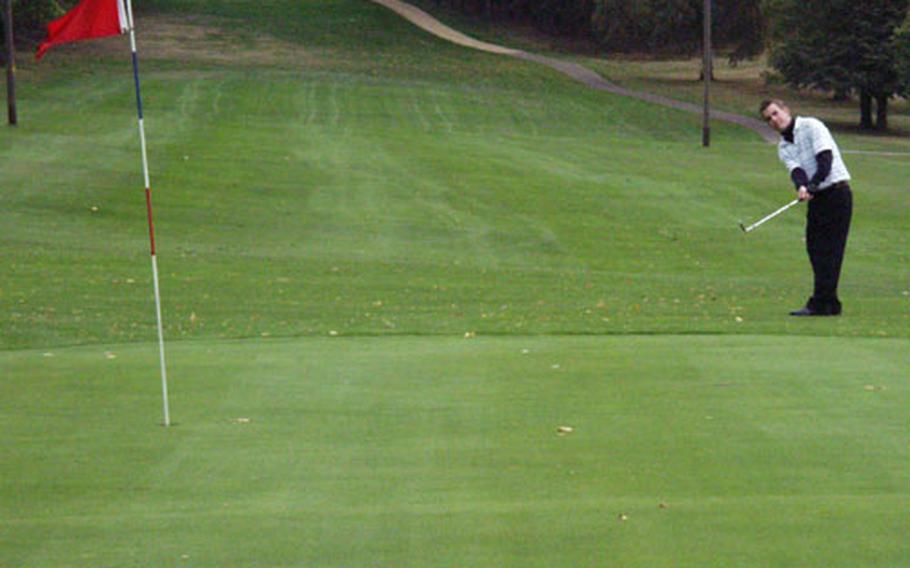 (First-round scores at end of story)
WIESBADEN-DOTZHEIM, Germany — On a chilly, gray, breezy day unlike what they usually see in Spain, Rota's Gilbert Mendez and Jason Allard stood 1-2 after the first day of the 36-hole DODDS-Europe high school golf championships.
Mendez scored 41 points under the modified Stableford scoring system, which awards one point for double-bogey, two for bogey, three for par, four for birdie and six for eagle or ace.
Allard tied with Kaiserslautern's John Hunt for second with 37 points on the narrow, tree-lined, 6,239-yard Rheinblick Golf Course.
There's no team scoring, but Rota's other players scored well. Johnny Orem finished with 31 and Jim Connelly had 26 for the Division III champions.
Mendez said Rheinblick's tight fairways presented a challenge to a golfer used to the wide-open spaces of southern Spain.
"I was scared every time I hit my driver," he said, "because of all the trees."
It didn't show, at least on the first and 14th holes, both relatively short par 4s, and the ninth hole, a 437-yard par 5. Mendez birdied all three for 12 of his 41 points.
Allard overcame a front-nine total of 17 points and scored 20 on the back nine despite putting difficulties.
"I thought I played a good round," Allard said. "It was a little less than my best, but everybody did. This is a tough course."
Conditions besides the weather helped hold the scoring down, Allard said.
"Some of the greens were punched," he said of a layout that is in the midst of fall maintenance and is using three temporary greens. "It was hard to make putts."
Tournament official Kent Grosshuesch of Ramstein said the decision to use Stableford scoring instead of the planned stroke play came at a Wednesday morning coaches' meeting.
"The weather was so bad," he said. "It was raining hard, so we decided to go with Stableford. The rain stopped, but the conditions are still pretty tough."
Division I champion Frances Smythe of Würzburg piled up a huge lead over the girls field with 24 points. She was 12 points ahead of Lakenheath's Sarah Wells after the first 18.
All golfers are scheduled to return to the course at 9 a.m. Thursday for the tournament's final 18 holes, leaving the leaders all night to contemplate everything that could go wrong overnight.
"It's a definite advantage to be in the lead," Mendez said, "but anything can happen."
Added Allard of the final round: "I'm going to play my game. I don't care what anyone else shoots."
DODDS-Europe golf championships
WIESBADEN-DOTSHEIM, Germany — Wednesday's scores after the first round of the two-day DODDS-Europe individual golf championships at the par-72 Rheinblick Golf Course. Scoring is modified Stableford, one point for double-bogey, two for bogey, three for par, four for birdie and six for eagle or ace. There is no team scoring:
Boys (6,239 yards)
Gilbert Mendez (Rota) 41, Jason Allard (Rota) 37, John Hunt (Kaiserslautern) 37, Charles Otterstedt (Baumholder) 36, Kyle Farrell (Ramstein) 35, Stephen Fey (Patch) 35, Chris Hustead (Rams) 35, Miles Presnell (Würzburg) 35, Johnny Orem (Rota) 31, Greg Nyander (Heidelberg) 30, J.R. Orlando (Heid) 30, Jason Teague (Lakenheath) 30, Adam Fugent (Pat) 28, Justin Makar (Heid) 28, Jim Connelly (Rota) 26, Andrew Kleiser (Kais) 25, Jonathan Mikkelson (Wzbg) 25, Chris Helfric (Heid) 23, Ryan Bachman (Rams) 22, Jason Harvin (Heid) 22, Brett Holt (Hanau) 22, Kevin Swisher (Wiesbaden) 22, Ash Staley (Rota) 21, Bryan Apgar (Rams) 20, Ben Carden (Rams) 20, Matt McMillan (Heid) 20, Jacob Patrick (Heid) 19, Derrick Hamilton (Patch) 18, Jacob Schaeufele (Lake) 17, Donal McRae (Heid) 16, Ryan Puppolo (Heid) 16, Tyler Tressler (Baum) 16, Ryan Barnett (Heid) 15, Scott Millard (Lake) 14, Tyler Keith (Lake) 13, Nick Preusser (Lajes) 5, Trey Vickory (Lake) 2.
Girls (5,631 yards)
Frances Smythe (Würzburg) 24, Sarah Wells (Lakenheath) 12, Jamie Gonzalez (Heidelberg) 8, Anne Marie Marchand (Ramstein) 8, Dana Kaita (Heid) 7, Jessica Dooley (Lake) 5, Monica Varley (Heid) 5, Erin Dunkelman (Ram) 3, Nicole Ferris (Lake) 3, Molly Henage (Lake) 2.