Volleyball Athlete of the Year
Robertson helped Daegu to new heights
by
Dave Ornauer
November 14, 2013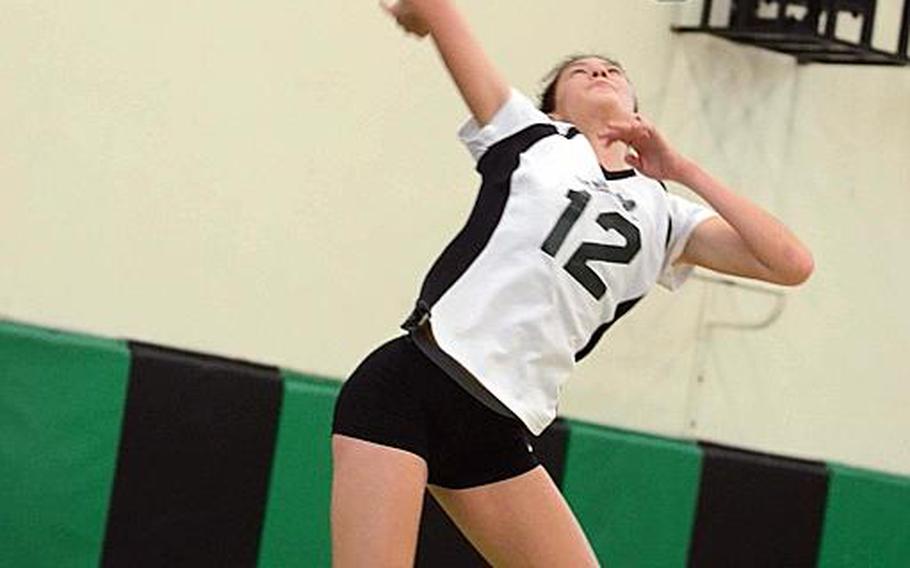 As well as Lari Robertson played during the just-completed girls volleyball season, Daegu coach Joanna Wyche says the best may be yet to come from the senior middle blocker.
Wyche and the Warriors did something not done before on her watch: Win league regular-season and postseason tournament titles and a Far East Division II Tournament banner, all in the same season.
Daegu accomplished that feat thanks in great measure to Robertson's play, which Wyche referred to as "dynamic."
Winner of Most Valuable Player and Best Hitter awards in both the league and Far East tournaments, Robertson has been named Stars and Stripes Pacific's Athlete of the Year as well.
"She has developed and matured significantly in the last couple of years," Wyche said, adding that sometimes tentative, cautious play in her earlier years was "hindering her."
"She has definitely stepped up and come alive, and you've seen the results as she got on the court."
Those results included averaging 11.5 spike kills, 6.4 defensive digs and 2.3 block kills, pacing the Warriors to a 9-3 regular-season mark and share of the Korean-American Interscholastic Activities Conference Blue Division title with Taejon Christian International.
Daegu stumbled on the first day of the KAIAC Tournament on Oct. 31, losing to host Seoul Foreign.
They needed to win four matches to force a deciding "if necessary" set in the double-elimination format to win the title. They did just that, storming through Osan American, TCIS and Yongsan International-Seoul, each in straight sets, to force a finals rematch with Seoul Foreign.
There, the Warriors dropped the first set, but rallied to beat the Crusaders 16-25, 25-19, 25-18, 25-15. And in the "if" set, Daegu fell behind early but came back to win 25-18 and capture the title.
Her play was perhaps stronger in KAIAC, Wyche said, than even in the Far East tournament the next week at Camp Zama, where the Warriors beat the host Trojans in four sets for the title after a lackluster first two days. Despite that, Daegu went 7-1 in pool play, then turned it on in the playoffs, dropping just one set in four matches.
"I saw it in Far East to an extent. It was demonstrated more in KAIAC," Wyche said. "If she opens up, with her ability and confidence, oh, my. When she's on, she plays with abandon. That's where I like to see her. Go out there with no reserve or holding back and take it to them."
Robertson may very likely follow in former Warriors star Kristina Bergman's shoes and play ball at the next level, Wyche said. Bergman is playing ball at Vernon College, a two-year school in Texas.
"She's considering it. She hasn't made a final decision," Wyche said. "Does she truly realize her potential? If she truly wants it, it's there."
Stars and Stripes Pacific All-Far East volleyball team
MB—Lari Robertson, Daegu; Liz Thornton, Mia Weinland (Division I Tournament MVP), American School In Japan; Katrina Reid, Zama American.
OH—Kaile Johnson, Nile C. Kinnick; Rachel Wyche, Daegu.
S—Jade Vasconcellos, Seisen International; Kelly Osterbrink, Kinnick.
D—Mana Whelehan, International School of the Sacred Heart.